In the relatively short, 50 year history of the Milwaukee Brewers franchise, the team has been blessed with four MVP award winners: Rollie Fingers, Robin Yount, Ryan Braun, and Christian Yelich. In this quarantine miniseries, I'll be highlighting each of the four award winners, starting with one of the best Brewers of all time, Robin Yount. Yount received the MVP award in both 1982 and 1989. Let's take a look at how The Kid earned the awards during one of the greatest careers ever by a Brewers player.
The Early Years
Rockin' Robin was born on September 16, 1955 in Danville, Illinois, near the state line between Illinois and Indiana. However, he grew up in Woodland Hills, CA. The Milwaukee Brewers drafted Yount at a mere seventeen years old. Less than a year later, he made his major league debut at eighteen years of age, and from then on was referred to as "The Kid" due to his young age. Playing as a teenager in the MLB is now extremely uncommon, and Brewers fans probably don't want to remember one of the most recent players to accomplish this feat: Juan Soto of the Washington Nationals. However, Robin Yount still holds the record for number of games played before turning twenty, as he established himself early as the everyday shortstop for Milwaukee.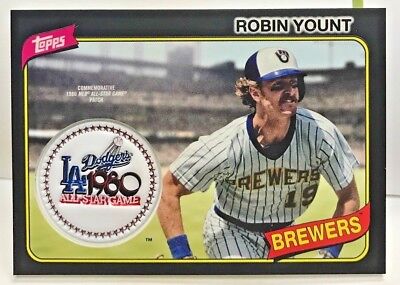 For the first eight years of his career, from 1974 to 1981, Yount produced some solid seasons in the majors. He recorded 1,153 hits, 67 of them home runs, with splits of .274/.311/.391. His best season of the early years of his career was by far 1980, in which he was named an All Star for the first time. In 1980, The Kid posted a 7.1 WAR, alongside 23 home runs and a major league leading 49 doubles. He also won a Silver Slugger award that season. Yount had finally broken through with an impressive season after years of consistently playing average to above average baseball. Yet his potential was yet to be fully realized as he headed into the prime of his twenty year career.
1982 MVP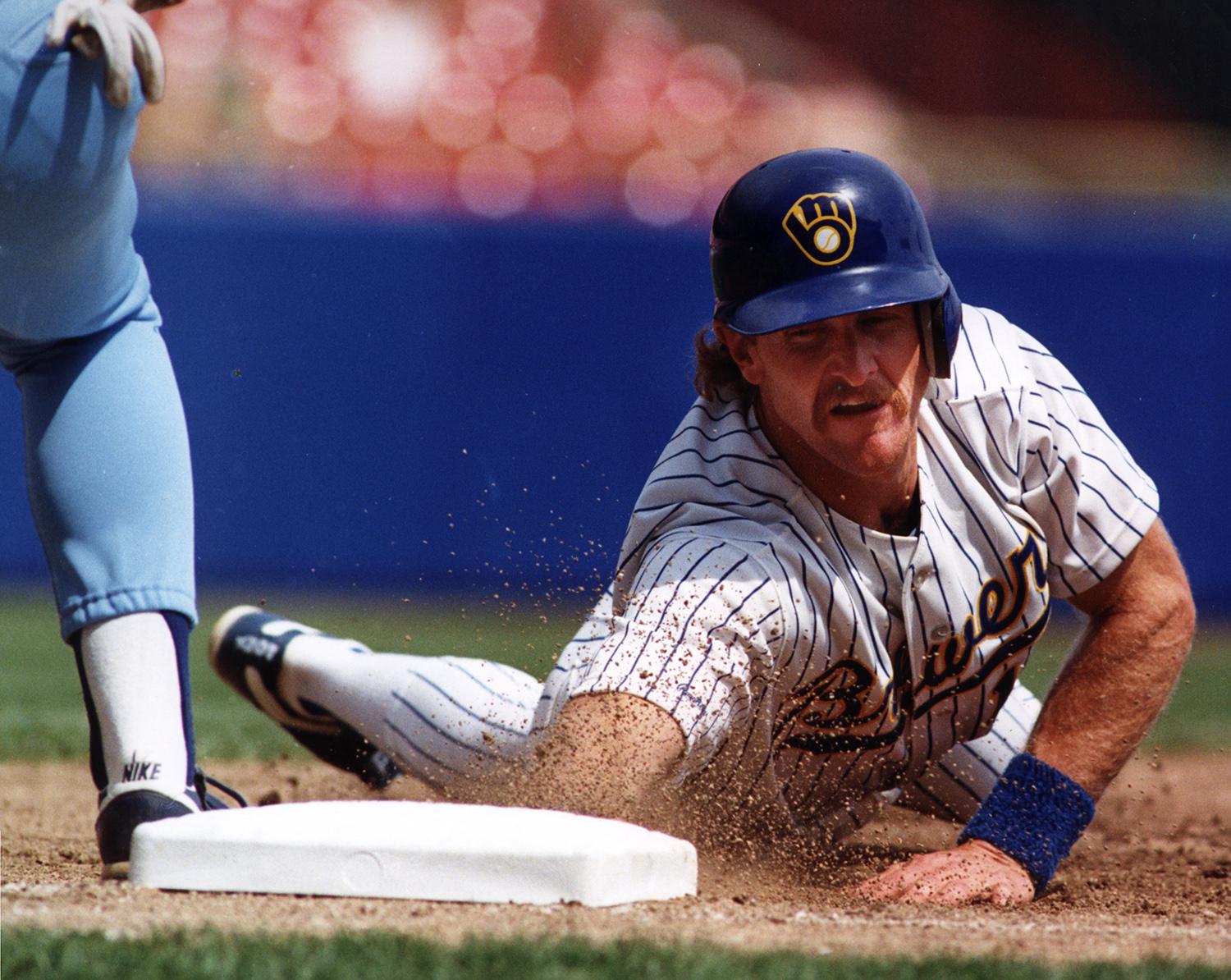 Of course, 1982 is one of the golden years of Brewers baseball, and Robin Yount was a major contributor to the team that season. In 1982, Yount earned his second All Star appearance, and he won his only Gold Glove alongside another Silver Slugger. He led the majors in doubles again, this time with 46. He also was the MLB leader in hits (210), slugging percentage (.578), OPS (.957), OPS+ (166), and total bases (367). Yount also contributed with an impressive 10.5 WAR. In his most stellar season, Yount had a .331 average, just one point away from the AL leader, Willie Wilson. Along with all these statistical achievements, The Kid also earned his first AL MVP award, with 27 of the 28 first place votes. He helped lead the Brewers to their only World Series appearance in franchise history, during which he batted .414/.452/.621 with a home run and six runs batted in. There is no doubt that in 1982, Robin Yount played his best season of baseball.
The Prime Years
After the devastating loss in Game 7 of the 1982 World Series, Rockin' Robin got right back to work in 1983 with another All Star season. From 1983 to 1988, Yount continued on his path of consistency, during which he had a .303/.372/.464 slash line. He amassed 1044 hits, and 91 home runs between his two MVP campaigns. It's important to note that in 1985, Yount switched his position from shortstop to outfielder, primarily center field. It was in 1987 when Yount made his most famous catch in center field, a game-ending diving catch to preserve Juan Nieves's no-hitter (which is still the only no-hitter in Brewers history).
1989 MVP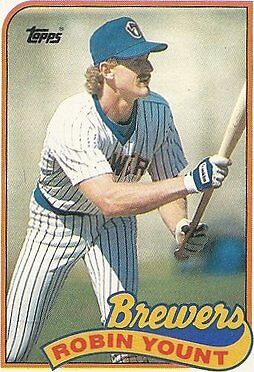 In the 1989 season, during the back end of his career, Robin Yount achieved a most unusual feat: he won an MVP award without being named an All Star. He beat out second and third place players, Ruben Sierra and Cal Ripken Jr., respectively. The Kid batted .318/.384/.511, with 21 home runs, 103 RBI, and 19 stolen bases. He also contributed with a 5.8 WAR and won another Silver Slugger award. While these statistics are strong, fans of today's baseball might wonder how a player with these stats won the AL MVP award. While the increased focus on analytics is a topic for another article, it should be remembered that Yount was again a major contributor to the 1989 Brewers, which ended with a record of 81-81, a .500 record. With his second MVP, he is one of only four baseball players to ever earn the award at two positions (Hank Greenberg, Stan Musial, and Alex Rodriguez).
The Final Years
After Robin Yount signed a three year contract with the Brewers in 1990, his career came to a close in Milwaukee. In his last stint from 1990 to 1993, Yount had 540 hits, including his 3000th, a monumental achievement for any baseball player.
The Kid ended his career with 3,142 hits, 251 home runs, and a .285/.342/.430 slash line. He retired after the 1993 season, and was inducted into the Baseball Hall of Fame in Cooperstown in 1999, the first year he was eligible. Yount is still the record holder for many stats with the Brewers including games played (2,856), plate appearances (12,249), runs scored (1,632), and all types of hits, except for home runs. His career WAR was 77.3, another record for the Brewers. The franchise retired his number 19 the year after he retired in 1994. Yount has stayed active in the Brewers franchise and the Milwaukee community since his retirement, and still resides in the area.
For our other MVP Spotlights, check below!
Conclusion
Follow me on Twitter @schrades_14 for more great Brewers content! Discuss this and everything to do with sports at the Overtime Heroics Forums. Also, be sure to check out one of my other Brewers articles here.