In just 50 years, the Milwaukee Brewers have made a name of themselves with some of the greatest baseball players of all time. Those include Robin Yount, Rollie Fingers, Ryan Braun, and Christian Yelich. In this MVP highlight, we take a look at the next face of Brewers' baseball, Christian Yelich. Let's see how Yelich has thrived in just three short years in the Cream City.
Amateur Career
Christian Yelich isn't someone you really can reflect upon and call it "early days." With him being 28-years-old, he has a lot of fire left in him. Born on December 5, 1991 in Thousand Oaks, California, it wasn't long before Christian Yelich would start making a name for himself.
His high school career really was a glimpse into the kind of player Yelich would turn out to be as he continued his baseball journey. During his time at Westlake High School, he batted .373/.341/.489/.451. By his senior year, he was named to the Second Team All-American by Max Preps. He also ranked 34th out of the top 100 high school baseball players in the entire nation. Yelich would then go on to accept a scholarship to play baseball with the Miami Hurricanes.
Professional Career
A first round, 23rd overall selection by the Miami Marlins in 2010, Christian Yelich would agree to a $1.7M signing bonus. He began his career with the Marlins by playing with the Gulf Coast Marlins for six games where he batted .375. Soon he advanced to Class-A, playing for the Greensboro Grasshoppers and batted .348. Yelich was named the Marlins' Minor League Player of the Year in both 2011 and 2012.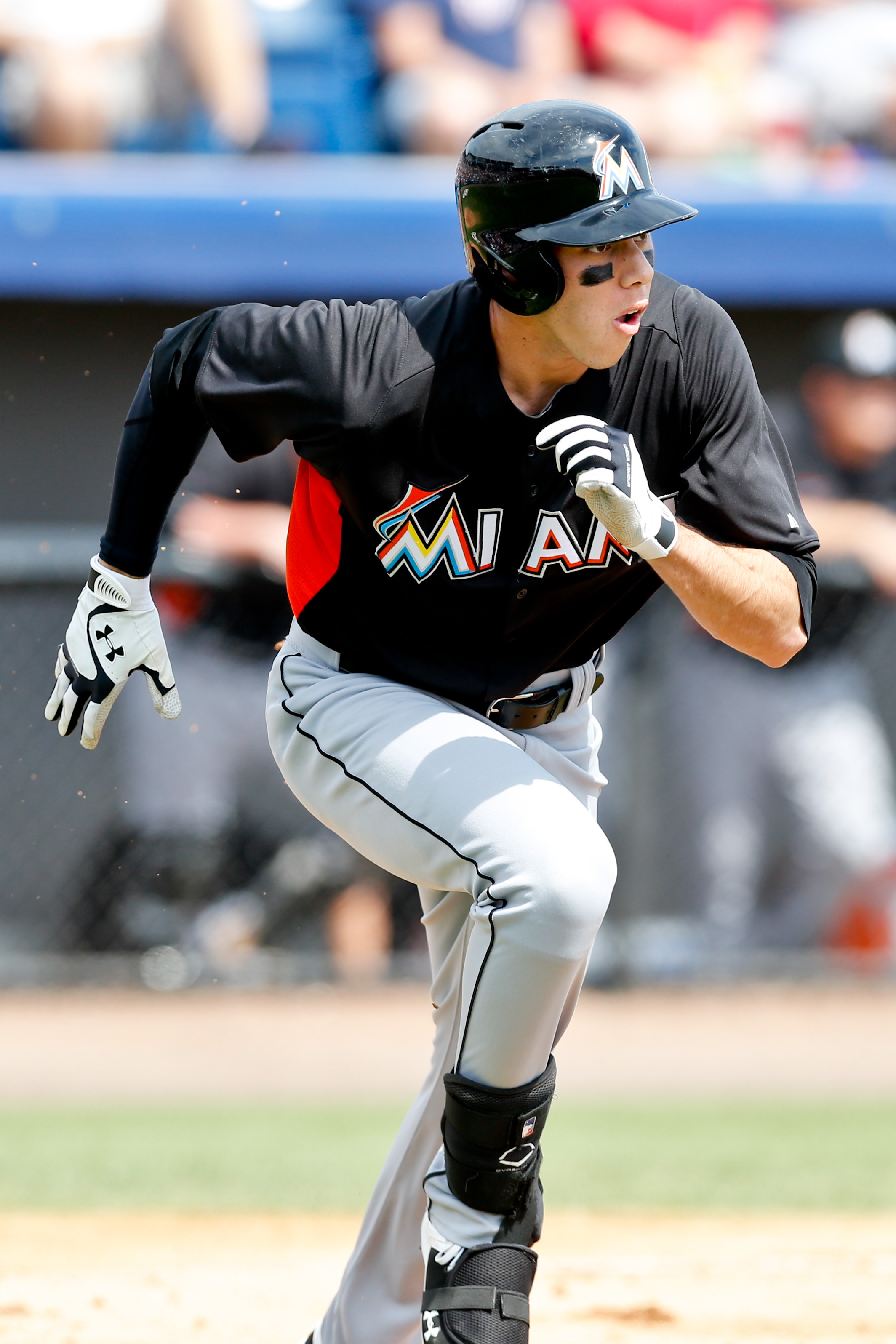 Christian Yelich would make his major league debut in 2014 with the Marlins where he batted .241 with 21 steals. That same year, he won his only Gold Glove Award in left field. Winning this made him the Marlins' youngest player in franchise history to receive that award.
Finalizing a seven-year, $49.5M contact extension in March of 2015, Yelich would actually start that season on the disabled list with a lower back strain. But he did close out the 2015 season with a .300 average.
Yelich also played for the United States National Baseball Team in the 2017 World Baseball Classic. After that tournament, he was named to the All-World Baseball Classic Team.
Welcome to Milwaukee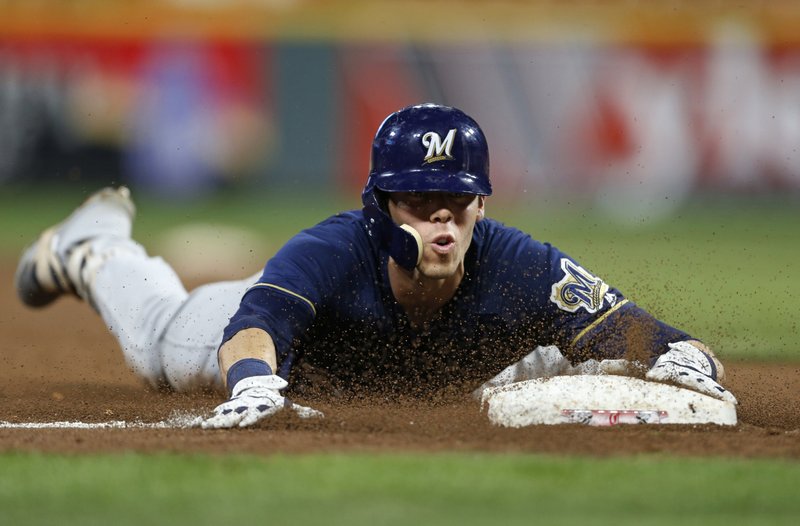 On January 25, 2018, the Marlins traded Christian Yelich to the Milwaukee Brewers in exchange for Lewis Brinson, Isan Diaz, Monte Harrison, and Jordan Yamamoto, four of the Brewers' top prospects at the time. It didn't take long for Christian Yelich to prove his worth in Milwaukee.
He was named to the 2018 All-Star Team, and even hit a home-run in their 8-6 loss to the American League. On August 29, Christian Yelich had his first cycle against the Cincinnati Reds, slamming a total of six hits. Just a couple of days later, he hit his first career grand slam against the now World Series Champions Washington Nationals.
Two weeks later, Yelich would hit for the cycle a second time, again against the Reds. He became the fifth player in MLB history to hit for the cycle twice in the same season. He also became the first player in MLB history to hit for the cycle against the same team.
Finishing out a strong 2018 season, Yelich posted .326/.402/.598 with 36 home-runs, claiming the first NL batting title for the Brewers and just fell short of the triple crown.
On November 16, 2018, he received the NL MVP. Yelich's stats definitely were MVP-status. He also was the recipient of the Hank Aaron Award in that same year.
With the MVP title on his resume, going into the 2019 season was his time to shine. And boy, did he shine.
Ending his season short, he posted 44 home-runs, a 1.100 OPS, .329 batting average, 30 stolen bases, and 97 RBI's. Christian Yelich was on track to becoming a back-to-back MVP. He was even on his way towards a 50/30 season, something that hadn't been accomplished in Major League history.
In a game against the Miami Marlins in September, Yelich hit a foul ball off of his knee, fracturing his kneecap. Due to this unfortunate injury, he would miss the remainder of the 2019 season. This also took Yelich out of the MVP running.
Even though an injury ended his season a little early, Yelich brought home his second batting title. He also was a back-to-back Hank Aaron award recipient. He is actually the second Brewer to ever receive this award. Prince Fielder was the first back in 2007.
He's a Brewer for Life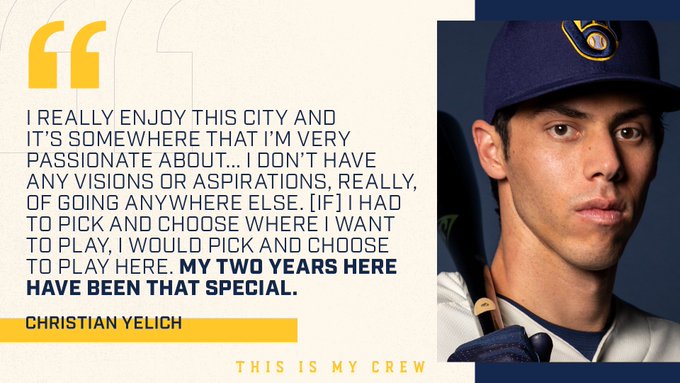 On March 6, Christian Yelich became a Brewer for life. Signing a nine-year, $220M contract extension with a mutual option for 2029, Christian Yelich committed the rest of his career to the Brewers.
Yelich has given his praise to Milwaukee baseball and how he loves playing in the city and playing for the team. He's stated that he is "excited to be staying in Milwaukee and playing the game that I love for this amazing city."
Outside of baseball, Christian Yelich does his best to involve himself with the community. He and Ryan Braun are helping with projects within Milwaukee. The two are also co-founders of the charity program California Strong, helping those who are affected by California wildfires. They host an annual Softball charity game and are currently helping with COVID-19 patients.
For our other MVP Spotlights, check below!
Conclusion
Follow me @sarahspooon for more great Brewers content! Discuss this and everything to do with sports at the Overtime Heroics Forums. Also, be sure to check out one of my other Brewers articles here.