As a lifelong Brewers fan, all too often have I heard the words "Opening Day Starter Curse." With the 2020 season on hold due to concerns about COVID-19 in the United States, what better time to look at the alleged burden carried by the Brewers starting pitcher each opening day? As requested by @SportsStandings on Twitter, I'll be taking a closer look at the job no Milwaukee pitcher wants to have in recent years.
2015: Kyle Lohse
10-0. On April 6, 2015, the Brewers lost to the Colorado Rockies by a score of 10-0, and things weren't looking uphill from there. First, let's remember how we got here. In 2014, Milwaukee led the NL Central division for the majority of the season, then had a massive breakdown and missed the playoffs (similar to 2017). RHP Kyle Lohse was named the Opening Day starter after a strong 2014 season, despite the ending. He finished 2014 with a 3.54 ERA over 198.1 innings pitched, and a 1.15 WHIP. However, the 2015 Brewers were doomed from the beginning, as evidenced in the prior collapse and the results of Opening Day.
2015 was the last of the Doug Melvin and Ron Roenicke era (although the latter was only there for 25 games). That should be enough said, knowing what we do now about David Stearns and Craig Counsell. Nevertheless, let's return to Kyle Lohse. During 2015, Lohse finished his career with a collapse. He ended the season with a 5.85 (!) ERA, a 1.464 WHIP, 29 HR given up, and many more very depressing stats that I won't submit you to reading. He retired the next year after only pitching 9 innings with the Texas Rangers. Lohse's 2015 campaign is definitely the beginning of a long stretch of difficult, cursed seasons for Opening Day starting pitchers.
2016: Wily Peralta
Despite a disappointing 2015 season, RHP Wily Peralta was chosen by Counsell to be the Opening Day starter in 2016. Peralta was chosen because of his "track record," especially his strong 2014 season. In 2014, he had a 3.53 ERA, which jumped to 4.72 in 2015. He also suffered a tedious injury in 2015, an oblique strain that never really healed completely. These downgrades in 2015 should have been concerning, and they were in fact predictive of what was to come for Peralta.
In his Opening Day start against the San Francisco Giants, Peralta gave up 4 runs over 4 innings pitched, and the Brewers went on to lose the game 12-3. Peralta and the Brewers both went on to have losing seasons, and he finished with a 4.86 ERA and a 1.527 WHIP. Peralta was moved to the bullpen, and never got back to his 2014 self. The curse was continued through Peralta, and in 2017 it found another victim.
2017: Junior Guerra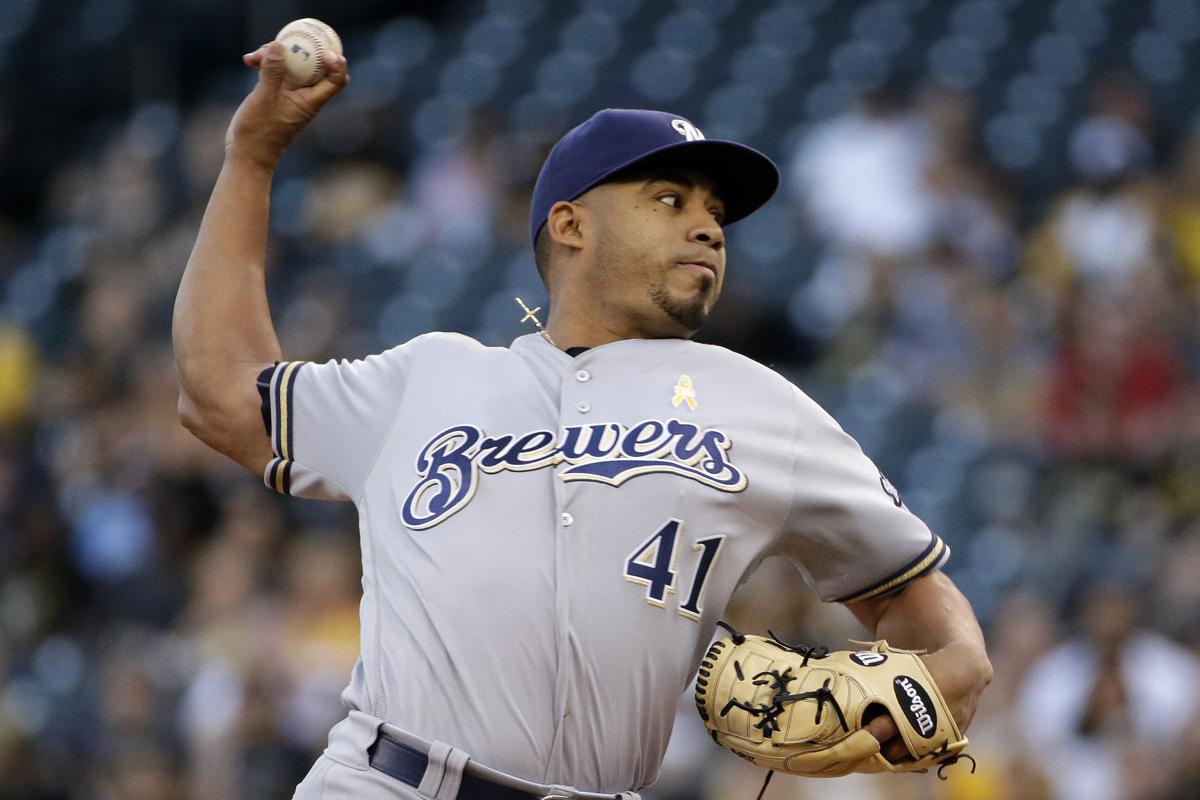 Another righty, Junior Guerra had a promising 2016 season (there's a trend here, isn't there?). He made 20 starts for the Brewers and finished the season with a 2.81 ERA and 1.126 WHIP. All was looking up for Guerra, especially having recovered from a minor elbow injury at the end of 2016. However, the injury bug and the curse would get to Guerra in 2017.
In his Opening Day start, Guerra pitched the first three innings and only allowed a two-run home run to former Brewer Mark Reynolds. But when Guerra went to lay down a sacrifice bunt at the plate, he strained his right calf on the way to first base. The Brewers went on to lose, 7-5 to the Colorado Rockies, and they narrowly missed the playoffs by one game. This was the start of an injury-plagued season for Guerra, in which he only made 14 starts and ended up with a 5.12 ERA. All was not lost for Guerra, however. After a move to the bullpen in 2019, Guerra found his rhythm again as a dependable relief pitcher for the Brewers, and had a 3.55 ERA last season. In 2020, he'll be pitching on a one year deal with the Diamondbacks worth $2.65 million.
2018: Chase Anderson
After he emerged as the best Milwaukee Brewers starter in 2017, manager Craig Counsell gave Chase Anderson the job of Opening Day starter in 2018. His 2017 season included a strong 2.74 ERA over 25 starts, and he also had a 1.090 WHIP. In a season where the Brewers would finally see some postseason success, Anderson was left off the rosters at the end of the year.
Chase Anderson led the Brewers to an Opening Day win (2-1) over the San Diego Padres, giving up no earned runs over six innings pitched. Although Anderson finished 2018 with a 3.93 ERA and 1.190 WHIP, these stats do not take into account Anderson's Achilles heel: the home run ball. Fans of the Brewers definitely remember the struggles that Anderson faced when pitching to power hitters. He ended the season tied for 6th overall in home runs allowed, with 30. This was first in the National League, a stat in which no pitcher wants to be first. Overall, Chase Anderson did not have the season the Brewers were hoping for out of him, and the curse lived on. In 2020, Anderson will be pitching for the Toronto Blue Jays after the Brewers traded him away with 2 club options remaining on his contract.
2019: Jhoulys Chacín
In most recent memory, Jhoulys Chacín appears to have gotten the worst of the Opening Day starters curse. Again, Chacín broke through as the ace of the 2018 squad, starting a whopping 35 games for the Brewers. He finished 2018 with a 3.50 ERA, 1.163 WHIP, and only 18 home runs allowed. Chacín also pitched 12.1 innings in the playoffs, only allowing 2 earned runs. But all of this success in 2018 did not prove for a season of success in 2019.
Chacín opened the season in one of the most memorable games in recent Brewers history. En route to a 5-4 victory over the St. Louis Cardinals, Chacín gave up 3 earned runs over 5.1 innings pitched, and contributed with a home run of his own. But Chacín's success in 2019 was very short: he suffered a side injury that moved him to the DL in late July, and was designated for assignment on August 25, 2019. Before this injury, life wasn't really any better for Chacín on the mound. He had a 5.79 ERA in just 19 starts, and he gave up 19 home runs to boot. In 2020, Chacín will be pitching with the Minnesota Twins on a one year, $1.6 million contract.
2020: Brandon Woodruff?
In an indefinitely delayed season, it seems that the probable Opening Day starter for 2020 is already cursed. Although never formally announced, it is widely assumed that Brandon Woodruff would have been the starter for Opening Day 2020. Before the worldwide pandemic, the Brewers had a scheduled off day on Friday, March 27, leading to manager Craig Counsell considering some creative ideas, including using "initial out-getters." But, if we stick with the Woodruff plan, let's take a look at why Woody could have broken the curse in 2020.
After a breakout finish to 2018 (including this very memorable NLCS moment), Brandon Woodruff cemented himself as the ace of the 2019 rotation.
Last season, Woodruff had a 3.62 ERA over 121.2 innings pitched. Additionally, Woody only gave up 12 home runs all season on his way to an All Star appearance. Although he dealt with a strained left oblique after the All Star break, Woodruff was able to return down the stretch. He contributed with two winning efforts in the second half of September, and started the NL Wild Card game for the Brewers, holding the Nationals to one run over four innings of work.
Predictions
According to baseball-reference.com, Brandon Woodruff is slated to have a middle-of-the-pack year in 2020. Although these stats are thrown out the window with the season still on pause, the predictions are still worth mentioning. The website predicts a 4.07 ERA over 115 innings, a 9-4 record and a 1.226 WHIP. It also predicts only 14 home runs allowed by Woody. If these stats come into fruition, Brewers fans should celebrate a broken curse.
Despite the fact that the MLB season is completely up in the air at the moment, Brandon Woodruff is still the probable starter, whenever Opening Day 2020 happens. Whether that day is in May or July, Woody will hopefully be ready to finally put the curse to rest.
Follow me on Twitter @schrades_14 for more great Brewers content! Discuss this and everything to do with sports at the Overtime Heroics forums! Also, be sure to give another one of my articles a read!