The Green Bay Packers had to trade Davante Adams to the Las Vegas Raiders. The Packers had to make that deal based on the fact that Adams flat out did not want to return to Green Bay. Another popular player, Za'Darius Smith, was cut due to his immense salary cap hit. For a hot minute, it appeared as if Smith was going to return to the Baltimore Ravens, his former team. However, he backed out of that deal and has signed with the Minnesota Vikings. After his visit with the NFC North rival, Smith tweeted:
"Meet at the Quarterback"😁

— Za'Darius Smith (@zadariussmith) March 21, 2022
Of course, to meet at the quarterback, it is important to be on the field, something Za'Darius Smith was unable to do this season. Smith's final season in Green Bay was, in a word, mysterious. From rumors of his discontent over not being voted captain by his teammates to his long absence from the team, no one is really quite sure what went wrong. Regardless, Smith is joining the Packers' rival in Minnesota. He joins of a list of 16 other former players who traded in Green and Gold for Viking Purple. Here is how each of them fared after moving west.
[pickup_prop id="22224″]
Carroll Dale (WR): Packers, 1965-1972; Vikings, 1973
Prior to coming to the Packers, Carroll Dale played five seasons with the Los Angeles Rams. In 1965, Dale began an eight-year run with the Packers that included a NFL Championship, two Super Bowls, and three Pro Bowls. After his eight years in Green Bay, Dale played the last season of his NFL career with the Minnesota Vikings. He had just 14 receptions for 192 yards in 1973.
Carroll Dale was elected to the Green Bay Packers Hall of Fame in 1979. He is also a member for the Virginia Sports Hall of Fame and College Football Hall of Fame.
Jan Stenerud (K): Packers, 1980-1983; Vikings, 1984-1985
Jan Stenerud is a Pro Hall of Fame kicker who spent 13 of his 19 NFL seasons with the Kansas City Chiefs. After his first 13 seasons with Kansas City, Stenerud spent four seasons as the kicker for the Green Bay Packers. By the time he got to Green Bay, he was already a five-time Pro Bowler and one-time All-Pro.
In his four seasons with the Packers, Jan Stenerud made 59 of 78 field goals (80.8%) and 115 of 118 extra point kicks (97.5%). He did not make any Pro Bowls with the Packers.
After his four years in Green Bay, Stenerud spent the last two seasons of his career with the Vikings. He made his sixth and final Pro Bowl in 1984 when he made 20 of 23 field goal attempts. His 87% success rate that year was the second-best of his career. The only year he was better was in 1981, with the Packers, when he converted 91.7% of his field goal attempts.
Jan Stenerud made just 15 of his 26 field goal attempts in his final NFL season with the Vikings. He was elected to the Pro Football Hall of Fame in 1991.
Bucky Scribner (P): Packers, 1983-1984; Vikings, 1987-1989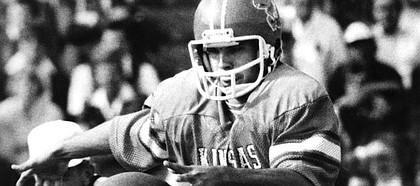 Bucky Scribner had a short NFL career. After playing two seasons with the Packers, he was away from football for a few seasons. He was eighth in the NFL in 1984 in yards per punt with 42.3.
Scribner joined the Vikings as a replacement player during the 1987 players' strike. He remained with the team for two more seasons. He averaged 40.2 yards per punt in three seasons with the VIkings.
Bucky Scribner died from brain cancer in 2017.
Paul Coffman (TE): Packers, 1978-1985; Vikings, 1988
Paul Coffman was brought to the forefront of Packers' fans minds during the 2020 season. The reason: Robert Tonyan tied Coffman's single-season franchise record for touchdown receptions by a tight end. Coffman had 11 touchdown receptions in 1983. That season was the second of three-straight Pro Bowl nods for the Packers Hall of Famer.
After eight seasons in Green Bay, Coffman played for the Kansas City Chiefs for two years. In 1988, he signed with the Minnesota Vikings. He played in eight games, but did not record a single reception.
Of Paul Coffman's 4,340 career receiving yards, 4,223 of them came with the Packers. Of his 42 career touchdowns, 39 came in Green Bay.
Mossy Cade (CB): Packers, 1985-1986; Vikings, 1988
Alright, I'm not going to spend much time on this one. I'm not going to even provide a picture. Mossy Cade doesn't deserve it. The night after his first start in 1985, he sexually assaulted his aunt. The Packers, aware of the charges against him, did nothing. Cade was found guilt and sentenced to two whole years in prison (just a slap on the wrist).
When the Minnesota Vikings signed him in 1988, there was such an immense backlash from their fans that they released him three days later.
Jeff Brady (LB): Packers, 1992; Vikings, 1995-1997
From 1991-1994, Jeff Brady was a journeyman linebacker. His 1992 stop in Green Bay resulted in a whopping seven tackles all year. The Packers were just one of five teams Brady played for in his first four seasons in the NFL. To say he found more success with the Vikings would be an understatement.
In three seasons with the Vikings, Jeff Brady accumulated 233 tackles, 4.5 sacks, and five interceptions. His best season was in 1996 when he had 101 tackles, 1.5 sacks, three forced fumbles, and three interceptions.
Brady finished his career with the Carolina Panthers and Indianapolis Colts.
Bryce Paup (LB): Packers, 1990-1994; Vikings, 2000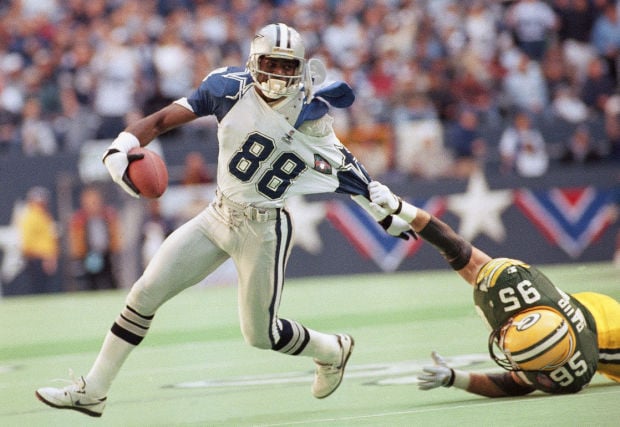 Bryce Paup is probably best known for his years with the Buffalo Bills. From 1995-1997, Paup was an absolute force in Buffalo, winning the NFL Defensive Player of the Year Award in 1995 when he led the league with 17.5 sacks.
Before that, he was a Green Bay Packer. In 1993, Paup had 11.0 sacks for the Packers. The next season, he made his first career Pro Bowl behind 7.5 sacks and three interceptions, including a pick-six.
By the time Bryce Paup signed with the Vikings in 2000, his career was all but over. He played in just eight games and recorded two sacks.
Darren Sharper (S): Packers, 1997-2004; Vikings, 2005-2008
This is another player that does not really deserve much praise or time. Therefore, I'll be quick. He was good for the Packers and Vikings, but what came out about him afterwards makes it all meaningless.
Sharper is currently serving at least 20 years in prison for numerous sexual assaults.
Ryan Longwell (K): Packers, 1997-2005; Vikings, 2006-2011
Before Mason Crosby became the Packers' all-time leading scorer, that title was held by Ryan Longwell. Longwell was drafted by the Packers to replace Chris Jacke. In nine seasons with Green Bay, Longwell made 226 of 277 field goal attempts, good for a success rate of 81.6%.
Longwell signed with Minnesota ahead of the 2006 season. He spent six more years in the NFL as a Viking. In those seasons, Longwell made 135 of 157 field goal attempts. This calculates to an 86% success rate.
Robert Ferguson (WR): Packers, 2001-2006; Vikings, 2007-2008
Robert Ferguson played eight seasons in the NFL. The first six were spent with the Green Bay Packers. While playing in Green Bay, Ferguson caught 12 of his 13 career touchdown receptions. His best season was in 2003 when he caught 38 receptions for 520 yards and four touchdowns.
In 2007, Ferguson signed with the Minnesota Vikings and had his second most productive season of his career. That year, he had 32 receptions for 391 yards and a single touchdown. The next year, he only played in eight games and had three receptions. That season, 2008, was his final season in the NFL.
Brett Favre (QB): Packers, 1992-2007; Vikings, 2009-2010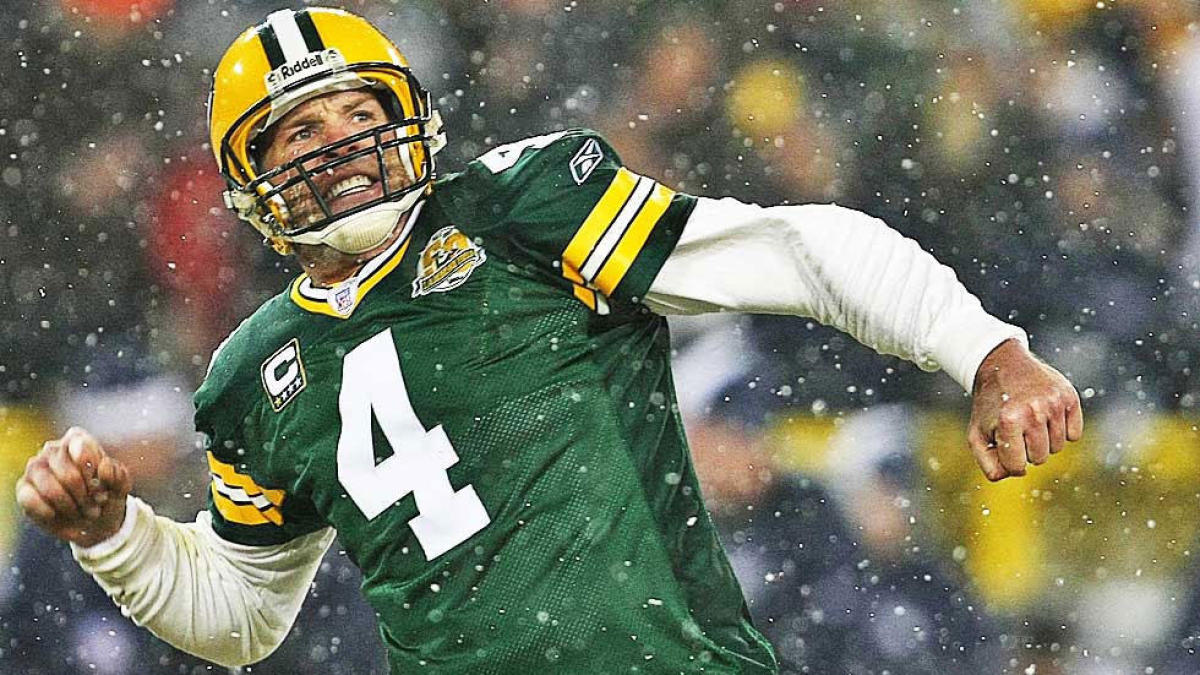 Of course, the most well-known example of a Packers player going over to Minnesota is that of Brett Favre. The three-time MVP had already put together a Hall of Fame career by the time he signed with Minnesota in 2009. His achievements with Green Bay are the things of legend, and his legend is one remembered differently by many fans. Some believe the Packers did Favre wrong; others were welcoming of the young replacement, Aaron Rodgers. In other words, Minnesota saw an uptick in fans for a couple of seasons when Favre was under center.
To be fair, Favre did have an excellent 2009 season. A MVP contender that year, he had 33 touchdowns and just seven interceptions. He led the NFL with a 1.3 interception percentage for the only time in his career. However, in 2010, he had 11 touchdown passes and 19 interceptions in just 13 games. His 5.3 interception percentage that season was the worst of his career.
Desmond Bishop (LB): Packers, 2007-2012; Vikings, 2013
Desmond Bishop was a contributing member of the Green Bay Packers last Super Bowl winning team. From 2010-2011, Bishop was one of the Packers' starting linebackers and registered over 100 tackles in each of those seasons. Unfortunately, Bishop tore his hamstring in a 2012 preseason game and missed the whole year.
In 2013, Bishop signed with the Vikings. However, he was only able to play in four games before tearing his ACL. He recorded just five tackles in those games. Bishop played for the 49ers in 2014, but only appeared in two games. He was out of the NFL by 2016.
Greg Jennings (WR): Packers, 2006-2012; Vikings, 2013-2014
Has a player ever turned an entire fanbase against him quite like Greg Jennings has? It wasn't that he signed with the rival Vikings. Brett Favre did, too, and he is still beloved in Green Bay. No, it was the way Jennings trashed the organization after he left. The worst part, for him at least, was that he was not nearly as productive in his post-Green Bay career.
With the Packers, Jennings had three-straight 1,000 yard seasons, caught 12 touchdowns in two separate seasons, and made two Pro Bowls. With the Vikings, he a little above average, but never came close to his numbers in Green Bay.
Oh, and don't forget about his social media feud with Kurt Benkert.
DuJuan Harris (RB): Packers, 2012-2014; Vikings, 2015
DuJuan Harris was a little-used running back who spent some time with the Packers from 2012-2014. He missed all of 2013 because of a fist-sized cyst near his lung. All told, Harris rushed for two touchdowns and 221 yards in his Packers career.
That may not sound like much, but it was more than he did for the Vikings. The Vikings signed Harris in 2015, but he never saw the field. He was cut in early September and bounced around several practice squads before finding some playing time with Seattle and San Francisco.
Brandon Bostick (TE): Packers, 2012-2014; Vikings, 2015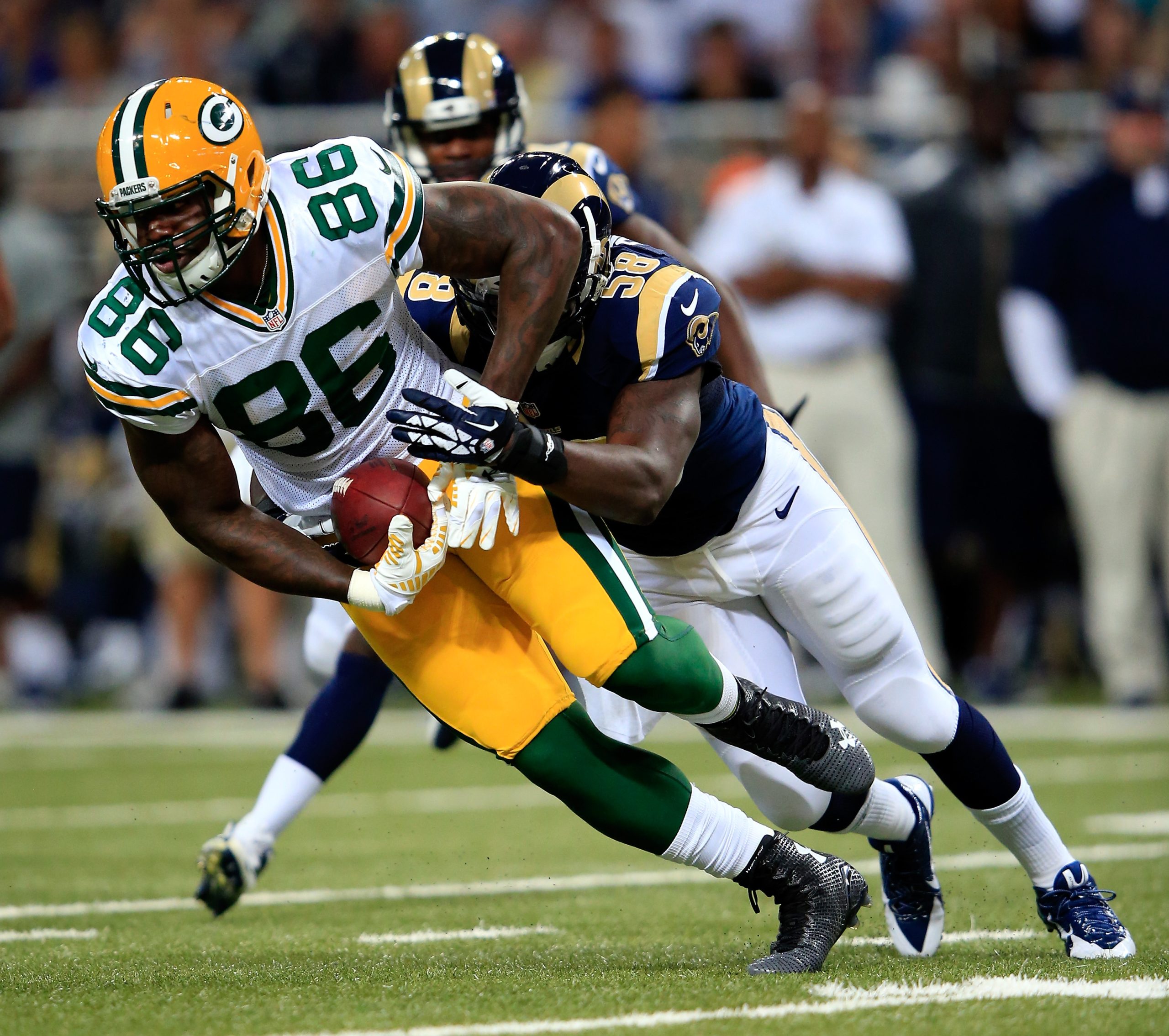 The thing we are not going to do here is dog Brandon Bostick. Known for his ill-advised attempt to recover an onside kick in the 2014 NFC Championship Game, Bostick has overcome much hate and his own mental health struggles to become an inspiring story of overcoming personal demons.
The Packers signed Bostick in 2012, which he spent on the practice squad. From 2013-2014, Bostick was a backup tight end and caught two total touchdowns in that time. When he was cut in 2015, he signed with the Vikings. However, he never saw the field with them and was cut before the season began.
Datone Jones (DE): Packers, 2013-2016; Vikings, 2017
Perhaps one of the worst first round picks in recent Green Bay Packers' history, Datone Jones just never lived up to the hype. With the Packers, he tallied just nine sacks in four seasons. He was relatively healthy. The talent, though, just wasn't there. He wasn't on my list of top ten worst draft picks, though. You can find that list here.
After becoming a free agent, Jones signed a one-year deal with the Minnesota Vikings in 2017. However, Minnesota cut him before the season began. He ended up splitting time in 2017 with the Cowboys and 49ers.
Speaking of Packers players going to other teams, Davante Adams is a Raider now. Find out how former Packers fared with that franchise here.
For More Great Wisconsin Sports Content
Follow me on Twitter at @theotherRobin19 and follow us @WiSportsHeroics for more great content. To read more of our articles and keep up to date on the latest in Wisconsin sports, click here! Also, check out our merch store for some amazing WSH merchandise!