Milwaukee's season is over, after falling to the Miami Heat in 5 games. The national media has been clamoring for change, and it might just happen.
The Bucks are coming off another historic regular season. Two straight years being the number 1 seed in the Eastern Conference, likely back-to-back MVPs for Giannis Antetokounmpo, and another year increasing their win totals, only to come up short yet again in the postseason. 
We know one thing is imminent: change. Giannis just recently met with co-owner Marc Lasry to discuss his future with the team, as well as other things that need to be done. 
ESPN Sources: MVP Giannis Antetokounmpo's 3-hour lunch with Bucks co-owner/governor Marc Lasry on Friday covered the season, how Bucks can improve roster, Lasry confirming willingness to spend into luxury tax and agreement they'll talk again after Giannis returns from a vacation.

— Adrian Wojnarowski (@wojespn) September 14, 2020
In today's NBA, players have more say than ever. In order to win a championship, hard decisions need to be made. Giannis needs to take advantage of his status in the city of Milwaukee and begin to demand for the best of the best around him. 
Let's take a look at some changes that can be made, whether it is resigning current players or trying to build through free agency. 
Player Options: Wesley Matthews ($2.6 million) & Robin Lopez ($5 million)
Free Agents: Kyle Korver, Pat Connaughton, Sterling Brown, Cam Reynolds, Frank Mason
One of the main reasons the Bucks had their season ended rather quickly is versatility. The Heat, and even the Magic to some degree, exposed the Bucks lack of firepower off the bench. Wesley Matthews played well defensively, as did Connaughton, but Korver was inefficient, and players like Sterling Brown and Robin Lopez were non-factors down the stretch. 
Verdict: Resign Matthews and Connaughton, offer Frank Mason 2-way deal
A lot of things can happen regarding the Bucks returners. Jon Horst may want to run things back with a few minor changes or completely overhaul. Time will tell.
5 Free Agency Targets for the Bucks
Free Agent #1: Jae Crowder
2019-20 stats: 9.9 ppg, 6.2 reb, 2.8 ast, 37% FG, 29% 3PT
Crowder is a solid NBA vet, going into his 8th year in the league. A proven "3 and D" player, he could flourish in Coach Budenholzer's system, with heavy emphasis on 3 point shooting and stout half-court defense. Crowder is coming off a 5 year/$35 million contract, so the Bucks might be able to maneuver a move for the journeyman around $5-6 million. The pitch? Get quality minutes off the bench, shoot 3's, and play defense. Not to mention, the stout defense he played on Giannis was noticeable, and that changes things. Why not add him to the mix? 
Free Agent #2: Serge Ibaka
2019-20 stats: 15.4 ppg, 8.2 reb, 51% FG, 38.5% 3PT
This is an option that could bolster one of the league's best defense frontcourts. Adding Ibaka could equal an extra-big lineup in Milwaukee. Giannis could shift to the 3 and continue to roam the perimeter, and adding a proven pick-and-roll/pop scorer like Ibaka would be beneficial. Even if he comes off the bench, having Ibaka not only would help defensive efforts, but add an experienced player to a team in search of the Larry O'Brien. The only problem could be Ibaka's price tag ($21 million in 2020), possibly requiring other roster moves to be made to make space for his services.
Free Agent #3: Joe Harris
2019-20 stats: 14.5 ppg, 4.3 reb, 2 ast, 42% 3PT
A player of the caliber of Joe Harris could help the Bucks immensely on the offensive end. Another option to potentially throw in the starting five or a quality piece for the second unit, Harris is younger version of Korver (29) and has experience playing in smaller markets with bigger stars (Cleveland with LeBron, Brooklyn with Kyrie, LeVert, etc.) His salary last season was $8 million, so it may be a similar pitch to Crowder and Ibaka in terms of lower numbers. If Budenholzer could snag Harris, this would be a sneaky, under the radar win in free agency, and a move that can change the output on offense. 
Free Agent #4: Jerami Grant
2019-20 stats: 12 ppg, 3.5 reb, 48% FG, 39% 3PT
Hear me out on this one. The idea of Giannis soaking up some time at the center position could allow a player like Grant to slide in and play quality time at the stretch-four spot. With Marvin Williams retiring, inserting Grant in that spot would help piece together the second unit. In the midst of a fierce Denver playoff run, Grant has showed flashes of unguardable athleticism, as well as the ability to step outside the paint and make shots. This is contingent upon whether or not he accepts Denver's player option, but he is also a player that may fly under the radar when free agency begins. 
Free Agent #5: Bogdan Bogdanovic
2019-20 stats: 15.1 ppg, 3.4 reb, 3.4 ast, 44% FG, 37% 3PT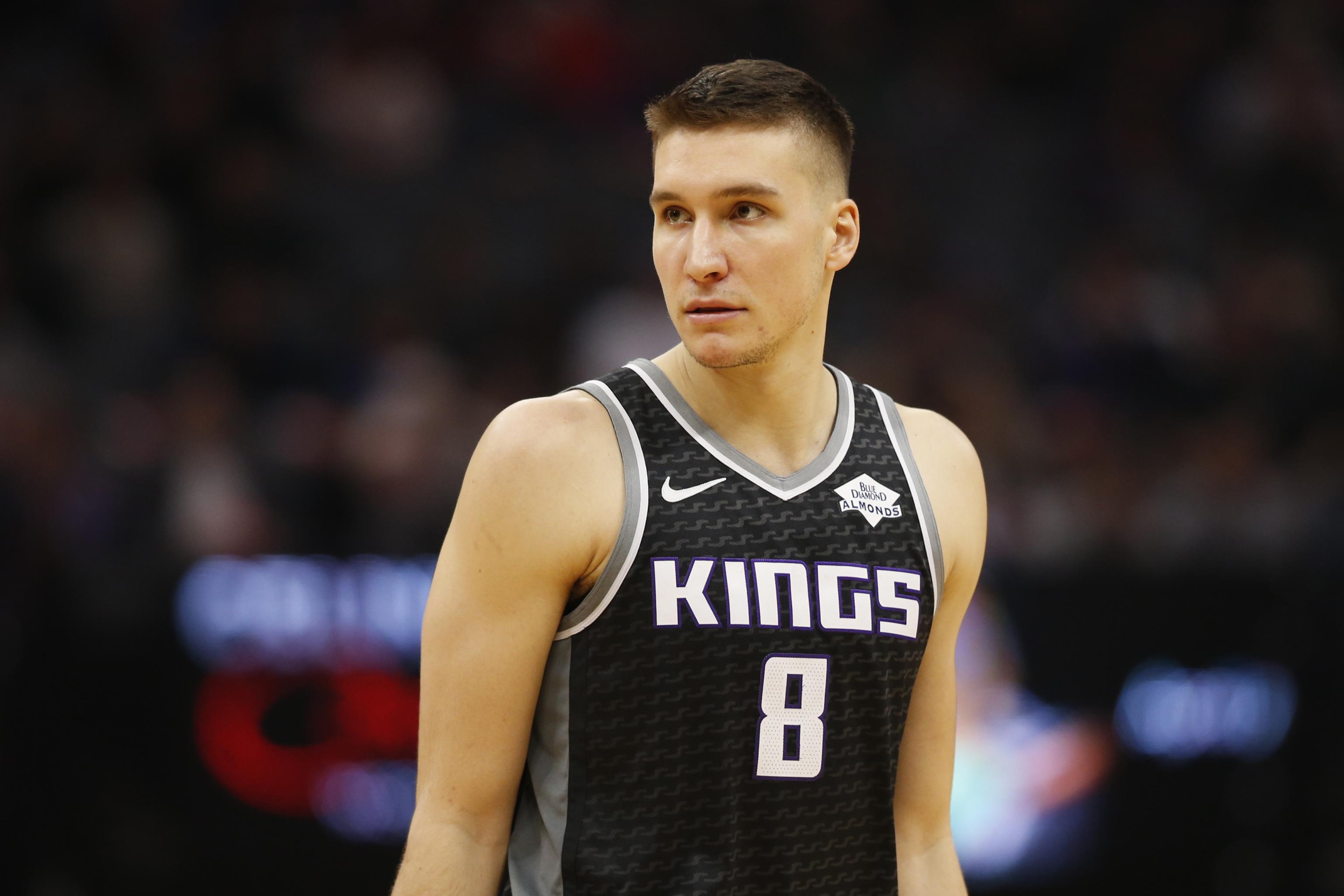 Another Joe Harris type wing, Bogdanovic is an enticing option for a team in need of more scorers. During his three year tenure with Sacramento, he's averaged double figures and shot above 36% from three each season. Since he's a restricted free agent, an offer sheet may be more feasible, but having Bogdanovic would be a lethal number three or four option on this Bucks squad. 
Follow me on Twitter at @donchiarel and follow us @WiscoHeroics1 for more great content. To read more of our articles and keep up to date on the latest in Wisconsin sports, click here!