It was truly a present Milwaukee Bucks fans were asking for: A win against the Boston Celtics. The Bucks beat Boston 117-113 in a comeback victory, bringing their record to 5-3 all-time on Christmas Day.
This win also signified the first win for the Bucks over Boston this season, and their third game in a row, improving their record to 22-13. Throughout the entire game, Milwaukee did not lead once until Wesley Matthews hit a three with 30.3 seconds left in the game. Let's take a look at three takeaways from this Christmas Day win.
Giannis Returned Like He Never Left.
Giannis Antetokounmpo returned to the court today after being in the NBA's health and safety protocols dating back to Dec. 12. Though he said he was going to set some low expectations for himself, he far exceeded said expectations.
Antetokounmpo finished Saturday's game with 36 points, five assists, and 12 rebounds. His 36 points scored was the second most on Christmas Day for a player in the Bucks' franchise history. He was able to make his first offensive rebound with 9:53 left in the first quarter to then deliver a dunk and bring the score to 7-5.
Though he got off to a slow start, only scoring seven points before halftime, he came back in the third, scoring 17 points and then further added 12 more once Boston had taken a 13-point lead with only five minutes left of play.
Key Players Returned
Not only did the Bucks get Antetokounmpo back, but they also were able to get center Bobby Portis and guard Donte DiVincenzo. For DiVincenzo, this was his first game back all season after suffering a foot injury in the playoffs last season.
Portis had missed four games due to being in protocol dating back to Dec. 19. Off the bench, Portis contributed 16 points to the Bucks' win with 10 rebounds, four assists, and went 6-for-13 at the FG. Portis played for 22 minutes in total.
In his season debut, DiVincenzo made only three points in just 16 minutes of play. He was able to get two rebounds, but only went 1-for-4 at the FG. There still is plenty of basketball left for DiVincenzo to return to the player fans all know and love. Even though he didn't bring a lot of production, it was really good to see DiVincenzo back on the court! They're slowly but surely getting healthy again and getting their main players back which will be crucial as they truck along he rest of the season.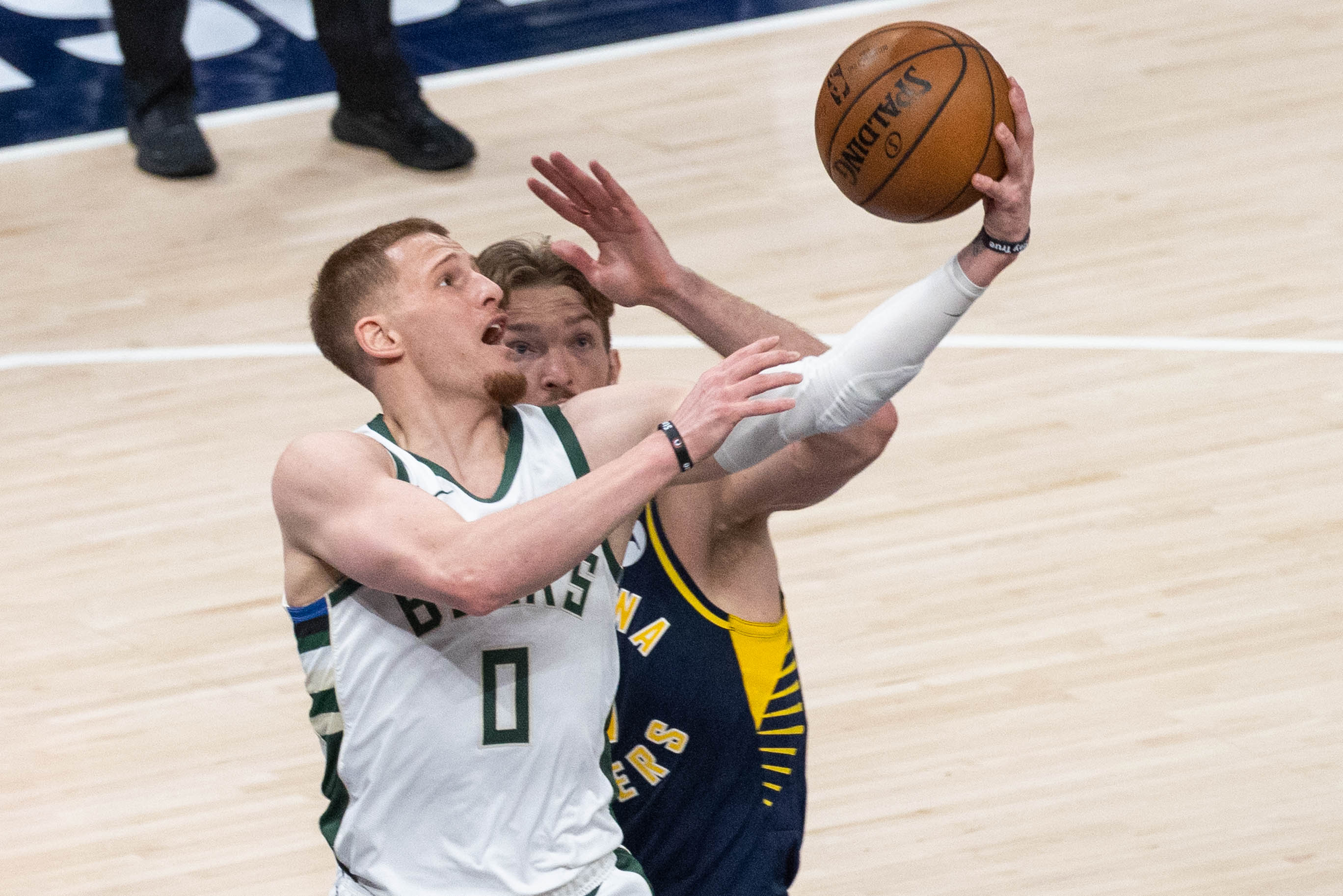 Not to mention, DeMarcus Cousins, though he didn't perform as aggressively as he did against Dallas, he still put up nine points and had eight rebounds; Including a dunk off of an offensive rebound. A starter in today's game, Cousins has shown that he has his groove down in Milwaukee and continues to trend in the right direction, even after the return of Antetokounmpo and Portis.
Middleton and Holiday Continue to Shine
If the Milwaukee Bucks have both Khris Middleton and Jrue Holiday in the starting five, just know it's going to be a good game. Even in games where Antetokounmpo wasn't available, Middleton and Holiday have been a two-headed monster that no one wants to mess with.
Middleton put up 17 points in 36 minutes of play; He also had seven assists and three rebounds, respectively. There's a reason this man should be in the All Star game, and that's because he knows how to get the job done. Middleton contributed the Bucks' first points in the start of the game after making a three-point jumper, tying it up at 3-3 with 11:21 remaining in the first quarter.
It was in the second quarter when Boston's Tatum made three free throws to turn their lead to 46-37, but with a pair of threes from 'Kha$h Money' himself with 1:55 left in the half, the Bucks cut it down to a 10 point lead going into halftime. Seeing how Middleton seemed to be in some sort of offensive funk, it looks like his last couple of performances have helped him find the momentum he needed to really tear it up on the court.
It was a jolly good holiday with Jrue Holiday on the court.
Holiday has had an amazing past couple of games, and isn't showing any signs of stopping any time soon. Shooting 8-for-14 from the FG, and 1-for-4 at the three, Holiday had yet another fantastic night scoring 17 points. Add in the three assists, five rebounds, and four steals and you have yourself electrifying basketball from Holiday in 37 minutes of play.
Overall Thoughts
Despite the constant change in the Bucks' lineup, they still remain one of the top teams in the Eastern conference. The illnesses and injuries have hurt their rotation several times this season, but Milwaukee has shown time and time again that they're able to fight off those setbacks and remain one of the best.
The Milwaukee Bucks get the next couple of days off; Then it's off to Orlando to face the Magic on Tuesday night.
For More..
Follow me on Twitter at @sarahspooon and follow us at @WiSportsHeroics! For all things Wisconsin sports, click here!