The Milwaukee Bucks opened their season up with a 127-104 victory over their old friend, the Brooklyn Nets. With ring night and the banner raising ceremony looming, the Bucks managed to keep their heads on straight. They came out hot, outscoring the Nets 37-25 in the first quarter.
The big three of the Bucks did their thing while Jordan Nwora and Pat Connaughton came off the bench and contributed.
Here's a look at 3 studs that lifted the defending champs over one of the heavy favorites to win the championship this year.
3 Bucks Studs vs. Brooklyn
Giannis Antetokounmpo
The reigning MVP of the league came out firing on opening night. Back like he never left, Giannis dropped 32 points while only playing 31 minutes. Giannis also added 14 rebounds for a quiet double-double. He finished with the best +/- of the Bucks with +25.
With a new and improved free-throw routine that doesn't have people counting to 10, he looks unstoppable.
Sorry NBA, looks like Giannis is gonna continue to be the biggest problem for you!
Khris Middleton
Coming off a postseason for the ages, Middleton showed no signs of slowing down on opening night. Playing only 31 minutes, Khris managed to tally 20 points on 9/21 from the field. Giannis and Khris continued to complement each other nicely. Middleton had a +/- of +20, the third best of the Bucks.
Grayson Allen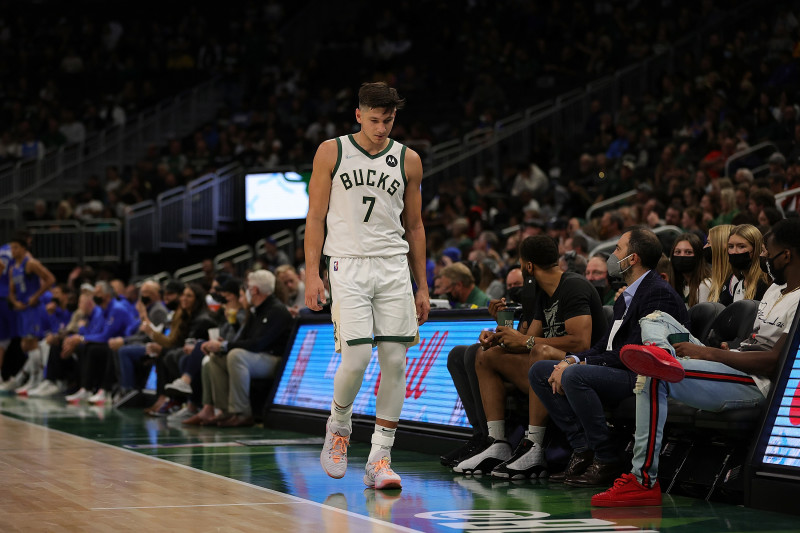 Milwaukee saw Grayson Allen suit up for his first regular-season game in a Bucks jersey. Just days after signing his rookie contract extension, Allen proved he deserved it.
He started for the Bucks but saw playing time throughout the game with a litany of different lineup partners. He managed to stand out in all of them.
With a +/- of +20, his impact on the court was hard to deny, despite a tough shooting night.
3 Duds on the Bucks vs. Nets
George Hill
The return of George Hill to Milwaukee in free agency was controversial. Some were happy to welcome him back, some not.
Unfortunately, his opening night performance rose even more eyebrows in the worst way possible. In 23 minutes, Hill only managed to add 1 point off of a free throw. His +/- was -6 and he was 0/5 from the field.
Here's hoping Indiana George can turn things around next game.
Grayson Allen 3 Point Shooting
There's no question about it: Grayson Allen is known for his three-point marksmanship.
On opening night, however, his shot was just not there. With the only shots he attempted being 3's, Allen went 3/10 from beyond the arc. Not good numbers for a scorer despite his positive impact.
Off nights happen with shooters, and with that being Allen's most valuable asset, Bucks fans are hoping to see him bounce back.
Brook Lopez Struggles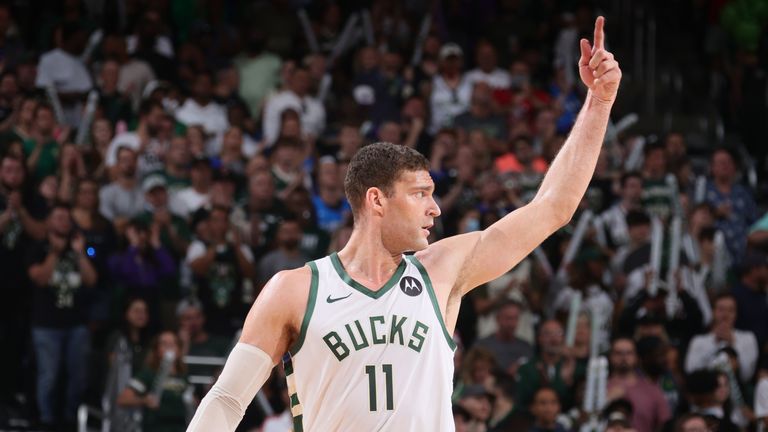 A quiet 8 point night for the Milwaukee Bucks center is uncharacteristic. In 28 minutes, Lopez shot 5/13 from the field.
With the Bucks lacking depth in bigs, Brook will have to limit nights like these.
Splash Mountain did manage to shoot 50% from three, despite his struggles.
For more Wisconsin Sports content
Follow me on Twitter at @hilleryphoebe and follow us at @WiSportsHeroics! To read more of our articles and keep up to date on the latest in Wisconsin sports, click here!