The MLB Trade Deadline is just a couple of weeks away. World Series contenders are looking for the final few pieces to add to their team to push them over the top. One of those teams looking for their final pieces is the Milwaukee Brewers. The Brewers' pitching has been a strength, as expected, but their offense has room to improve.
Where Can the Brewers Improve?
The Brewers rank near the bottom of the league in team batting average and on-base percentage. It is clear that the Brewers need to add a few bats to the lineup that can bolster their performance in those categories. Although it is clear that the Brewers need to add some pieces, and we know what kind of players we're looking for, there is still a big issue in the way of any move. That big issue is the cost of a trade chip.
"While I think there might be ways to tweak, the majority of our offense improvement is going to have to come from in-house."

State of the Brewers: David Stearns assesses team as trade deadline looms https://t.co/BtRjkRw75F

— Will Sammon (@WillSammon) June 18, 2022
A few weeks ago, Brewers GM David Stearns said they likely won't be able to make any big moves at the deadline due to tight costs. This of course is an issue of Brewers owner Mark Attanasio not being willing to have a larger payroll to push the team over the top. Additionally, as covered in a previous Wisconsin Sports Heroics article, this philosophy truly ties the hands of Brewers GM David Stearns. Many teams use free agency and their farm systems to build their teams, but the Brewers under David Stearns have been built mostly via trade. By limiting the trading ability of your superstar GM, you are limiting the success of your team.
Even if there are limitations on what David Stearns can do, you can bet your bottom dollar that he'll be scouring the market for a good deal. One of those deals could possibly come from the Bay Area.
A Reasonably Priced Trade Chip
Looking at the trade deadline market, one player the Brewers could keep their eye on is Oakland Athletics outfielder Ramon Laureano. Although Laureano started the season late after finishing up his 80-game suspension for PEDs, he has been a relatively consistent bat and strong defender in Oakland. If you're unfamiliar with Laureano, just think Lorenzo Cain, but with a better bat.
Laureano has a career .260 batting average with a .790 OPS and 10.5 career WAR in five seasons with the A's. Although a trade for him wouldn't shake up the National League, it would boost the Brewers lineup in areas of need. In addition, the asking price for Laureano would be fairly reasonable from the Brewers' perspective.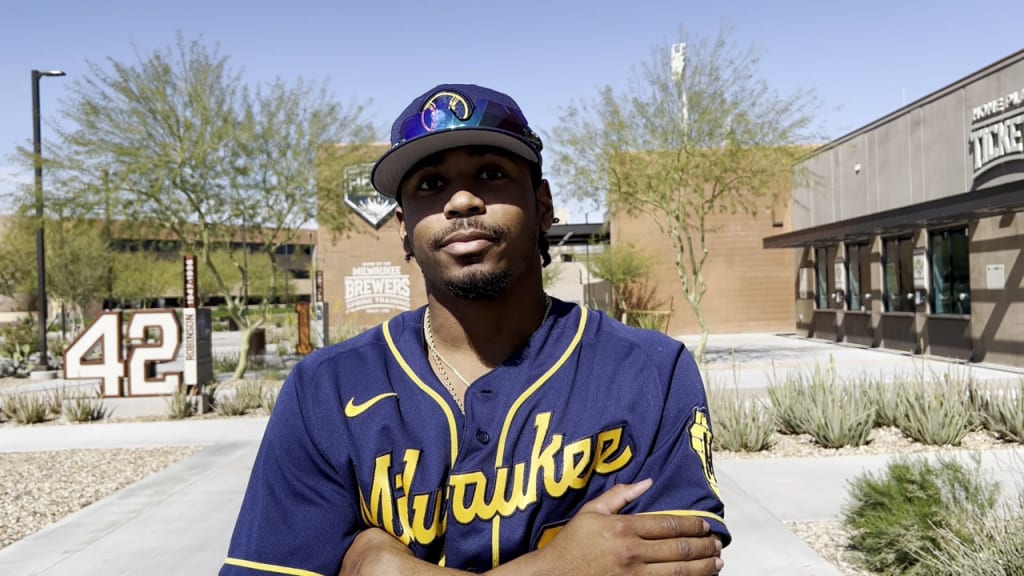 Laureano's contract is roughly $2.5 million, which isn't going to break the bank. The Brewers would likely have to give up a couple of prospects to snatch Laureano away from the A's, especially since he has two years of team control remaining before he hits free agency. A potential package for Laureano could look something like this:
Joe Gray Jr, OF, Brewers #13 Prospect
Alec Bettinger, P, Brewers #22 Prospect
Gabe Holt, INF, Brewers #27 Prospect
Is this Trade Worth It?
Ideally, the Brewers could get this deal done for only two of the three aforementioned prospects, but Oakland may ask for all three since they know the Brewers place a lot of value on the team control Laureano has left.
Regardless of whether or not a deal for Laureano gets done before the deadline, the Brewers are in a solid position to make the playoffs. Even with the injury bug taking out a few key players for extended amounts of time, the Brewers are winning. They've won enough to be in first place in the NL Central right before the All-Star break. However, Stearns will have to make one or two deadline trades to push them over the edge.
For More Great Content
Follow me on Twitter at @BJarumbo and follow @WiSportsHeroics as well for more great Wisconsin sports content! To keep up to date on the latest in Wisconsin Sports, click here! For some awesome Wisconsin Sports Heroics gear, check out our merch store!