David Stearns is one of the best front office minds in all of baseball. Therefore, there is a reason why the New York Mets have been rumored to be trying to lure him away from Milwaukee. If Stearns' recent comments about the upcoming MLB trade deadline are any indicator, he could certainly leave for a team with an owner who is willing to open his wallet. Despite the Brewers' inconsistencies at the plate all season, David Stearns admitted to The Athletic that the Brewers will not be large buyers at the MLB trade deadline.
"While I think there might be ways to tweak, the majority of our offense improvement is going to have to come from in-house."

State of the Brewers: David Stearns assesses team as trade deadline looms https://t.co/BtRjkRw75F

— Will Sammon (@WillSammon) June 18, 2022
The Brewers Have a Reputation for Being Cheap
The Milwaukee Brewers are a small market team. That being said, the fans consistently make American Family Field one of the most visited stadiums during the season. Aside from the 2020 season in which there were no fans in any stadium, the last time the Brewers were outside the top-10 in attendance was 2016. Despite the fans spending their hard-earned money to attend games, owner Mark Attanasio is not returning the favor this season before the MLB trade deadline.
Earlier this year, Attanasio stated that the Brewers broke the bank to sign Andrew McCutchen. McCutchen is a fine player and fans love him, but a one-year deal worth around $8 million should not be considered "breaking the bank." Milwaukee currently has a payroll of $133 million (per Spotrac), which consequently ranks 18th out of 30 MLB clubs heading into the trade deadline.
Indeed, there is much fear among fans that Attanasio will not pony up the funds necessary to sign Josh Hader and Corbin Burnes once they are no longer eligible for arbitration. This latest statement by David Stearns does not provide any hope for that either. The Brewers are just a game behind the St. Louis Cardinals in the standings and are more than able to compete for a World Series if they can get a big bat before the MLB trade deadline. Apparently, that is too much to ask.
This Is a Drastic Change of Strategy as the MLB Trade Deadline Approaches
The Milwaukee Brewers are a very unique ballclub in terms of how they were constructed. Whereas many teams use free agency and their farm systems to build their teams, the Brewers under David Stearns have been built mostly via trade.
Not surprisingly, the #Brewers Stearns doesn't use the draft or amateur free agency to build his club:

—> 22.5% homegrown players (20th in MLB)
—> 37.5% via free agency (10th)
—> 40% via trade (6th)
—> 0% via all other (30th) https://t.co/nQJ2PBko8o

— DeathToFlyingThings (@SpectiveWax) June 19, 2022
If these numbers are accurate, the fact that Attanasio is handcuffing David Stearns as the MLB trade deadline approaches is very worrisome.
There Have Been Some Signs of Life on Offense
Even though the Brewers have been inconsistent on offense and could use some reinforcements via trade, there are several players who have been starting to heat up in June. Below is a list of the players, their averages coming into June, and their averages in June.
Jace Peterson: .212/.299/.324; .267/.320/.489
Rowdy Tellez: .247/.309/.500; .269/.328/.308
Christian Yelich: .234/.322/.386; .255/.328/.364
Andrew McCutchen: .214/.263/.312; .314/.407/.392
Of course, there is always needed context when it comes to these kinds of numbers before the MLB trade deadline. For example, Christian Yelich has completely altered his approach at the plate since moving to the leadoff spot on June 8. Of course he is not going to attempt to put up the slugging numbers that he would from hitting third or lower in the order.
In actuality, the only outlier here in terms of production is Rowdy Tellez. While his batting average has gone up, his OPS has fallen. That being said, the fact that he is making more contact means that the production will soon follow. Christian Yelich, too, has seen his OPS drop slightly while his OPS has fallen. However, the fact that he is now hitting leadoff means that his batting average and on-base percentage is what is more important. These two stats have gone up in June as the MLB trade deadline approaches.
Minor League Hitters Who Could Have an Impact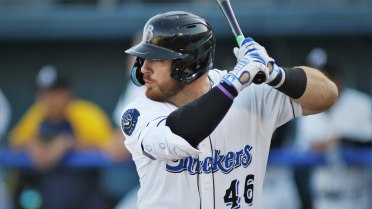 After Lorenzo Cain was DFA'd on Saturday, the Brewers subsequently called up Jonathan Davis from Triple-A Nashville. At the time of his call-up, Davis had an OPS of .834. In his first game with the Brewers, he went 2-4 with a walk. In addition to Davis, here are some minor league prospects who could help spark the Brewers' offense if the Brewers do not become active before the MLB trade deadline. This list includes their name, position, minor league affiliate, and batting lines.
Brice Turang; 2nd base/short stop; Triple-A Nashville; .277/.327/.360
David Dahl; outfield; Triple-A Nashville; .285/.361/.408
Mario Feliciano; catcher; Triple-A Nashville; .295/.356/.346
Abraham Almonte; 2nd base/outfield; Triple-A Nashville; .282/.372/.516
Joey Wiemar; outfield; Double-A Biloxi; .266/.339/.523
Cam Devanney; infield; Double-A Biloxi; .281/.363/.497
Jackson Reetz; catcher/left field; Double-A Biloxi; .283/.408/.612
Triston Lutz; outfield; Double-A Biloxi; .259/.331/.456
Sal Frelick; outfield; Double-A Biloxi; .281/.350/.406
Conclusion on the Brewers at the MLB Trade Deadline
The Milwaukee Brewers have the pitching needed to make a deep playoff run regardless of trades. Even with Brandon Woodruff and Freddy Peralta out, the team still boasts Corbin Burnes and Eric Lauer, who would be top two starters on most pitching staffs. Jason Alexander has been stellar as a rookie and Adrian Houser almost always keeps the Brewers in the game.
The big question above all is can the offense improve without any trades. No current Brewers player has a batting average over .270 (that plays regularly) or an OPS above .800. This is very concerning for a team that is expected to win the division and compete for a World Series. While the current roster has several players that show signs of improvement, their health and continued production is far from certain. That being said, more than a few of their minor league prospects have OPS's over .800.
David Stearns, as mentioned above, has built this team via trade and is very good at it. Subsequently, Mark Attanasio should allow him free reign to acquire any big bat that he can.
For More Great Wisconsin Sports Content
Follow me on Twitter at @theotherRobin19 and follow us @WiSportsHeroics for more great content. To read more of our articles and keep up to date on the latest in Wisconsin sports, click here! Also, check out our merch store for some amazing WSH merchandise!