It was a down and down year for the future Silver Slugger winner. Here's how he graded out for our 2021 report cards. 
2021 was Keston Hiura's third season with big league action, and it was his third-best season in the bigs. After leading all second basemen in errors in the shortened 2020 season, the Brewers went out and signed Gold Glover Kolton Wong.
Hiura, however, still found a starting role with Milwaukee at first base, where both his bat and his fielding were a better fit. Then again, saying someone's fielding better suits first base is kind of like saying someone has a good face for radio.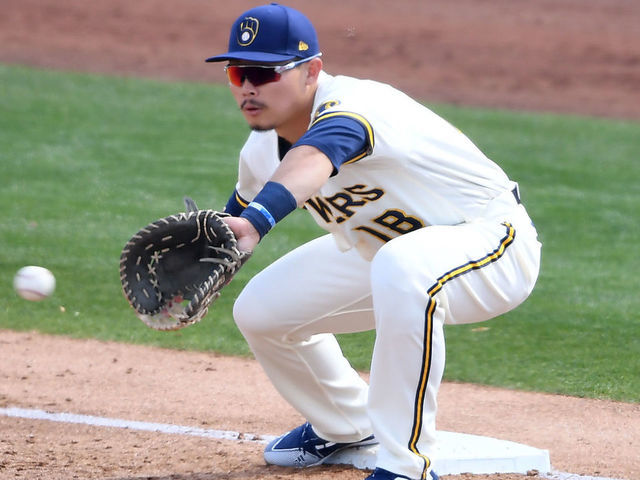 Offensive Grade: INC
Now, if you were a good kid that got good grades, you might not know what an INC grade is. I am well aware of what INC means. It stands for incomplete. What it actually means is "F", but the teacher is too nice to fail you because they can tell you're not a big dummy, or it means there were outside circumstances that led to poor results. In this instance, it's both. 
In 2021, Keston Hiura had more mental hurdles to clear than I have had in my entire life. The biggest one was his mother's battle with cancer. There's also the fact that he had to travel for work in the midst of a global pandemic. He was also dealing with adversity rebounding from the first season seemingly of his life where he struggled to hit the ball. Then, just to pile on, he had to learn how to play first base. When you put it all into perspective, it's no wonder his numbers dipped even lower in 2021. 
Something Nice
However, unbelievably to some, Hiura's 2021 stats aren't all bad. You just have to know where to look, and look closely. Since he only had 197 plate appearances, all of his splits are from a pretty small sample size. But here are some stats that might surprise you:
His slash line with RISP was .271/.379/.458.
He had an OBP of .347 against divisional opponents.
He had an OPS of .879 against Cincinnati.
He had an OPS of .923 against St. Louis.
He had an OPS of .813 in innings 7-9.
He had an OPS of .892 in June. 
He had an OPS of .727 with two outs, 27 points higher than the NL average. 
He had a BAbip of .269, 23 points below league average. 
Hiura's most worrisome underlying stat would definitely be his 47% whiff rate, which is second to only Alex Jackson among hitters with at least 150 PAs. But even that has a silver lining for optimists like me. Swinging and missing at a rate like that means Hiura just doesn't know what's coming. It's mental.
In his sophomore year, major league pitchers found the hole in his bat – and with everything going on in his life, Hiura was never able to counteract that and rebound. Now, with his mother's cancer in remission, the designated hitter likely coming to the NL, less pressure with lower expectations, and with two new hitting coaches to help him out, Hiura should be able to come back mentally and start knocking the snot out of the ball the way he has his entire life. 
Defensive Grade: C+
Baseball reference gives Hiura a defensive WAR of -0.2, so just below average or replacement level. That's not bad for a guy playing a new position. If given time, I believe he could be an above average defensive first basemen. But as of right now, Hiura's glove fits best at DH.
For More Wisconsin Sports Content:
Follow me on Twitter for more great content @greenandold and follow @WiSportsHeroics as well. For the latest in Wisconsin sports, click here. Also, check out our merch store for some amazing WSH merchandise!