Wisconsin's professional baseball teams have begun their regular seasons. The Brewers are off to a strong start and minor league teams showcasing the next generation of MLB superstars. On top of that, don't forget about independent teams like the Milwaukee Milkmen who won a title in 2020.
With a lot of attention centered around those professional baseball teams, oftentimes people forget about the high-quality baseball being played at the high school level.
WIAA State Championship Contenders
The high school baseball season is in full swing. Some teams have been playing games for three weeks now. However, others only have two games under their belt due to weather. We're getting closer to summer which means soon we get to see the full potential of some of these young athletes.
This article stands as a reminder to baseball fans and coaches everywhere that success in baseball doesn't always follow a linear path. There are teams and players who haven't unlocked their full potential yet, and there are some who have been producing at a high level but haven't received any attention or recognition yet. As a coach or a fan of the game, support young players, especially those at the high school level. Do your part to grow the game and invest in the futures of these kids as they play this beautiful game we call baseball.
There are hundreds of future college baseball players on Wisconsin high school baseball teams. Some have been heavily scouted since middle school while others are just now making their impact as they begin this high school season. There are names like Jack Counsell and Alexander Alecia who have committed to powerhouse college baseball programs like Michigan and Louisville, while there are other players who haven't received any offers yet.
Although it's not even May yet, and many teams only have a handful of games played, let's explore some of the biggest State Championship contenders in Wisconsin high school baseball.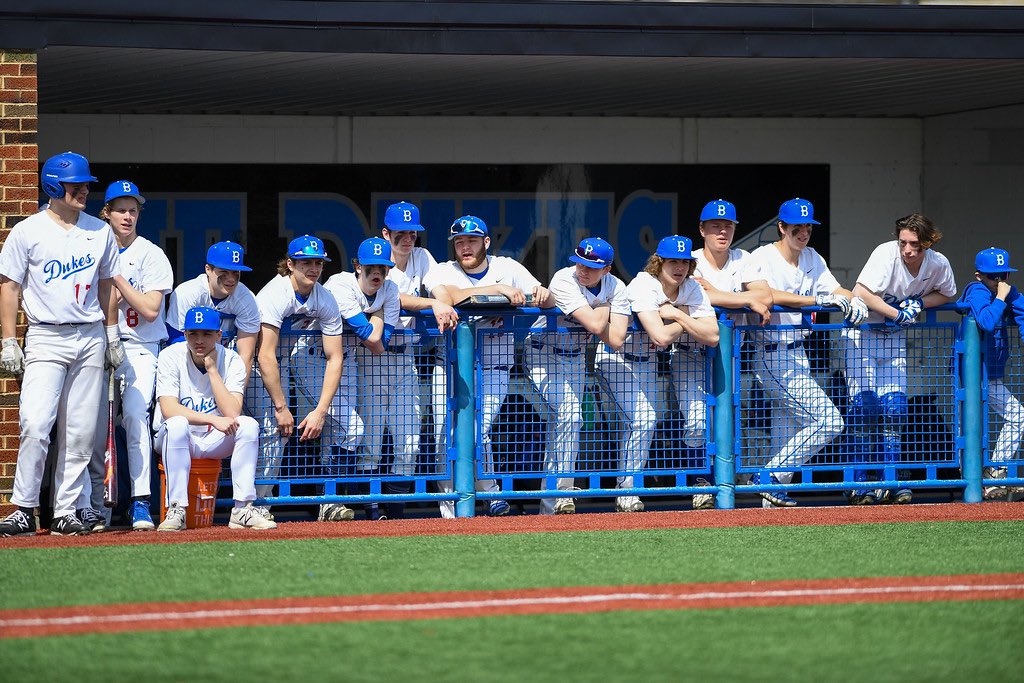 Whitefish Bay Blue Dukes
The Whitefish Bay Blue Dukes opened up the 2022 baseball season at #1 in the WIAA Rankings. They've spent nearly a month dominating on offense. In addition, they been holding opponents to a total of 14 runs through their first eight games. Whitefish Bay looks even more dangerous than initially predicted.
The Blue Dukes are averaging more than 13 runs per game on the offense. On the flip side, they are holding opponents to less than 2 runs per game. This level of domination is unprecedented, and it will be tough for Whitefish Bay to keep this up as the season progresses. However, to see this level of success this early in the season is quite impressive.
Led by multiple stars, the Blue Dukes have a team capable of making a run at a state title this season. Some of the biggest names on their roster are the #6 prospect in the Wisconsin Class of 2023 Jack Counsell, Class of 2022 #2 prospect Michael Lippe, and Class of 2022 #3 prospect Mitchell Voit. In case you were wondering, Jack Counsell is the son of Brewers manager Craig Counsell. Jack's older brother Brady, who also attended Whitefish Bay high school, is now a freshman at the University of Minnesota. Whitefish Bay's program is built to win now, and they'll be a team to watch all season long.
Make sure to follow the Whitefish Bay Blue Dukes on Twitter to follow the progression of their season.

Franklin Sabers
The Franklin Sabers opened up the season at #3 and have held onto a top four ranking through the first month of the season. They've only played a handful of games due to inclement weather. However, they have shown they're built like a top-five team. They hope to continue producing like one as the season progresses.
The Sabers only have five regular-season games played, but they have dominated in nearly all of them. With a +38 run differential through five games, they have shown they can put runs up in bunches. They've also begun to unlock some untapped potential from the arms in their rotation. The Sabers look to keep building on the momentum they have so far this regular season.
Led by a handful of stars including Boston Halloran (2023, Oakland University), Max Martin (2022, Des Moines CC), and Jaxson Easterlin (2022, Oakland University), the Sabers are set up for a lot of success this season. This team has a handful of players who recently won the WIAA Division 1 state football title, so they understand what it takes to win it all. Make sure to follow the Franklin Sabers on Twitter to follow the progression of their season.

Amherst Falcons
The Amherst Falcons are a team that opened the season outside of the Top 25 and are right on the verge of breaking through as we enter into the month of May. With a 10-0 record to start the season, Amherst has found immediate success. This success has been heavily anchored by a dominant pitching staff.
According to Wisconsin Sports Heroics contributor Mike Wendlandt, Amherst the Falcons are built on their top flight pitching staff with four starters that can start on any given game and be effective. Seniors Ben Lee and Landon Moe anchor the rotation. Lee is a UW-Milwaukee commit who throws mid to high 80s with good off-speed pitches and is an intimidating presence at over 6'5″. Moe thrives with his control and sharp curveball to lock hitters up in the box. However, he hasn't been used as much as he could because of his great infield defense at shortstop. Additionally, they have two other strong arms in the rotation in Tyler Soulsby and Wyatt Blaskowski who can give quality innings and keep the team in games while the offense puts runs on the board.
Another team strength that can really help the Falcons get more runs on the board against good teams is their elite speed. Wendlandt noted that through their first six games, CF Jake Hoffman has stolen nine bags, SS Landon Moe has nine, Ben Lee has six, Wyatt Blaskowski has five, and eight other players have at least 2.
This is a team that has a real shot at making a state title run. Make sure to follow the Amherst Falcons on Facebook and Twitter to follow the progression of their season.
Special Thanks
Thank you to fellow Wisconsin Sports Heroics author Mike Wendlandt for his contributions to this article. Additionally, thank you to the WIAA for your continued commitment to supporting student-athletes in the sports they love. Lastly, thank you to the high school baseball players and their families. Every season, they remind us of why we love the game of baseball. Good luck to all WIAA athletes and coaches as they enter the second full month of their baseball seasons.
For More Great Content
Follow me on Twitter at @BJarumbo and follow @WiSportsHeroics as well for more great Wisconsin sports content! To keep up to date on the latest in Wisconsin Sports, click here! For some awesome Wisconsin Sports Heroics gear, check out our merch store!