Despite the situation in the offseason, Aaron Rodgers is certainly lucky to have been with the Packers. Not just because he loves the team as he has stated recently. More because of the great offensive lines he has been behind. Over the past decade, the Packers have consistently put great offensive lines in front of Rodgers. According to Pro Football Focus, twelve out of the last thirteen seasons the Packers offensive line has ranked in the top ten. A big part is thanks to the great centers Aaron Rodgers has had over the years. That position is key for the offensive line and on the offense as a whole. Here are all of the centers.
Scott Wells-One of the First Centers Aaron Rodgers had in His Career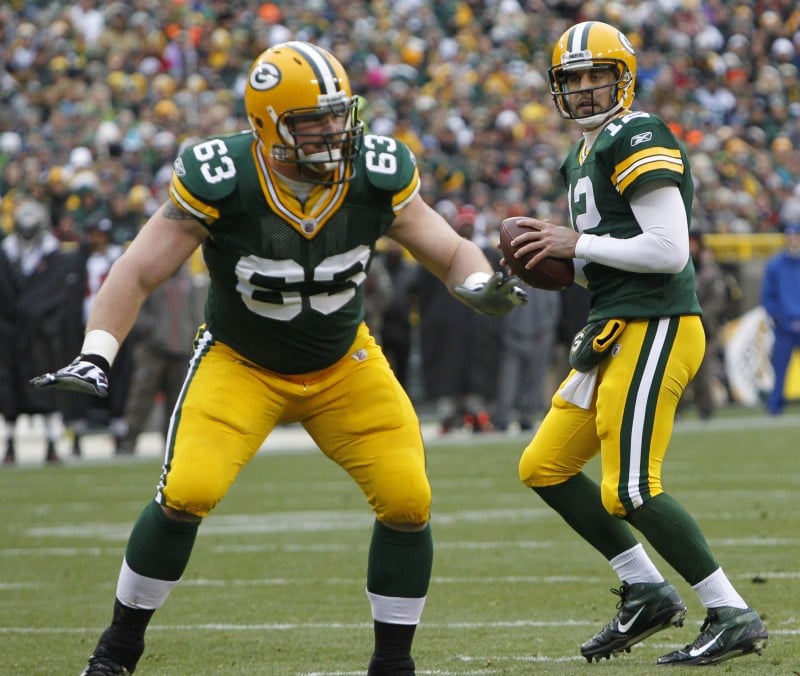 In Aaron Rodgers's early years as a starter, he had a stud center in Scott Wells. Wells was a seventh-round pick from the 2004 NFL Draft. He became a solid center for the Packers blocking for both Brett Favre and Aaron Rodgers, something he doesn't get enough credit for. The fact that he only has one Pro Bowl is a crime. He was a solid player and even Rodgers stated in 2011, "He doesn't make mistakes," showing how good he was. It was really good that he was able to be part of the Packers Super Bowl team in 2010 and get the ring he deserved. Scott Wells is one of the most underappreciated Packer/NFL players of all time.
Evan Blake Smith- Was a Solid Center in His Years As a Starter
Evan Blake Smith was an undrafted rookie in 2009 and bounced around for a while before landing with the Packers. He was a part of the Packer's 2010 Super Bowl team, but did not play that much. In 2011, he played both guard and center pretty well. He played in some games due to injuries on the offensive line. In 2012 took over as starting center as Jeff Saturday was not playing well. In 2013, he was the Packers starting center and had a real solid season. He played well despite the quarterback situation in flux with Aaron Rodgers being out with a broken collarbone for most of the year. He left after the 2013 season and signed with the Tampa Bay Buccaneers and played there for several years before retiring from football.
JC Tretter- Made His Name As One of the Great Centers With the Packers
Everybody seems to forget where JC Tretter got his name from. He was an undrafted free agent in 2013 and was signed by the Packers. He became a huge steal as he worked his way up the depth chart, eventually landing a starting job with the Packers. Unfortunately, he got injured in 2014 and never got his job back, and ended up just being a backup. Yet, in 2015 and 2016, he played multiple positions showing his versatility. He even started at center when Corey Linsley was injured and missed some games. In addition, Pro Football Focus ranked him as the second-best center when he was starting. That was enough for the Cleveland Browns to sign him to a long-term deal. Tretter has anchored a solid Browns offensive line ever since.
Corey Linsley- One of the Underrated Centers In His Years As a Packer
Corey Linsley was from a loaded 2014 NFL Draft Class. He was drafted in the fifth round and was a major steal. Due to injury, he had to play immediately. Corey did not disappoint as he played well in week one against the Seattle Seahawks. Even former Seahawks linebacker K.J. Wright said he was impressed by Corey's performance. He was arguably the best rookie offensive lineman in the NFL outside of Zack Martin. Corey was an underrated center for many years until 2020 where he was an All Pro and named the best center in the NFL. Sadly after the 2020 NFL season, the Packers did not have the money to resign him as he signed a huge well-deserved deal with the LA Chargers.
Josh Myers- Hopefully the Next Great Packers Center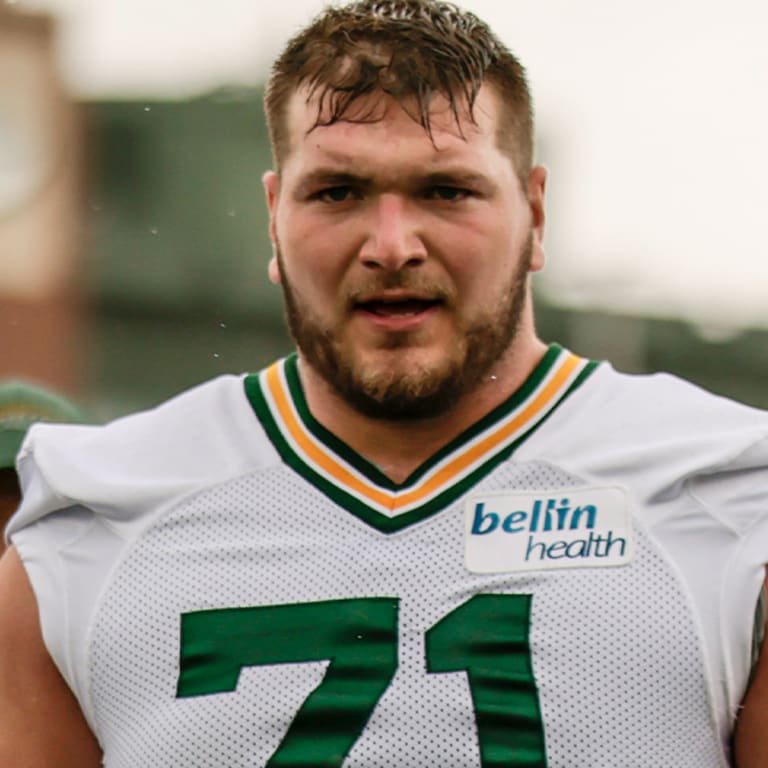 It is too early, but hopefully Josh Myers can be the next great center for the Packers and carry the tradition. So far so good as Aaron Rodgers stated that he was impressed on how comfortable he is getting making all the protection calls. Rodgers stated a fact that Myers is the biggest center that he has ever had. What makes Myers great is he can get to the second level quickly. He needs work in anchoring his pass protection, however that can be coached easily. Hopefully, Myers is the next great Packers center and carries the tradition of great Packer offensive lineman.
Follow for More
Follow me @CarlosS29143608 and follow us @WiSportsHeorics for more content. Check out our merch page. Use the promo code WISCO at the checkout for 1$ off! To keep up on all of your favorite sports Wisconsin click here!