The Packers have suffered 10 heartbreaking playoff losses in the Aaron Rodgers era. Today, I'm going to rank all the quarterbacks to deal the Packers these agonizing defeats. Note that this list will be on how they played playoff games, not their entire career.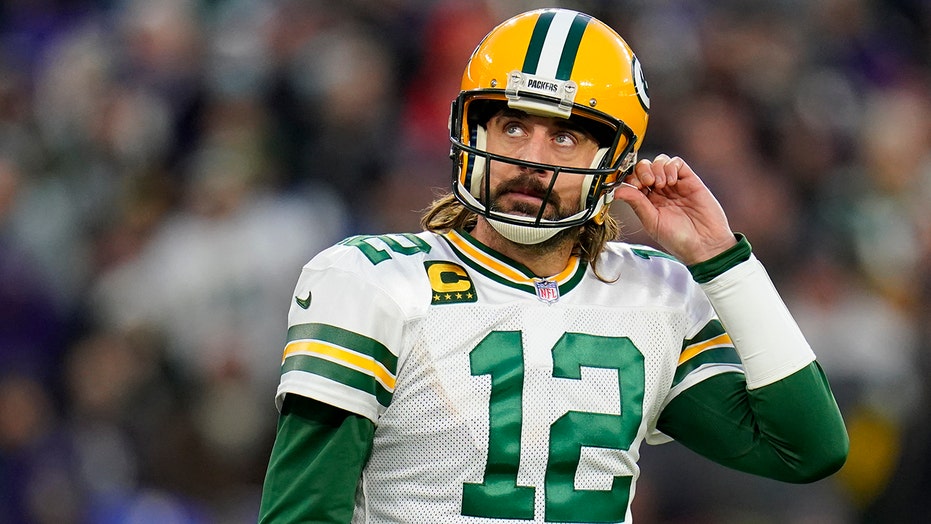 10: Jimmy Garoppolo, 2022 Divisional Round
Green Bay may have lost this game 13-10, but it was in no way from the doing of Jimmy G. The 49ers' quarterback threw zero touchdowns, a red zone interception, and a woeful 131 yards. He did lead a game-winning field goal drive, but overall was horrible. The Packers should feel sick that they lost to him.
9: Jimmy Garoppolo, 2020 NFC Championship Game
Here he is again on this list. Garoppolo didn't actually play poorly in this one. However, he only had to throw eight passes, which makes it difficult to rank him.
8: Russell Wilson, 2015 NFC Championship Game
This is probably the loss that stings most out of all of these games. The Packers had a 16-0 lead and forced Russell Wilson to throw four interceptions. As everyone knows, Green Bay then completely fell apart. Wilson found somewhat of a groove, including a game-winning OT pass, but for the most part, he was bad.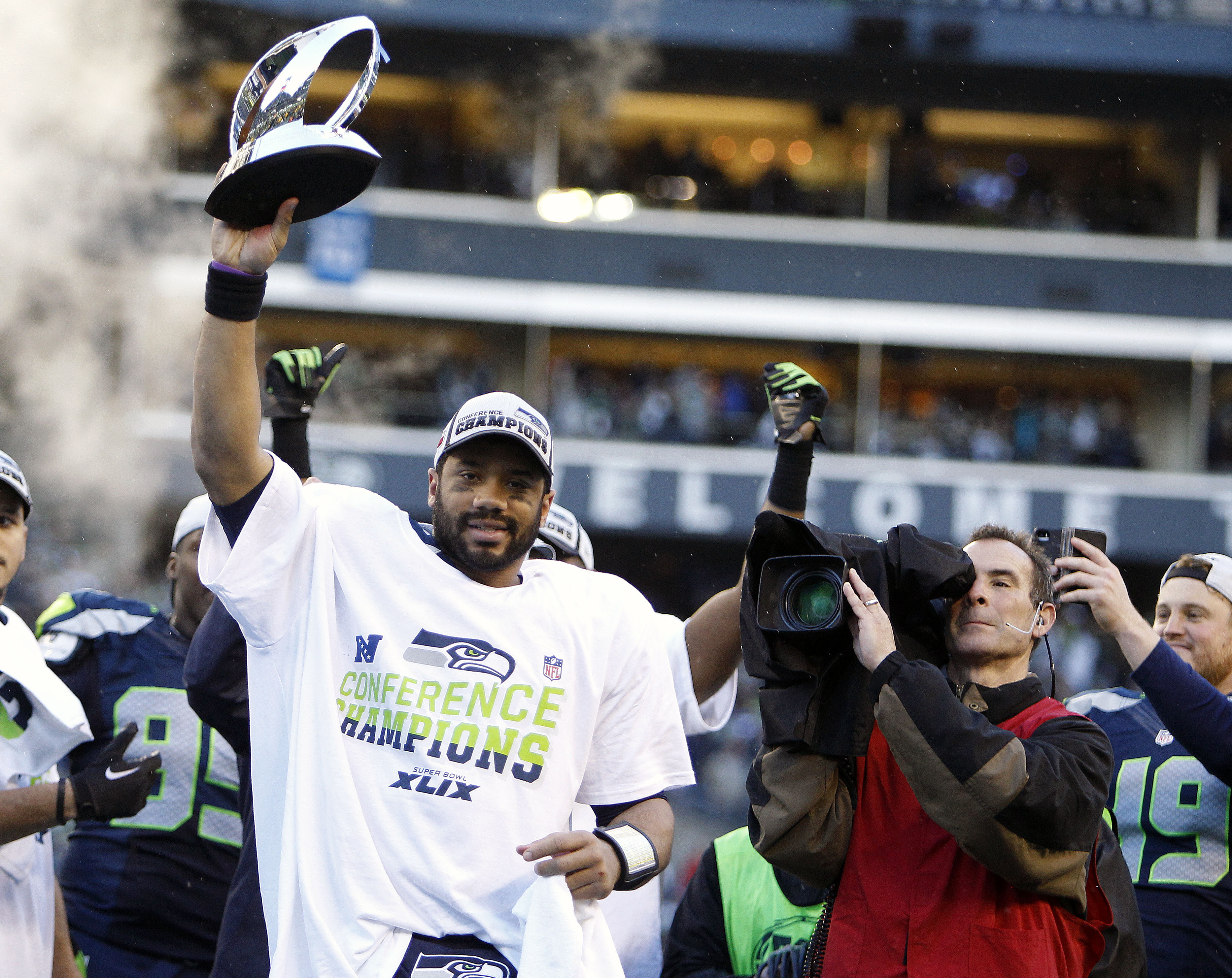 7: Colin Kaepernick, 2014 NFC Wild Card Game
In what was probably the worst Rodgers-led Packers team to make the playoffs at just 8-7-1, Colin Kaepernick came to town and put up decent stats. He was 16-30 for 227 yards, with one touchdown and one interception. But where Kaep really hurt the Packers was with his legs. Kaepernick ran for 98 yards on only seven carries, which propelled the 49ers to a 23-20 last-second win.
6: Tom Brady, 2021 NFC Championship Game
While Brady did toss three touchdowns and 280 yards, he also threw three bad second-half interceptions that nearly let the Packers come back from down 28-10. Ultimately, Brady would get the ball leading 31-26 and wouldn't give it back. Overall, it was a rollercoaster game that saw Brady put the nail in the Packers' coffin late, as he always does.
5: Carson Palmer, 2016 NFC Divisional Round
This game is more well-known for Aaron Rodgers' unreal 4th & 20 Hail Mary in the last minute. However, Palmer came up quite clutch as well. He avoided a sack on the first play of overtime, spun out, and threw across his body to find an open Larry Fitzgerald. Overall, he had three touchdowns and two picks; but when it counted the most, Palmer made plays.
4: Colin Kaepernick, 2013 Divisional Round
This is how you know this list is insane because for almost every other team, it would be #1. But, it'll have to settle for fourth here. Kaepernick began the game with a pick-six but then threw for 263 yards and two touchdowns. He also ran for ONE HUNDRED AND EIGHTY-ONE YARDS, including two rushing touchdowns as well. The 49ers put up 45 points and sent the Packers packing.
3: Eli Manning, 2012 Divisional Round
To go on the road and beat the 15-1 Packers, the Giants were going to need a great performance from their QB1, and that's exactly what Eli did. Manning tossed three touchdowns, including a Hail Mary right before halftime to stun the NFC's one seed.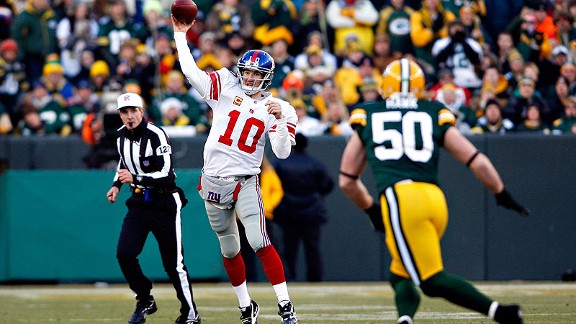 2: Matt Ryan, 2017 NFC Championship Game
Granted, this was easily the worst Packers defense I can ever remember, but Matt Ryan played one of the best playoff games of all time. He threw 392 yards and four touchdowns with a 139.4 QBR. The Packers were simply no match for that Atlanta offense, and Ryan – who hung 33 points on them in the regular season – decided to play even better and drop 44.
1: Kurt Warner, 2010 Wild Card
This is honestly one of the most flawless performances I've ever seen. 29-33, 379 yards, five touchdowns, and a 154.1 passer rating (158.3 is perfect). Ironically, it wasn't Warner who won the Cardinals the game; the defense did. But it's still one of the most complete games a quarterback has ever played in the playoffs.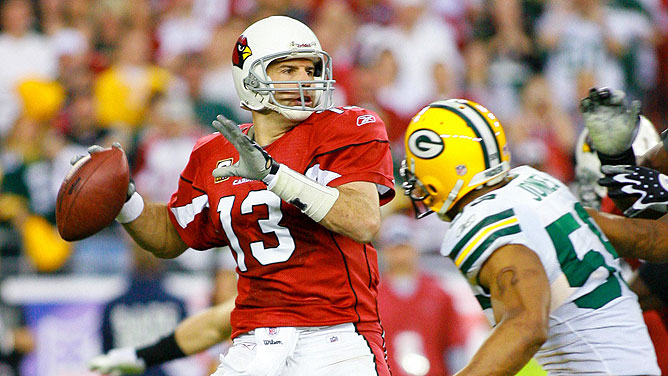 For More Wisconsin Sports Content:
Follow me on Twitter @rodgersisagoat and follow us @WiSportsHeroics! To read more of our articles and keep up to date on the latest in Wisconsin sports, click here! Also, check out our merch store for some amazing WSH merchandise!