The Packers  have a good amount of young and rookie talent on the roster. Most of them will make contributions to the team this year. All of them are in the best situation possible to succeed this season. The Packers have done well in making sure they are all set up for success. The Packers have certainly done an outstanding job developing most of them. It does not get talked about enough. Here are all the players.
Rashan Gary- Packers Developed Him Into a Solid Pass Rusher
Was Rashan Gary a reach for the Packers in the 2019 NFL Draft? Probably. However, when the Packers drafted Gary, they did well in developing Gary into a solid pass rusher. They did not rush him as he was a raw prospect and needed time to learn. Also, having signed Zadarius and Preston Smith to help mentor him has helped. In addition, having an outstanding outside linebacker coach in Mike Smith. All of this helped Gary take a step forward in 2020 as he was disruptive and should have had more playing time. He could've played more when Preston Smith was not playing well. Gary already looks good currently in training camp and hopefully has a breakout season this year.
AJ Dillon- Aaron Jones to Mentor Him and Have a Breakout Season
Everybody was not happy with the selection of AJ Dillon in the 2020 NFL Draft. However, the Packers want to be a balanced offense with a dominant run game. That is the reason for selecting Dillion even though it was considered a reach. He had a tough rookie season as he missed most of it due to COVID-19. Yet, when he got his chance to shine against the Tennessee Titans, he did not disappoint. He had over one hundred yards rushing and two touchdowns. Dillon will be be a good compliment back to Aaron Jones creating a one-two punch at running back. With Aaron Rodgers at quarterback, it will keep defenses from stacking the box, putting Dillon in a great situation to succeed. Expect Dillon to have a break-out season this year.
Darnell Savage- Emerging As One of the Top Safeties In the NFL
Darnell Savage finished on a real strong note in the 2020 NFL season. In the last half of the season, he had four interceptions, playing at a very high level. The Packers were in desperate need of a good safety as they struggled at that position since Charles Woodson left. Savage was drafted in the 2019 NFL Draft with one of the two first-round picks the Packers had that year. The Packers have done well in putting Savage in a great position to succeed. They gave him a running mate in Adrian Amos, who both are becoming an underrated duo in the NFL. He also has a great coach and teacher in Jerry Gray to develop his skill-set. Look for Darnell Savage to break out going into his third season in the NFL.
Elgton Jenkins- Becoming One of the Best Offensive Lineman In the NFL
One of the biggest steals of the 2019 NFL Draft is Elgton Jenkins. A top-notch left guard and also can play any position on the offensive line showing his versatility. He was already a good player when the Packers drafted him. However, it helps the situation he is in with the Packers as they are one of the best teams at drafting and developing offensive linemen. Not to mention playing left guard sandwiched between former Packer all-pro center Corey Linsley and the best-left tackle in football in David Bakhtiari. He too has a good coach in Adam Stenaivch to help improve his game. This season expect another pro-bowl caliber year from Elgton Jenkins.
Jon Runyan- A Potienal Starter Down the Line
With all the questionable picks in the 2020 NFL Draft by the Packers, one solid pick was Jon Runyan. Like Elton Jenkins, he can play almost anywhere on the offensive line. When the Packers suffered injuries on the offensive line against the Minnesota Vikings, San Francisco 49ers, Indianapolis Colts, Jacksonville Jaguars, and the Chicago Bears, he stepped in. Runyan did not look like a rookie and played like a vet. Also, his name was not mentioned, which is good for an offensive lineman. The Packers did the right thing, even when he played well to still develop him and not throw him into the fire letting him sit and learn. All of that might pay off this season as he might be in line for a starting job this year.
Eric Stokes- A Potential Defensive Rookie of the Year This Season
Why did the Packers draft Eric Stokes this year in the first round? Because of the speed he has that can help him keep up with the fast wide receivers in the NFL. Stokes has a chance to win rookie of the year this season. Not only because of his skill set, but also his current situation. Players such as Jaire Alexander and Kevin King can help mentor him to become a solid corner in the NFL. Rookie corners tend to struggle when being put on the field too early as they translate from college to NFL competition and speed. With the great situation around him, Eric Stokes can have a successful rookie season this year and be a candidate for defensive rookie of the year.
Amari Rodgers- The Next Great Packers Slot Receiver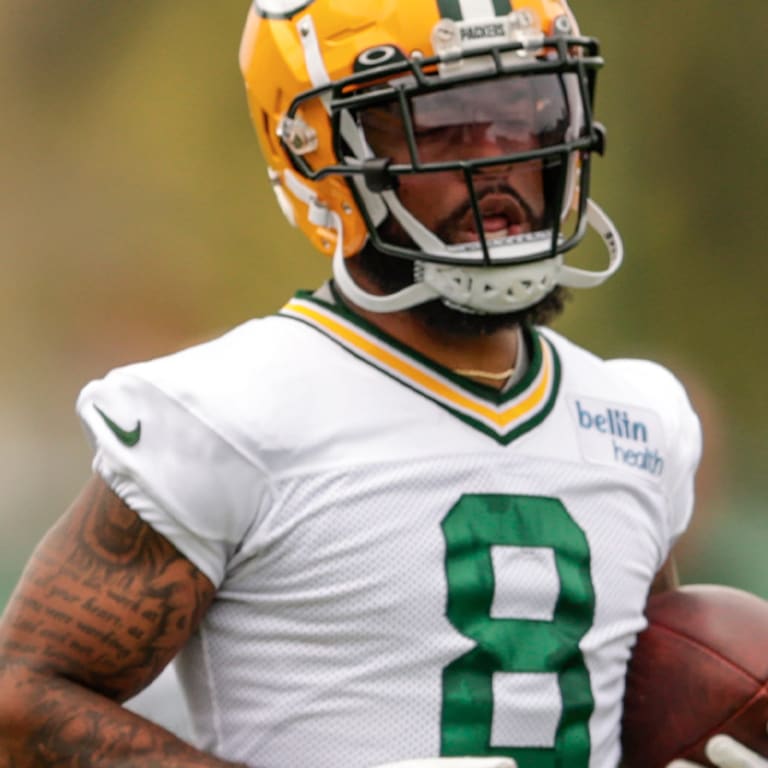 Amari Rodgers could be the next great slot receiver for the Packers. Yet, the situation he is in is a blessing in disguise. He still needs some development, but the Packers are the best team for him. Not only playing with a great quarterback in Aaron Rodgers, but to have plenty of mentors in the wide receiver group to help him with his game. Recently, in the first days of training camp, he has been getting advice from Allan Lazard, Devin Funchess, Davante Adams, and Randall Cobb. That is a lot of guys for him to learn from, especially with his connection with Randall Cobb. He will be getting quite a bit of playing time this season and will be a big part of the Packer's offense. Expect a strong rookie season from Amari Rodgers.
Jordan Love- Could Be the Next Great Packers Quarterback (If that Happens)
Jordan Love simply has the tools to be a solid quarterback in the NFL. It is really sad that a lot of negativity came when the Packers drafted him, even though it isn't his fault. Besides that, Love is in a great position to become a good quarterback in the NFL. He has a quarterback in Aaron Rodgers to show him the ropes and can learn while sitting behind him. He also has a great head coach in Matt LaFleur and in a system that fits him perfectly.
[pickup_prop id="9943″]
Follow for More
Follow me @CarlosS29143608 and follow us @WiSportsHeorics for more content. Check out our merch page. Use the promo code WISCO at the checkout for 1$ off! To keep up on all of your favorite sports Wisconsin click here!