Odell Beckham Jr was officially waived by the Cleveland Browns after an ugly breakup. As a result, Odell is now eligible to be picked up off of waivers by another team. The team that Beckham Jr is eyeing up the most is the Green Bay Packers.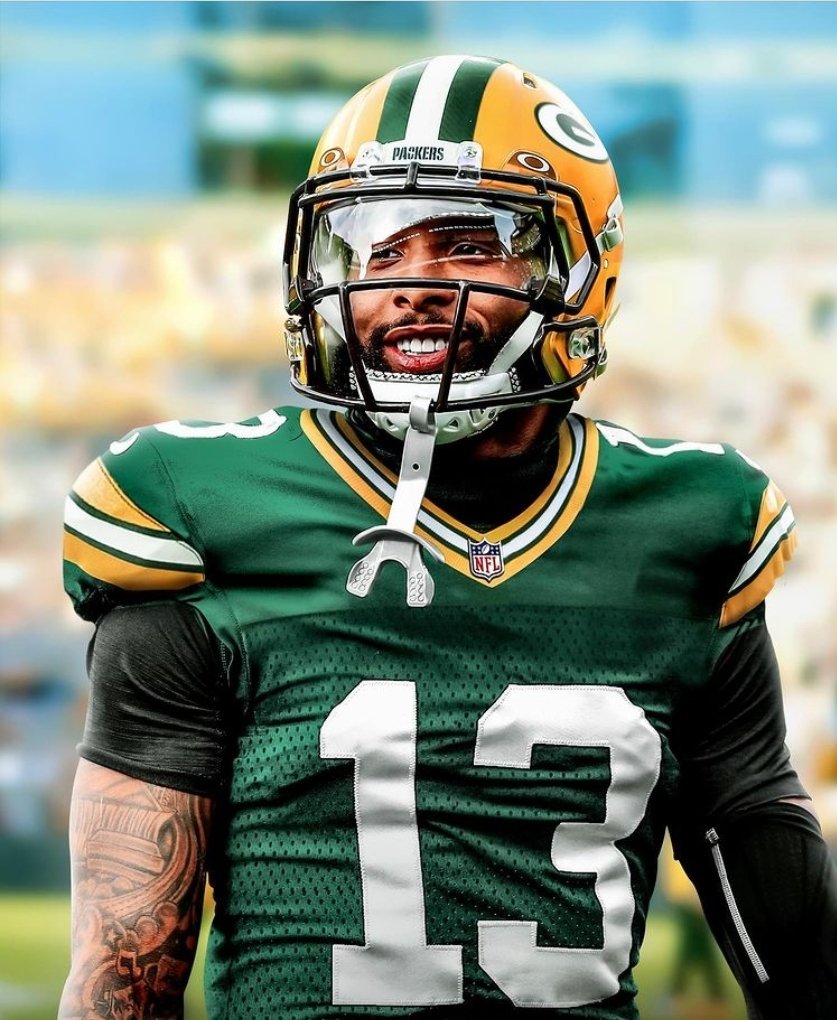 Odell's Preference
The news broke on Tuesday afternoon that Odell has a list of teams he'd like to play for. For the teams not on that list, Odell's camp is hinting at the fact that he won't play for them. Atop the list of teams Odell wants to play for is the Green Bay Packers.
🚨 Breaking: Odell Beckham, Jr. has prioritized the #Packers as his No. 1 destination should he clear waivers, per sources.

— Jordan Schultz (@Schultz_Report) November 9, 2021
NFL Insider Jordan Schultz reported today that "Odell Beckham Jr. has prioritized the #Packers as his No. 1 destination should he clear waivers." The Packers do not have enough cap space to take on Odell's current contract, so it makes sense for Green Bay to hope he clears waivers, and then sign him.
Do the Packers Want Him?
It's not clear whether or not the Packers have reciprocated the same interest in bringing Odell to Green Bay. However, with all of the injuries and inexperience in the wide receiver room, it would make sense to bring in a former Pro Bowl WR like Beckham Jr.
Odell is one of those players who you'd love to have on your team if he's happy, but you hate having him if he's disgruntled. That's because he's an incredible athlete and he knows it; and as a result, he wants his fair share of receptions and targets every game.
With one of the offseason's biggest stories being how Aaron Rodgers is upset with the lack of support on offense, why not bring in a star WR to compliment Davante Adams?
Could This Even Work?
With Green Bay being near the end of the waiver order, there's a good chance another team might claim him and work out any issues Odell has with playing there. However, Odell has a strong personality and could possibly force his way to free agency by refusing to play everywhere else. Earlier today, Albert Breer of Sports Illustrated tweeted out the waiver order and status of cap spaces from every NFL team as of this week.
Deadline to put in a claim on @OBJ is 3 hours from now. Any team claiming assumes the $7.25 million left on his contract for the rest of the year. If he clears waivers, he's a free agent.

With that in mind, here's updated cap space and the waiver order for the league. pic.twitter.com/PxMnr2Lcij

— Albert Breer (@AlbertBreer) November 9, 2021
The Packers don't have enough cap space to claim Odell. Cleveland would have to take on a chunk of his contract in order for this to work. If not, Green Bay would have to wait for him to pass through waivers and then sign him to a minimum deal. There are a lot of "ifs" that need to happen in order for this to come close to working. Packers fans shouldn't get their hopes up; but if the Packers really want to make a Super Bowl run, why not bring in a superstar like Odell Beckham Jr?
[pickup_prop id="14984″]
For More Great Content:
Follow me on Twitter at @BJarumbo and follow @WiSportsHeroics as well for more great Wisconsin sports content! To keep up to date on the latest in Wisconsin Sports, click here!