NFL: Aaron Jones has turned into one of the more beloved Green Bay Packers on the team.  His exceptional play on the field is just half of the story.  From getting the "G" tattoo, hosting charity events, and even taking a $5 million pay cut to stay with the Packers.  Jones has established himself as one of the premier players on the team both on and off the field.  This off-season, in the midst of all the major changes on the team, Aaron Jones made an emphatic off-season announcement.
Aaron Jones Left Off ESPN's Top-10 RB List Going Into 2023 (NFL)
 ESPN released a list of the top ten running backs in the league going into 2023.  The list was comprised from NFL execs, coaches, and scouts. According to this list, the top ten running backs are:
Nick Chubb
Christian McCaffrey
Josh Jacobs
Saquon Barkley
Derrick Henry
Jonathan Taylor
Alvin Kamara
Delvin Cook
Tony Pollard
Austin Eckler
Jones came in 11th on the list.  Jeremy Fowler, who published the poll, also notes that Jones has finished in the top-ten twice before. He also wrote:
"He does everything really well, so if you're looking for that well-rounded back with pass-catching ability, I could see how he's a top 10," an AFC scout said. "I'm just not sure he has the special qualities of some of the other backs."
Aaron Jones Responds To Being Left Off The Top-10 Running Backs List
What more can Jones do to get the respect he deserves? Unfortunately, this didn't surprise the Packers' Pro Bowl running back.  Jones had the perfect response on Twitter: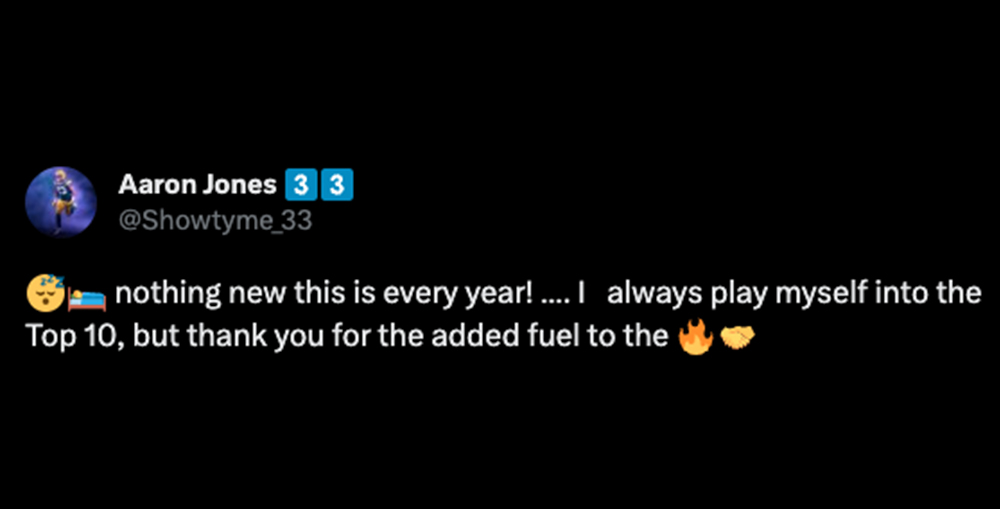 Aaron Jones will be entering his seventh season with the Green Bay Packers.  In 2022 he finished with the ninth most rushing yards (1,121) of any running back and ninth most yards of any player from scrimmage (1,516) when combined with his receiving yards.
He posted those numbers despite finishing 15th across the NFL in rushing attempts (213). The 28-year-old Jones' 5.3 yards per attempt last season — second most for a running back — was a big reason for him outperforming others.  The Green Bay Packers may rely on Jones even more going into 2023.  Jordan Love will be under center come week one and the coaching staff will want to make his life as easy as possible.  A strong running came will do exactly that.  The duo of Aaron Jones and AJ Dillon figures to be one of the top running back duos in the NFL once again.
For More Wisconsin Sports:
Follow me on Twitter at @mcquadewarnold, follow us @WiSportsHeroics.  Also check out our Merchandise Here!  Get 20% off with the code "WSH."  You can also reach out to McQuade Arnold via email at mcquadewarnold@gmail.com. To read more of our articles and keep up to date on the latest in ALL of Wisconsin sports, click here!  Green Bay Packers, Milwaukee Brewers, Milwaukee Bucks, Wisconsin Badgers.