Jim Taylor lost his status as the Green Bay Packers' all-time leading rusher to Ahman Green, the NFL schedule makers, and Ray "Scooter" McLean.  Taylor finished his brilliant nine-year Hall of Fame career as a Packer, playing on four NFL championship teams, including the first Super Bowl.

His Packer rushing record of 8,207 yards stood unchallenged for 43 years until 2009, when Green Bay re-signed Ahman Green to return to the Packers after two years with the Houston Texans.
Ahman Green In Green Bay: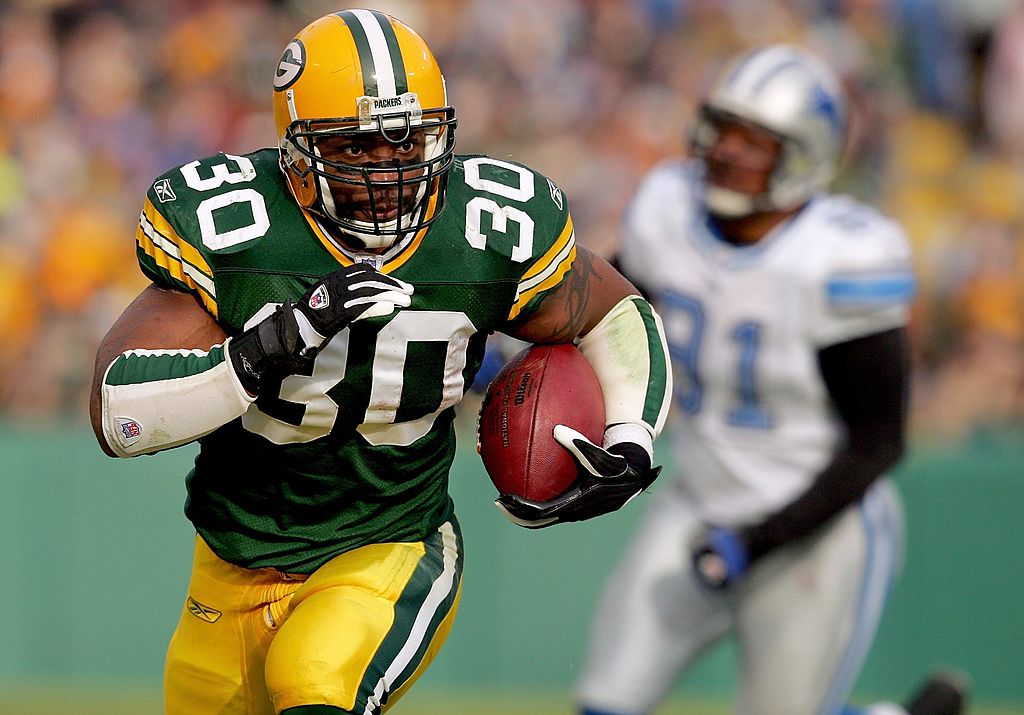 Green had been a sensational running back with the Packers, rushing for 8,162 yards from 2000 to 2006. Then, just 45 yards shy of Taylor's record, Green left the Packers as a free agent to sign a four-year $23 million contract with Houston.

But Green was released in February of 2009 by the Texans. And in October of that same year the Packers re-signed Green. He rushed for just 160 yards in his return to Green Bay but that was more than enough to eclipse Taylor and set the team's all-time rushing record at 8,322 yards.
Jim Taylor's Reaction To Green Breaking His Record:
And that made Jim Taylor a very unhappy man.  I couldn't see Taylor's face over the telephone lines between Wisconsin and his home in Baton Rouge, but his voice was equal parts shocked, hurt, and angry.

"Why do this?" Taylor said of the Packers decision to bring Green back in 2009. "Just to break my record? Why? No, I am not happy about this."
Taylor then asked to go off the record and put a sharper edge on his comments. Clearly he was not pleased.  But other factors, beyond Green, contributed to Taylor's loss of the top spot.
Ray "Scooter" McLean: 


First, there was Ray "Scooter" McLean; Green Bay's head coach in Taylor's rookie season as a Packer. In Taylor, a second-round draft pick from Louisiana State University, the Packers had a future Hall of Famer. But McLean, failing to see Taylor's talent, kept the rookie fullback on the bench for most of the season. And that cost Taylor playing time and yardage.

But in the penultimate game of the season at San Francisco's Kezar Stadium, there was no more hiding Taylor's ability, as he rushed for 137 yards on 22 carries. The 49ers won, 48-21, but the home crowd cheered Taylor's physical style of running the football.

McLean was let go after a 1-10-1 season. Vince Lombardi took over as coach and general manager and made Taylor his featured back along with Paul Hornung. Taylor was one of the toughest players in the game and Hornung was one of the most versatile and agile, making them Green Bay's "Thunder and Lightning" backfield.
Jim Taylor Under Lombardi:

Undoubtedly, Taylor's quest for big rushing numbers was also curtailed by the NFL schedule during his days with the Packers from 1958-1966.

In Taylor's first three seasons each NFL team played just 12 games. In his last six seasons with Green Bay the schedule was expanded to 14 games. But Taylor never played a 16-game schedule as did Ahman Green.
  So, Taylor was denied 24 games because of the era in which he played. Had Taylor played a 16-game schedule and two dozen more games, his Packers rushing record, theoretically, might have approached 10,000 yards.

But that assumes Taylor could have held up physically. His style of play might have slowed him down. In Vince Lombardi's "Run to Daylight" offense, Taylor loved to run to contact.

"Football is a contact sport," Taylor once said, "You've got to make them respect you. You've got to punish tacklers. You've got to deal out more misery than the tacklers deal out to you."

His physical style made him extremely popular with Packers fans. In the 1960s it was difficult to find a high school fullback in Wisconsin who didn't wear Taylor's No. 31.

Taylor was an intense competitor and relentless trash talker who made opposing players want to hit him harder than the next guy. Over his career Taylor feuded with many players, most notably middle linebacker Sam Huff of the New York Giants.

Bobby Layne, a former quarterback for the Detroit Lions, named Taylor as one of "Pro Football's 11 Meanest Men," in a story for SPORT magazine in 1964.

Taylor was the first player in NFL history to rush for five consecutive 1,000-yard seasons. In 1962 he was named the NFL's Most Valuable Player and beat out Jim Brown for the league's rushing title.
In Conclusion: 

And Taylor himself might have made a decision that cost him the franchise rushing title to Green. After Green Bay's victory over the Kansas City Chiefs in Super Bowl I, Taylor signed a free-agent contract with the New Orleans Saints, allowing him to return to his home state.

He played just one season with the Saints, rushing for 390 yards. He finished his career with 83 touchdowns and 8,597 yards rushing.

Taylor died on Oct. 13, 2018, in his hometown of Baton Rouge. He was 83.

On September 8, the NFL will embark on its second consecutive 17-game schedule. Imagine Jim Taylor playing a 17-game season.