After a matchup with the San Antonio Spurs on Monday night, the Bucks will quickly turn around to face the Orlando Magic. After winning both of their season matchups by a comfortable margin, the Bucks are looking for another big game. Milwaukee is looking to secure the number two seed in the east. Taking care of business against a team that is out of playoff contention will be very important. Let's take a look at the game details, players to watch, and keys to victory!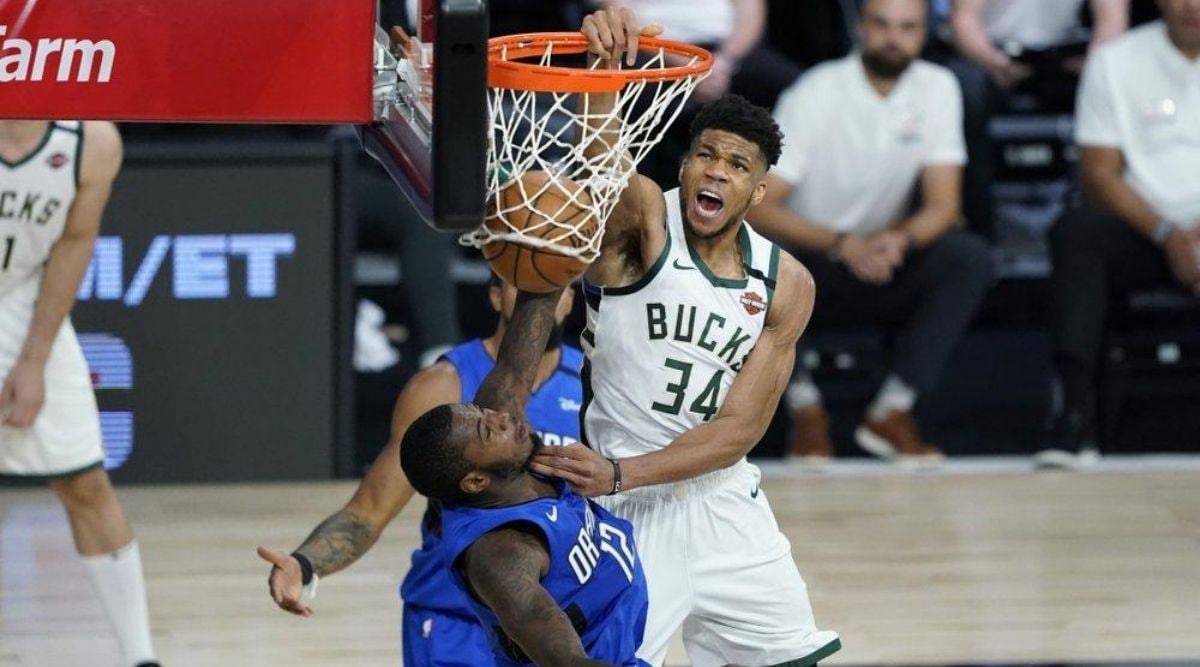 Bucks vs. Magic Game Details
Location: Fiserv Forum in Milwaukee, Wisconsin
Time: 8:00 PM CST
Where to Watch: Bally Sports WI
Potential Starters for Each Team:
Bucks – PG Jrue Holiday, SG Donte DiVincenzo, SF Khris Middleton, PF Giannis Antetokounmpo, C Brook Lopez
Magic – PG Cole Anthony, SG Gary Harris, SF RJ Hampton, PF Mortiz Wagner, C Mo Bamba
Injury Report:
Bucks – Axel Toupane (oblique strain) – OUT
Magic – Wendell Carter Jr. (eye) – DTD;
Chuma Okeke (ankle), James Ennis (calf), Michael Carter-Williams (ankle), Otto Porter (foot), Terrance Ross (back) – OUT
Players to Watch: Bucks
Khris Middleton: Middleton has performed well against the Orlando Magic all season long. When facing the Magic, Middleton scored 21 points and 20 points. Middleton has also shot well from behind the arc against the Magic. This could be in part due to Orlando being ranked 20th in three-point defense. Expect Middleton to have another solid game from the three-point range. With most of Orlando's starters out for the matchup, Middleton should be able to get his rhythm going from three. Watch for Khris throughout Tuesday night's matchup as he is poised to have another big game.
Brook Lopez: Lopez has been on an upward trend in recent matchups. Most notably, his performance against the Houston Rockets. Against Houston, Brook notched twenty-four points, seven rebounds, and two blocks while shooting 7/8 from the floor. With Orlando's starting center Wendell Carter Jr. listed as out, Brook should be able to take advantage. Granted, Bamba is an up-and-coming player, but Brook's experience should be able to allow him to get to the basket easily. Look for Lopez to have another solid night.
Players to Watch: Magic
Mo Bamba: Mo Bamba has been on the up and up recently. Bamba also performed very well against Milwaukee in their previous matchup. He notched 21 points and 5 rebounds on 72% shooting. Bamba was able to take over in the previous matchup but he may have his hands full in this matchup. After Lopez's previous performances, he should be coming in ready to take advantage of Bamba's lack of experience. However, Bamba has the tools to make it a tough night for Brook. The Lopez vs. Bamba matchup should be an excellent matchup throughout the game.
Cole Anthony: While Orlando hasn't had much to celebrate throughout the season, Cole Anthony has made it exciting. Anthony is averaging 12.3 points, 4.6 rebounds, and 4.2 assists while shooting 39.3% from the floor. Cole Anthony has the ability to take over in scoring, and he should be able to against the Bucks. Milwaukee has had poor three-point defense for much of the season. Anthony shines from behind the arc, and he should be able to cash in on some three-point makes. Look for Cole Anthony to lead the way for the Magic in scoring.
Keys to Victory for the Bucks
Limit Mental Mistakes: With much of Orlando's core out with injury, now is the time for Milwaukee to get mentally prepared for the playoffs. The Bucks can not play down to their competition in this matchup or it will prove costly. If Milwaukee is able to limit their mental mistakes, they should be able to take a comfortable victory once again.
Feed the Frontcourt: With Orlando's starting power forward and center out with injury, Milwaukee's frontcourt will need to be a big contributor. Giannis and Brook Lopez should be able to take advantage of their chances. As we have seen recently, no one has an answer for Giannis Antetokounmpo. That should be the same in this matchup. Watch for Milwaukee's frontcourt to make some excellent plays.
Final Thoughts
Although the Magic are battered, this doesn't mean this game is a guaranteed victory. The Bucks have to make the most of their opportunities and work on the little things before the playoffs begin. Milwaukee has a chance to continue the chase for securing the number two seed in the East. A victory on Tuesday night will give them some help in securing that spot. As we head into the final games of the regular season, now is the time to prepare. Let's secure another victory!
[pickup_prop id="4481″]
Follow for more great content!
Follow me on Twitter at @JakeJMaier and follow us @WiSportsHeroics for more Wisconsin sports content. Check out our merch page. Use promo code WISCO at checkout for $1 off! To read more of our articles and keep up to date on the latest in Wisconsin sports, click here!