Last night, Jrue Holiday led a starting lineup that was without Giannis Antentokounmpo (COVID), Khris Middleton (knee), Bobby Portis (COVID), and Brook Lopez (back). Even though the Bucks lost, Holiday put up a career-high 40 points. He added five rebounds and five assists. Despite the loss, viewers could only come away with one conclusion about Jrue Holiday: the man should be an All-Star this year. Here is why.
He Can Score When He Needs To
Last night, the Bucks and their fans got to see what Jrue Holiday looks like as the number one scoring option. On the season, Holiday is averaging 17.3 points on 47/35/67 shooting splits. The free throw percentage is, at least to me, surprising as Holiday is a 77% career free throw shooter. Chalk up the low number to his very few attempts this season. That number will undoubtedly go up. Right now he is averaging just two free throw attempts per game. If that continues, that would be his lowest mark since the 2016-2017 season.
The fact of the matter is that Holiday got off to a slow start this season in terms of shooting percentage. That, however, has not continued and he his percentages are trending towards where they were last year. This is specifically true for his two-point shots, which are going in over 50% of the time for the fourth year in a row.
Jrue Holiday Is a Defensive Swiss Army Knife
Do the Bucks face a team with a dominant point guard? Holiday can guard him. How about a red-hot shooting guard? Put Holiday on him. What about a forward who dominates the ball? Holiday can take him. A power forward who is six inches taller? Holiday will handle it. A seven-foot center? Holiday can guard him.
Last night, the Bucks were without Giannis, Lopez, and Portis. Boogie Cousins was in foul trouble and spent most of the game on the bench. As a result, it was Holiday found in the middle of the two-three zone guarding New Orleans' bigs in the post. At any given point during a game, fans will see Holiday on players like LeBron James, Kevin Durant, Ja Morant, Jimmy Butler, Steph Curry, and any player who is getting a hot hand. Holiday was named a First Team All NBA Defense last season, and for good reason. He is one of the best defenders in the NBA again this year.
No Shortage of "Wow" Plays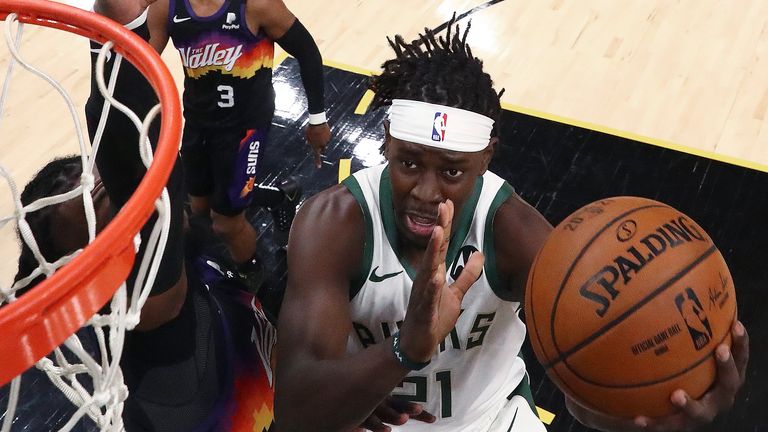 At this point, everyone knows that the NBA All-Star Game is a massive popularity contest. Fans want to flashy plays, and players who may be deserving do not get selected because they lack the flash fans may desire. The fact that Jrue Holiday only has one career All-Star nod is evidence that he is one of these players. This year, however, he is showing he can be just as "entertaining" as many of the perennial All-Star players.
One example of this came in last night's game:
Here is a nice little impossible weak-hand floater over Domantas Sabonis who is just about seven feet tall:
And of course, this, one of the most iconic plays in franchise history:
Conclusion
Jrue Holiday may not lead all point guards in scoring, rebounds, or assists. However, he is the best defensive point guard in the NBA and is the floor general for the defending NBA Champions. It has been nine years since the last time Jrue Holiday was named an All-Star, and it is well-past time to give him his second trip to All-Star Weekend.
For More Great Wisconsin Sports Content
Follow me on Twitter at @theotherAdams14 and follow us @WiSportsHeroics for more great content. To read more of our articles and keep up to date on the latest in Wisconsin sports, click here!