The final NBA MVP poll has been conducted before the end of the regular season. To no ones surprise, reigning MVP Nikola Jokic sits atop the poll, followed by Embiid.  Giannis rounds out the top three while only receiving nine first place votes. I don't like this any more than the next Buck fan but this should be a two horse race between Giannis and Jokic.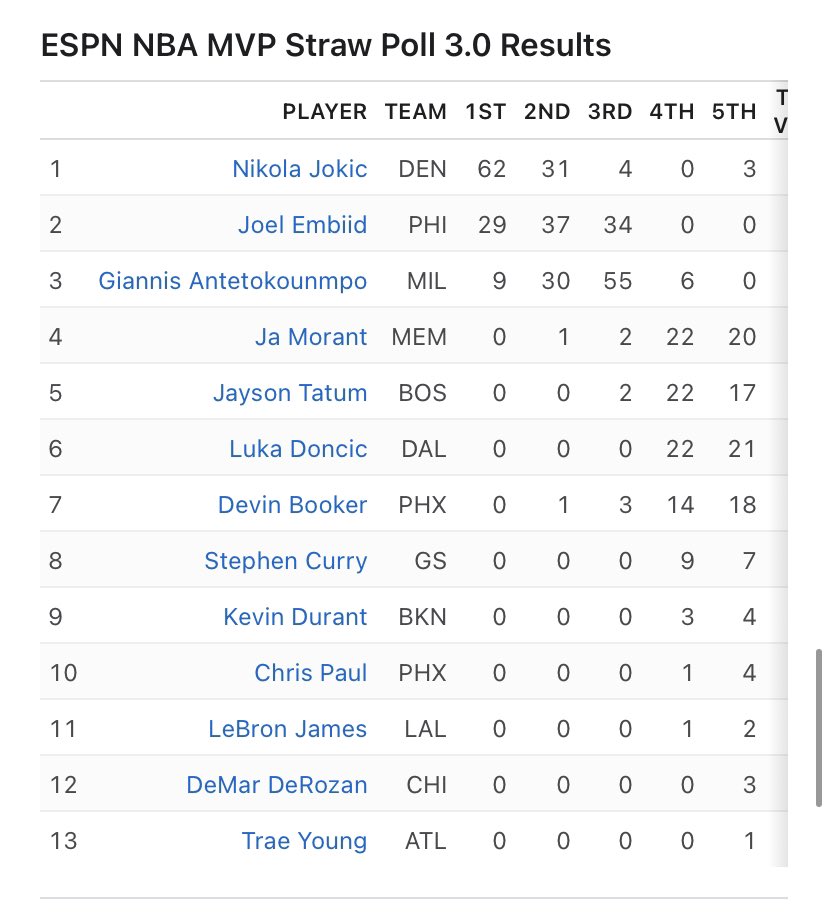 Jokic
There is no denying, Jokic is a stat monster. Jokic is arguably the most skilled big man in the NBA with his 19 triple-doubles leading the league. But what about winning? Doesn't that count for something?  The Nuggets are currently sixth in the western conference.  Meanwhile, Embiid and Giannis are fighting for their team to be second in the eastern conference. However, Denver only has one less loss than both Milwaukee and Philadelphia so these teams are neck and neck. Also, it should not be forgotten that Jokic is doing all this without Jamal Murray and Michael Porter Jr.
The month of March has been kind of the reigning MVP.  Jokic is averaging 29.4 points, 12.7 rebounds and 7.9 assists. This recent dominance could have these numbers skewed a bit from reality.
Embiid
The Process has been good for the majority of the year.  Embiid was leading the NBA in scoring for much of the year until Giannis passed him and now LeBron. In his 6th NBA season, this is likely going to be the most games Embiid has played in the regular season. Joel himself has said that he feels he is the MVP and deserves the award.
"This year, I've gone to a different level. I'm healthy. I don't know what else I have to do to be able to win MVP. I feel like it is my time." – Joel Embiid pic.twitter.com/FeueZfgws7

— NBA Retweet (@RTNBA) March 29, 2022
If Philadelphia didn't make the Harden trade would Embiid have a better case to earn the top spot? Harden has taken some of the limelight away from Embiid and likely hurt his numbers. This will have to be something Embiid lives with as he looks to pursue a championship.
Giannis
The two time MVP has had yet another sensational season following the championship run. If it had not been for COVID, things for Giannis could look very different. The shocking part of the MVP voting is the discrepancy between Giannis and Embiid. When comparing their numbers side by side, they are almost identical. Giannis edges out Embiid in both rebounds and assists while Embiid has slightly more points and blocks per game. Milwaukee is careful with Giannis minutes and he plays less than Embiid does. All things considered, Giannis has a usage rate of over three percent less than Embiid. The voting between these two players should be much closer than what it is with Giannis edging out the Philadelphia big man.
After Giannis and Embiid went head to head for the final time, Giannis dominated! Giannis scored more points otherwise the two stars stat lines were almost identical.  Almost. Giannis defensive dominance was on full display, especially at the end of the game.
GIANNIS BLOCKS EMBIID TO WIN IT FOR THE BUCKS ‼️ pic.twitter.com/x2fyXpIEnW

— SportsCenter (@SportsCenter) March 30, 2022
Voters will discredit this statement but voter fatigue appears to be a real thing.
[pickup_prop id="22582″]
As a Whole
The NBA is in a great place! The top three MVP candidates are "big men." The dominance of these players shows how much the league has evolved. Fans now know that on a nightly basis we will get to see a great basketball game, especially as playoff basketball approaches. A lot can still be determined in the last few weeks of the season. Enjoy the madness!
For More Wisconsin Sports Content
Follow me on Twitter at @wifecallsmecarl and follow @WiSportsHeroics as well for more great Wisconsin sports content! To keep up to date on the latest in Wisconsin Sports, click here! Also, check out our merch store for some amazing WSH merchandise!