The Milwaukee Brewers and and Boston Red Sox made a big trade ahead of the MLB lockout. In that deal the Brewers sent Jackie Bradley Jr., Alex Binelas, and David Hamilton to the Sox in exchange for Hunter Renfroe. On Monday July 25, the two teams completed yet another trade, this one far less noteworthy. In this deal, the Brewers sent minor league outfielder Abraham Almonte to the Red Sox in exchange for cash.
#RedSox dealt for some outfield depth today, as they acquired OF Abraham Almonte from the #Brewers for cash considerations.

Almonte has slashed .294/.380/.533/.913 over 48 games in AAA this season with 11 HR.#DirtyWater| #MLB pic.twitter.com/kCTKfZhhxk

— Tyler Milliken ⚾️ (@tylermilliken_) July 25, 2022
As noted in the Tweet above, Almonte is hitting .294/380/.533 with 11 home runs with Triple-A Nashville this season. This is well above his Major League averages of .234/.302/.374 with 23 home runs and 116 RBI in 440 career games.
The Trade of Almonte Was One of Many Minor League Moves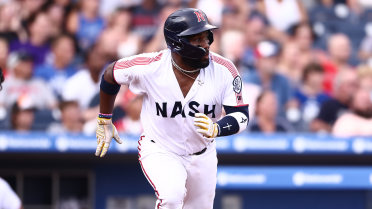 Abraham Almonte was never going to be a part of the Brewers' future plans. Hopefully, for him, he is able to get some playing time with the Red Sox. For now, he is assigned to the Worcester Red Sox, Boston's Triple-A affliliate.
The most notable move was the promotion of Brewers' top prospect Jackson Chouiro to High-A. It did not take long for Chourio to pick up where he left off in Low-A as he got a hit in his first at bat with the Wisconsin Timber Rattlers:
One swing, one hit for Jackson Chourio at High-A. pic.twitter.com/6jnjCWHxzf

— Josh Norris (@jnorris427) July 26, 2022
Chourio followed that up with a RBI double in his next at-bat:
.@BryanChourio is wasting NO TIME to make an impact for the T-Rats 🔥 #TRatNation pic.twitter.com/IcDkyrXU4s

— Wisconsin Timber Rattlers (@TimberRattlers) July 27, 2022
While playing at High-A Carolina, Chourio hit .324/.373/.600 with 12 home runs and 47 RBI. He also hit 23 doubles and five triples and stole 10 bases.
In addition to being the Brewers' top prospect, Chourio is the 36th ranked prospect in all Major League Baseball. At just 18 years old, he is still a few years away from reaching the Majors.
For More Great Wisconsin Sports Content
Follow me on Twitter at @theotherRobin19 and follow us @WiSportsHeroics for more great content. To read more of our articles and keep up to date on the latest in Wisconsin sports, click here! Also, check out our merch store for some amazing WSH merchandise!