On Saturday, August 21, Christian Yelich had a flashback to 2018 kind of game. The former National League MVP went 3/5 with two home runs and six RBI. Both home runs were no-doubters that he pulled to right center field. His first one was a solo shot that nearly hit the pickup truck near the scoreboard.
Yeli 𝙘𝙧𝙪𝙨𝙝𝙚𝙙 it!@ChristianYelich | #ThisIsMyCrew pic.twitter.com/PuVnh0quMT

— Milwaukee Brewers (@Brewers) August 21, 2021
The second one was a grand slam that ended up being the deciding factor in the Brewers' win.
YELICH LAUNCHED IT!

His second of the game is a 454 foot Grand Slam!!@ChristianYelich | #ThisIsMyCrew pic.twitter.com/GUVLLIYRRI

— Milwaukee Brewers (@Brewers) August 21, 2021
Yelich's breakout night was easily the best offensive performance of his season thus far. After Saturday, Yeli is hitting .244/.373/.385 on the season with eight home runs and 38 RBI.
The Rise and Fall of Christian Yelich
Christian Yelich became an immediate fan-favorite in Milwaukee when the Brewers traded for him in 2018. In his first year with the Brewers, he hit .326/.402/.598 with 36 home runs and 110 RBI. As mentioned previously, he won the NL MVP Award.- Additionally, he was the NL batting champion.
In 2019, it appeared as if Yelich was heading for another MVP Award up until late in the season. He was hitting .329/.429/.671 with 44 home runs and 97 RBI when he fouled a ball off of his knee, shattering it. He missed the rest of the season and came in second in MVP voting, though he did win his second consecutive batting title.
2020 was a much different story, though. Returning from an injury that obviously still affected him mentally, in addition to the challenges of the COVID pandemic, Yeli struggled all year. He finished the season with a slash line of .205/.356/.430 with 12 home runs and 28 RBI.
2021 did not start off well for Yelich either. In May, he hit .189/.348/.324 with a single home run and four RBI. He faired better in June, but still hit just .241/.407/.437 with four home runs and 18 RBI. July saw Yelich slide a bit once again as he battled through COVID late in the month. He hit .209/.329/.299 with one home run and five RBI.
Christian Yelich Is Back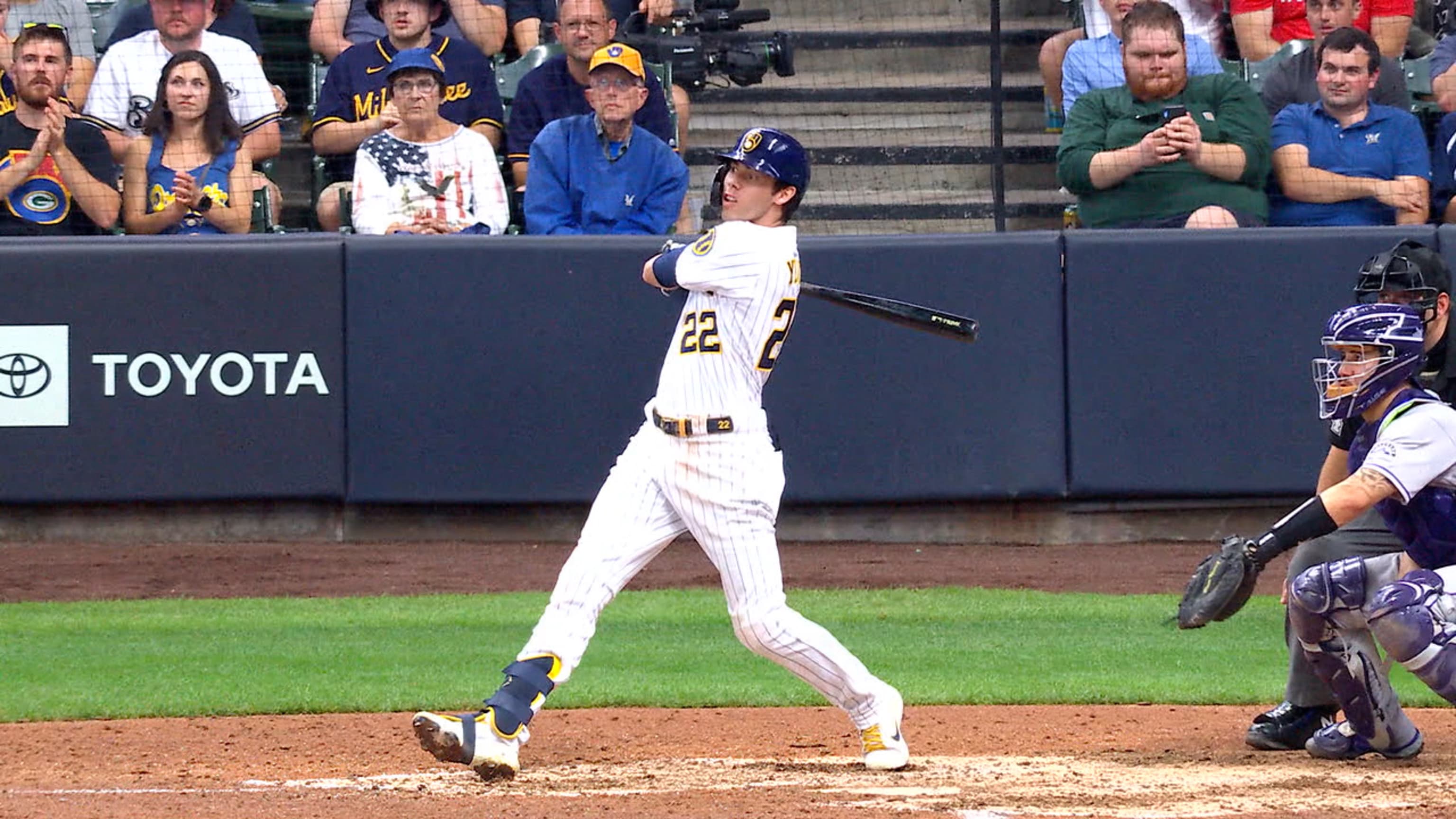 There is something to be said for taking time off from work to clear one's head. When he had COVID, Yelich could not be around anyone. This meant no baseball activities. When he came back, it appeared that his struggles would keep on plaguing him. In his first four games in his return, he was 0/9.
On August 11, in a Brewers 10-0 win over the Cubs, something happened. Yeli got a hit. In the next game, a 17-4 blowout, he added two more. Two days later, on August 14, Yelich played both games of a double header, and got a hit in both games. On August 15, he had two doubles. Yelich then played in every game of the series against the Cardinals and had at least one hit in each game.
When Christian Yelich came in to pinch hit in the Brewers loss to the Nationals on Friday night, he grounded into a double play. It snapped a nine-game hitting streak that had seen his batting average rise from .226 to .238.
After Saturday's two-home run game, Yelich has raised his averaged up to .244 since starting his hitting streak. Over his last 10 games, he has actually looked much more like the Yelich of old.
Christian Yelich last 10 games 🔥

14-for-40 (.350), 3 2B, 2 HR, .956 OPS

— Talkin' Baseball (@TalkinBaseball_) August 22, 2021
Of course, there is plenty of work left to do. The Brewers still have over a month of regular season baseball to play and they have not yet clinched their spot in the playoffs. However, 10 game samples have been good indications of Yelich's production in the past. Based on this most recent 10-game sample, the rest of the National League is in trouble.
[pickup_prop id="3163″]
For More Great Wisconsin Sports Content
Follow me on Twitter at @theotherAdams14 and follow us @WiscoHeroics1 for more great content. Check out our merch page here and use promo code Wisco at check out for $1 off! To read more of our articles and keep up to date on the latest in Wisconsin sports, click here!