Antonio Brown isn't someone to shy away from controversy. Aaron Rodgers is the latest quarterback to end up in Brown's crosshairs. Recently, Antonio Brown has been attacking Tom Brady on Twitter. However, now it seems like Antonio Brown is ripping Aaron Rodgers and taking a break from bashing Brady and instead.
Antonio Brown Targets Aaron Rodgers Latest Twitter Victim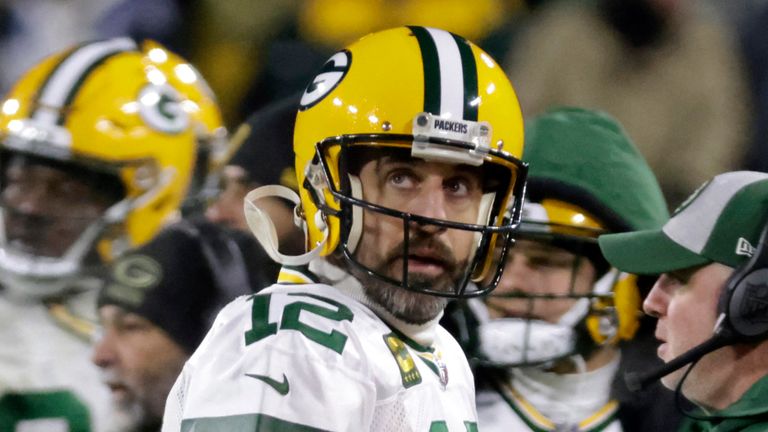 Tom Brady is proof that nobody is safe from AB's reckless behavior. Brady and Brown lived together for a short period of time. They seemed to have formed a friendship during the time they spent on the same team. However, after Brown's constant bashing of Brady, their friendship is beyond repair.
Now, Antonio Brown has turned his wrath to Aaron Rodgers. Rodgers has been struggling on the field this season. A big reason for that struggle can be attributed to Rodgers' lack of offensive weapons. In 2021, Rodgers did have one of the best offensive weapons in the league in Davante Adams.
After the Packers' defeat on Thursday night against the Tennessee Titans, AB took to Twitter to take a shot at Aaron Rodgers, saying; "I bet Arod appreciate the WRs now. Wonder why Adams left."
I bet Arod appreciate the WRs now

wonder 💭 why Adams left 🤔

🐝

— AB (@AB84) November 18, 2022
They say the grass is always greener on
the other side.

But what they don't tell you is that it's
artificial turf.

— AB (@AB84) November 18, 2022
Packers Offensive Struggles Since Davante Adams Departure
Despite what Antonio Brown may think, the Green Bay Packers didn't move on from Davante Adams because of any hostility between Adams and Rodgers. Rodgers and Adams have a great relationship and always talked in the highest regards about one another.
However, once the Packers signed the latest victim of the Antonio Brown antics, Aaron Rodgers, to a three-year, $150 million contract extension, they didn't have enough cap space to sign Adams to a high-paying deal too. The Packers placed a franchise tag on Adams in March, but Adams did not want to play on a one-year deal.
Since Adams' departure, the Packers offense has not been the same. Throughout most of the 2022 season, the Packers have not had a reliable wide receiver. Although, over the past few weeks, rookie receiver Christian Watson has been emerging as Rodgers' favorite target. Watson had an impressive three receiving touchdowns against the Dallas Cowboys two weeks ago.
It's true that the Packers miss Adams' playmaking abilities. But was Antonio Brown out of line to assume that Aaron Rodgers never appreciated what he had?
For More Wisconsin Sports News:
Follow me on Twitter at @alex_ratliff and follow us @WiSportsHeroics for more great content. To read more of our articles and keep up to date on the latest in Wisconsin sports, click here!