The divisional round playoff matchups are set. This Saturday, the #1 seed Green Bay Packers will face off against the number six seed Los Angeles Rams in legendary Lambeau Field at 4:30pmET. The number one scoring offense will go against arguably the number one scoring defense. The key matchup to watch for is how well Davante Adams can do in coverage against rams cornerback Jalen Ramsey. This duo will have domino effect on how well the game plays out depending on if Adams can do well in Ramsey's coverage. Besides being covered by Ramsey back in 2016 during Jacksonville, he only played against him in a handful of snaps during the pro bowl. Both players were named All-Pro this season, and this matchup should be a battle for the ages.
Davante Adams Elevated His Game This Season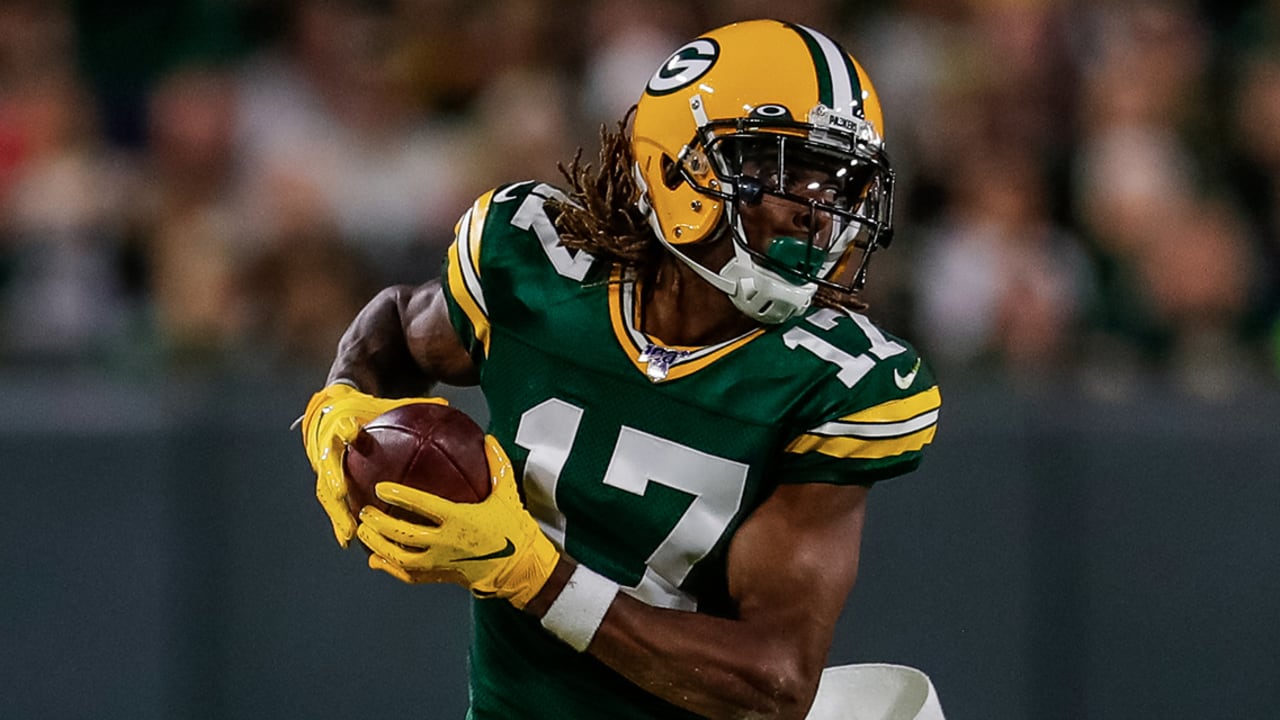 Despite missing two and a half games this season, Adams set a franchise record in receptions and tied the record for touchdowns in a season. Click Here for the article predicting he would achieve such records from the beginning of the season. He ended the season with 115 receptions, 1374 yards receiving with 18 touchdowns. Had he played all 16 games, he was on pace for 131 receptions and a new franchise record 21 touchdowns. He averaged almost twelve yards per reception this season, which is about the same as last season (12.01).
[pickup_prop id="3845″]
One notable stat was catch percentage his season. It increased from 65.4 to 77.2%, despite Adams only playing 13 games. One reason for this increase was him getting more familiar in Matt Lafleur's system. Additionally, Aaron Rodgers is playing at an MVP caliber level. He has a 135.8 passer rating when targeting Adams this season, which is the best passer rating for any receiver that has been targeted at least 60 times. Despite this battle, Rodgers will find a way to get Adams disengaged from the all-pro cornerback and attack this Rams defense.
Jalen Ramsey Getting Recognized As A Top Cornerback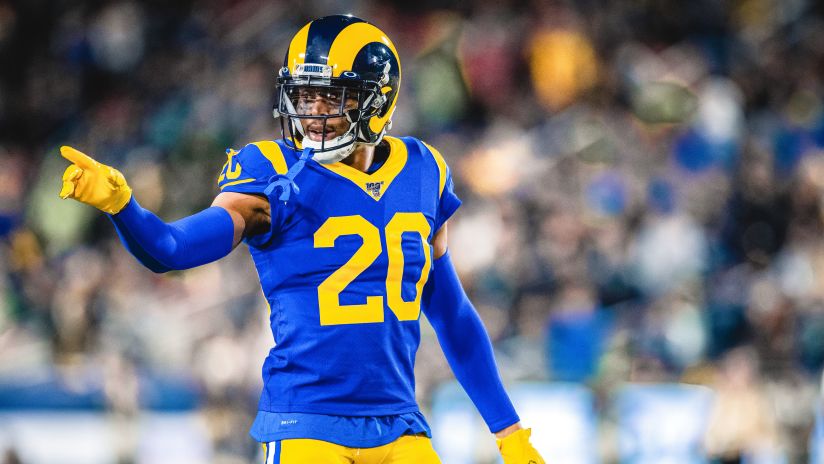 After playing in Jacksonville for a few years, Ramsey signed a massive five year $105M contract with the Los Angeles Rams in 2019. Quickly, he's been establishing himself as one of the best cornerbacks to play the game today. Even Davante Adams recognized his level of playing this season. "I respect Ramsey's game, he's at the top of that list for sure" Adams said in a recent interview. "I think he's probably at like three or four super elite is what I like to call it, and he's definitely one of those guys".
Although he only had one interception this year, he hasn't allowed much production from the receivers he's covering. In six games this season, when matched up with a pro bowl wide receiver, Ramsey has only allowed ten receptions for 96 yards and one touchdown. Just looking at those stats, it seems like what Adams would have in one game. Wherever Adams lines up, expect Ramsey to "shadow" him, especially in the slot. He is usually a corner that lines up on the perimeter, so this should be a true challenge going up against Adams. In fact, this season Ramsey has only lined up in the slot 169 times. This position may be where Adams has the advantage.
Who Wins this Matchup?
Despite being labeled as one of the top shut down cornerbacks in the league, Ramsey will be slightly beat out by Adams. When compared to other receivers, Adams has a certain way of running his routes. He's been known as one of the best route runners in the league. As mentioned earlier, Adams lines up in the slot which would be a disadvantage for Ramsey.
In addition, both Ramsey and Adams have different playing styles. Ramsey is one of those shadow corners that is aggressive and a bruiser in coverage. He prefers to play man coverage with fewer yards in separation. Adams is a bit different, his route running is in a more finesse fashion, creating yards in separation. He's not one to be physical on the line of scrimmage. However, Adams beats his defenders with his feet on the line of scrimmage.
Want More Great Content?!
Follow me on Twitter at @PackerEddyFF and follow us @WiscoHeroics1 for more great content! To read more of our articles and keep up to date on the latest in Wisconsin sports, click here!