The Green Bay Packers' season opener in Jacksonville against the Saints was far less than ideal. Losing 38-3 in Week One certainly is not ideal. The Packers lacked energy and there were questionable play calls on both sides of the ball. Luckily, all the other teams in the NFC North lost as well, and the division is wide open for the taking. The Packers can take an early division lead on Monday night against the Lions if they can do the following things.
#1- Win in the Trenches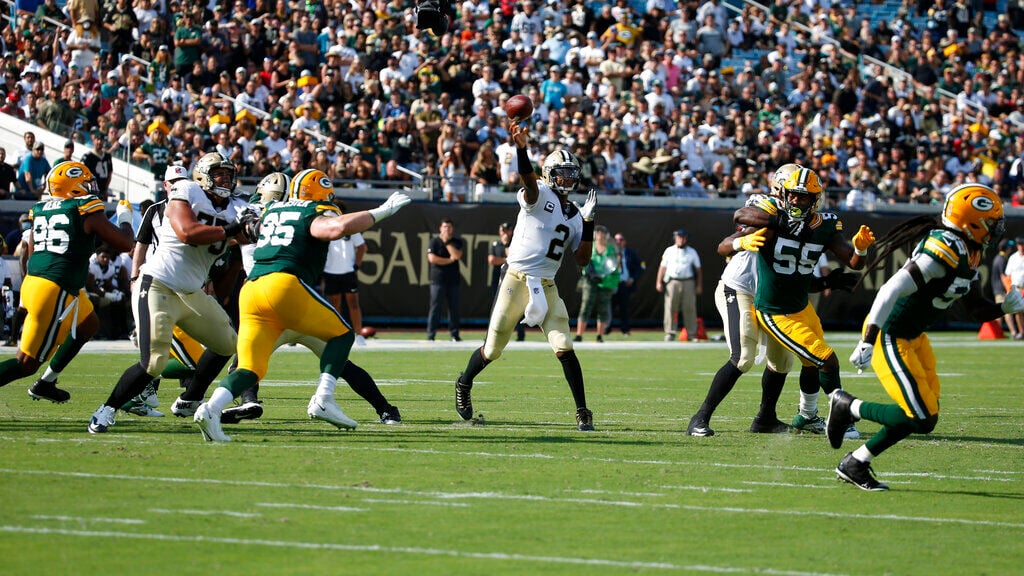 One of the reasons the Packers rarely got anything going last Sunday was due to the fact that the offensive and defensive lines were both dominated. The defensive line could not create penetration, which allowed Saints' quarterback Jameis Winston all day to make plays. This led to long drives that wore out the Packers' defense. Similarly, the Packers' offensive line was dominated, and Rodgers rarely had a clean pocket from which to throw. Against the Lions, the Packers' linemen must be better on both sides of the ball if they are to have a chance to win.
#2- Run the Ball
The Packers have one of the best running back duos in the NFL with Aaron Jones and AJ Dillon. However, neither got much of a chance to produce last week.
Matt LaFleur and Aaron Rodgers talked about the lack of a run game with the Saints in so much two-high.

Aaron Jones and AJ Dillon combined for 28 yards on 9 carries but Dillon averaged almost 5 YPC.

He's not as explosive as AJ but he's a walking 4+ yard gain

— Peter Bukowski (@Peter_Bukowski) September 14, 2021
As Peter Bukowski (Locked on Packers; Locked on Sports) points out above, AJ Dillon still averaged close to five yards per carry. The Packers MUST take advantage of their opponents' inability to bring Dillon down easily. Nine carries in a game, especially one called by Matt LaFleur, is inexcusable. Green Bay needs to have a more balanced attack on offense against the Lions, and that starts with running the ball more.
[pickup_prop id="11820″]
#3- Let Rashan Gary Eat
Unfortunately, Za'Darius Smith is head to the injured list and will be out for a few weeks. The silver lining of this situation is that Rashan Gary is going to get more playing time on defense.
Rashan Gary only rushed the passer 16 times on Sunday and is 19/138 edge rushers in the NFL with 4 pressures.

Losing Z is a bummer, but if it finally means unleashing Gary, fine. I'm not sure what they have been waiting for..

— Jacob Morley (@JacobMorley) September 17, 2021
As Jacob Morely of Packer Report points out, Gary put up great pass rushing numbers despite only getting 16 chances to rush the passer. With Za'Darius out, Gary will undoubtedly get more snaps and could really open some eyes around the NFL. All offseason, teammates and coaches have lauded the young pass rusher and have said he will be a force this season. We would really like to see that begin against the Lions.
[pickup_prop id="11791″]
For More Great Wisconsin Sports Content
Follow me on Twitter at @theotherAdams14 and follow us @WiscoHeroics1 for more great content. To read more of our articles and keep up to date on the latest in Wisconsin sports, click here!