The three major sports teams of Wisconsin, the Bucks, Packers, and Brewers, all have unique histories. Each has been fortunate to have great players play for them at various points in time. In this piece, we will list who we believe to be the top five sports figures in the history of Wisconsin sports.
When making this list, a few things were taken into consideration. First, the athlete had to, or is on track to be, a Hall of Fame player. Second, the athlete had to have spent a significant amount of time in Wisconsin. Finally, the athlete had to have a significant impact on the culture of Wisconsin, not just on the field.
Note: The athletes on this list are not listed in any particular order. It is too difficult to compare statistics and accomplishments in three different sports with players of this caliber.
Hank Aaron- Milwaukee Braves & Brewers
Hank Aaron deserves to be the first name mentioned on this list because he was the first Milwaukee athlete to achieve a high level of fame on a national level. Considered by some to be the true Home Run King in baseball, Aaron still is baseball's all-time leader in RBI's (2,297) and total bases (6,856). In his 23 seasons, he was named as an All-Star in 21 of those seasons, appearing in 25 All-Star games total (some seasons had more than one All-Star game).
Aaron made his Major League debut with the Milwaukee Braves as a 20-year old outfielder in 1954. He won his only career MVP award with the Braves in 1957. During that season, Aaron hit .322/.378/.600 with 44 home runs and 132 RBI's. In addition to leading the league in home runs and RBI's, he also led the league in runs scored with 118. While he left with the Braves to play in Atlanta for nine seasons, he returned to Milwaukee to finish his career. In his first season with the Brewers in 1975, Aaron made his final All-Star team. He retired after the 1976 season and was elected to the Hall of Fame in 1982. All told, Aaron spent 14 of his 23 seasons in Milwaukee.
Hank Aaron still continues to influence the community and culture of Milwaukee. In recognition of how he brought people together through baseball, the Hank Aaron State Trail was named after him. Prior to this, Aaron asked that a fund be started to help poor children of Milwaukee. What resulted was what is now known as the Hank Aaron Chasing the Dream Fund. This fund provides financial assistance to poor children, ages 9-12, who have a talent they wish to develop.
Kareem Abdul-Jabbar- Milwaukee Bucks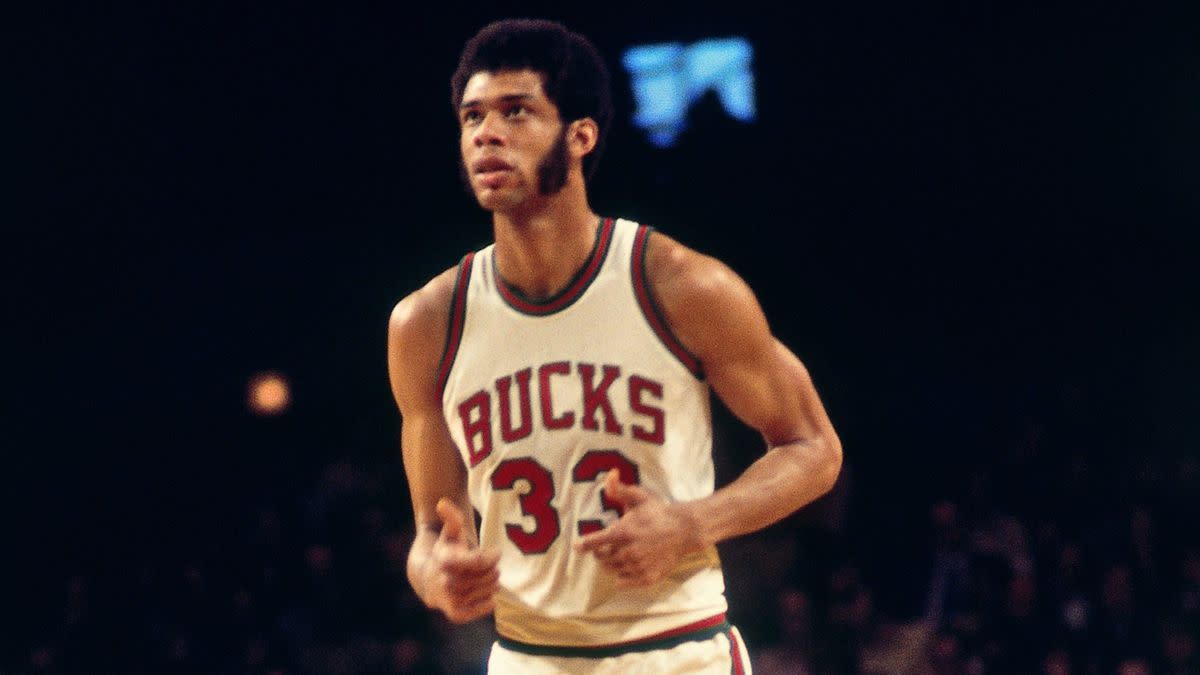 Kareem Abdul-Jabbar is best known for his 14 seasons as a Los Angeles Laker. However, Kareem was drafted by the Milwaukee Bucks after their first season as an NBA franchise and he helped bring respect and national attention to Milwaukee. Kareem won Rookie of the Year in the 1969-1970 season after averaging 28.8 points and 14.5 rebounds per game. He led the league in scoring in both of the next two seasons. In addition, he also helped the Bucks win their first and only NBA championship to date. The Bucks would appear in the Finals again in 1974, but they lost to Baltimore Bullets.
Abdul-Jabbar played six seasons in Milwaukee, making the All-Star game in each season. He ended his tenure in Milwaukee with averages of 30.4 points and 15.3 rebounds. Kareem won three MVP Awards with the Bucks, and remained the only Buck to win MVP until Giannis Antetokounmpo won the award last year.
Though Kareem's relationship with Milwaukee fans and his view of Milwaukee during his playing days was not always positive, he has since done a lot of work to help various communities in Milwaukee. He has given many lectures at Milwaukee schools and universities, including a 2017 speech to the Muslim Student Association at UWM. Since retiring from the NBA, Kareem has become a regular contributor to Time Magazine and the Washington Post. His Sky-Hook Foundation supports STEM education in impoverished communities all around the country. His contributions to communities all over the country prompted President Obama to award Kareem the Presidential Medal of Freedom in 2016.
Bart Starr- Green Bay Packers
Before Tom Brady, Joe Montana, and Terry Bradshaw, there was Bart Starr. The iconic Packers quarterback played 16 seasons in the NFL, all for the Packers. He led the Packers to five NFL titles, including wins in the first two Super Bowls. While his stats are not flashy, he is still one of the greatest players in NFL history.
Bart Starr was drafted by the Packers in the 17th round of the 1956 draft. He was the regular starting quarterback by 1957 and would have one of the most storied careers in NFL history. While his passing totals are much lower than those of modern-day quarterbacks due to the changing nature of NFL football, at the time he was one of the best quarterbacks in the league. He led the NFL in both completion percentage and quarterback rating four times. His most iconic play is perhaps his touchdown dive to win the Ice Bowl against the Cowboys in 1967.
While Starr's playing career will always be an important part of Green Bay's history, his work for the community is perhaps the most meaningful. After all, there is more to life than football, and Starr knew this.
Bart Starr, along with his wife Cherry, helped found the Rawhide Boys Ranch. Rawhide is a charity meant to help boys from broken homes. Starr used his fame to generate monetary donations, even compelling many to part with their used cars so that teenage boys could learn to drive and make a living. While Bart Starr has passed away, his legacy on and off the field remains.
Robin Yount- Milwaukee Brewers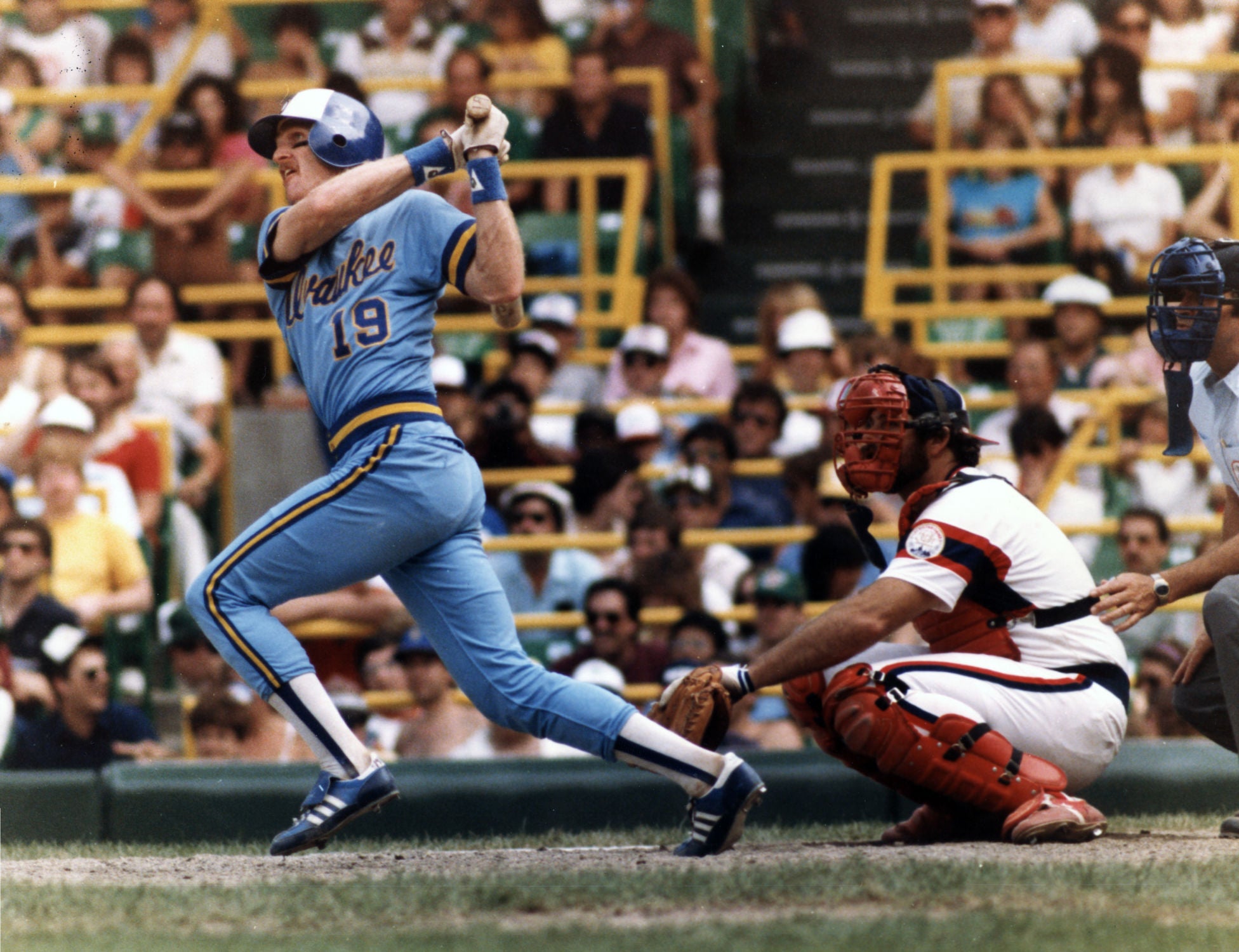 When you think of Milwaukee baseball, you think of Robin Yount. While Hank Aaron is still a beloved figure in Milwaukee baseball history, Robin Yount is the most beloved figure in Brewers history. Yount played his entire 20-year career with the Brewers, one of only 18 players to play 20 or more seasons with the same team.
Yount was drafted by the Brewers with the third overall pick in the 1973 draft. He made his major league debut at 18 years old in 1974. Yount won two MVP awards with the Brewers, including the 1982 season in which the Brewers appeared in their only World Series. For his career, Yount hit .285/.342/.480 with 251 home runs and 1,480 RBI's. He is a member of the 3,000 hit club with 3,142 hits, 20th all-time. He became the first player to go into the Hall of Fame as a Brewer in 1999. Yount remains the Brewers' all-time leader in many offensive categories including hits, RBI's, and runs.
Robin Yount has refrained from grabbing the spotlight since his retirement, but still finds ways to contribute to the community. In 2008, Yount started the production and sale of a lemonade called "Robinade." This beverage, which is sold in multiple stores, is meant to raise money for various charities dedicated to helping children. Most notable of these charities is the MACC Fund, which is dedicated to fighting childhood cancer. Yount, an avid golf player, has admitted that 99% of the golf he plays is in charity tournaments. While he may no longer want the spotlight, he still wants to make a difference.
Brett Favre- Green Bay Packers
Brett Favre is truly one of the greatest players to ever play the game. In 16 seasons with the Packers, Favre had one of the most iconic and storied careers of any quarterback. A classic gunslinger, he never was boring to watch and is responsible for many memorable moments in Packers history.
As a Packer, Favre became the first player to win three MVP awards in the NFL. He remains the only player ever to win the award three straight times. He led the Packers to back-to-back Super Bowl appearances, winning Super Bowl XXI for the Packers first title in nearly 30 years. Favre threw for 61,655 yards and 442 touchdowns during his time with the Pack before playing for three more seasons with the Jets and Vikings.
Brett Favre's charitable work is not often talked about. However, Favre has been working to raise and donate money to many charities since his early career with the Packers. In 1996, Favre started the Brett Favre Fourward Foundation, which is dedicated to providing aid to disadvantaged children in Mississippi and Wisconsin. He also is active in the Deanna Favre Hope Foundation, which aids women battling breast cancer. In addition, he has done charity appearances for the Boys and Girls Club, Special Olympics, Big Brothers/Big Sisters, and many, many more.
For More Great Wisconsin Sports Content
Follow me on Twitter at @theotherAdams14 and follow us @WiscoHeroics1 for more great content. To read more of our articles and keep up to date on the latest in Wisconsin sports, click here!