On Friday November, 13, 2020, the news broke that former Packers' halfback Paul Hornung had passed away. He was 84.  In remembrance of his outstanding career and legacy as a Packer, we present to you a special Past and Present article on one of the best Packers of all time.
Paul Hornung's College Career
Paul Hornung famously played quarterback in college at Notre Dame.  In three seasons, he threw for over 1,600 yards and 12 touchdowns (against 23 interceptions) with a passer rating of 105.6.  As in his pro career, Hornung made his name by running the ball.  Hornung ended his college career with over 1,000 rushing yards and six touchdowns.  In 1956, he threw three touchdown passes, rushed for six more, and won the Heisman Trophy.  His 1,337 total yards that season was the most in the country.
Early Career
Paul Hornung was taken with the first pick in the 1957 NFL Draft by the Green Bay Packers.  Hornung spent his first two seasons being under-utilized by Packers' coaches.  They could not decide whether or not to use him at quarterback, halfback, or fullback.
Hornung's career took off in 1959 when legendary coach Vince Lombardi took over in Green Bay.  Lombardi decided that the athletic Hornung would be the focal point of his offense.  Hornung played left halfback in the Lombardi offense which featured the famous power sweep.  What made Hornung so dangerous in this role was that he could pass the ball if defenses over-played the run.  As a quarterback in college, he thrived in this role.
1959 marked the the first of three straight Pro Bowl season for Hornung.  He rushed for 681 yards (more than his first two seasons combined) and seven touchdowns.  He also threw for an additional two touchdowns due to his role in Lombardi's offense.
1960 would be Paul Hornung's greatest season, and one of the greatest seasons by a running back in NFL history.  That year, Hornung rushed for 13 touchdowns and caught an additional two, totaling 15 scores.  In addition, Hornung, as the Packers' place kicker, kicked 15 field goals and 41 extra points.  His 176 points scored that year was a NFL record that stood for 46 years.  San Diego Chargers running back LaDainian Tomlinson scored 186 points in 2006.  In 1960, though, teams only played 12 games; LT played 16 in 2006.  Additionally, Hornung threw for two more touchdowns in 1960, making him responsible for 188 of Green Bay's points.  Since he did not score those touchdowns, though, they are not counted towards his total of 176.
Paul Hornung: MVP and NFL Champion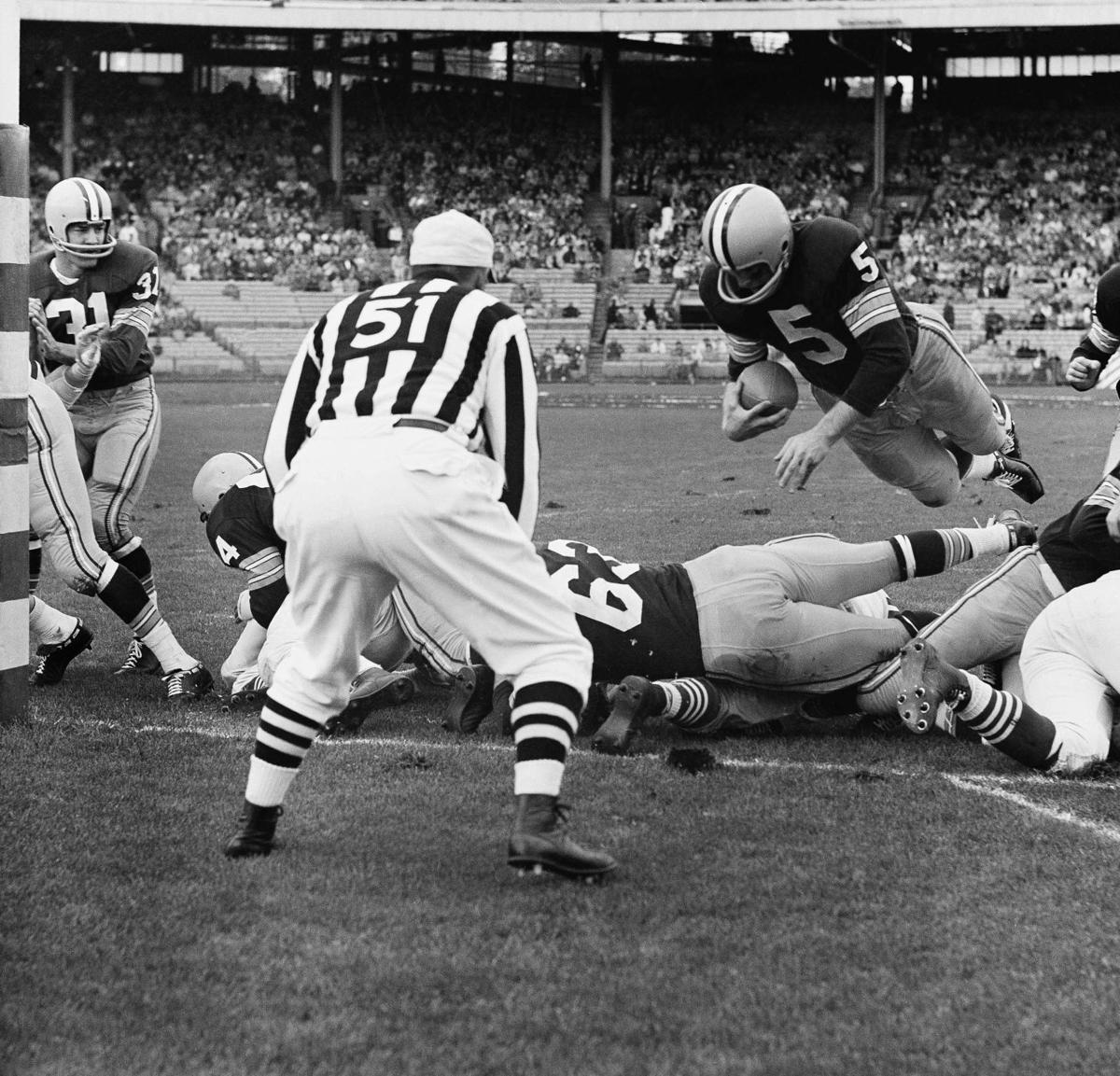 In 1961, Paul Hornung became the first Green Bay Packers' player to win the NFL MVP Award.  He is one of just nine players to win both the Heisman Trophy and NFL MVP Award.  1961 was also the year that the Packers ended their 17-year Championship draught by winning the Lombardi era's first NFL Title.
Early in the 1961 season, Hornung set the Packers' single-game record for points in a game with 33.  Later in the NFL Title Game against the New York Giants, Hornung set the Championship Game record by scoring 19 points and was named the game's MVP.
Hornung had suffered a knee injury in 1962 (and had had a pretty serious neck injury in 1960), which limited his production.  However, he still was a major contributor to the Packers' offense.  The Packers repeated as NFL Champions in 1962, with Hornung making a pretty big pass early in the game.
Hornung was suspended for the entire 1963 season for gambling.  He returned to the team in 1964 and helped the Packers win two more Championships in his final three years.  This included the first ever Superbowl.  When he retired following the 1966 season, Hornung was one of the most decorated NFL players ever, with two All-Pro selections, three Pro Bowls, a MVP, and four Championship rings.
The Legacy of Paul Hornung
Vince Lombardi famously said that Paul Hornung was, "The greatest player I've ever coached."  He thought so highly of Hornung that when the Packers faced off against the Cowboys in the famous Ice Bowl in 1967, Hornung was on the sidelines and helped design Bart Starr's famous game-winning score.
For the remainder of his time in Green Bay, Lombardi would not allow another player to wear Hornung's number five, and he wished it to always be that way.  However, Packers' front office officials assigned the number to several players in the 80's.  Ron Wolf, Ted Thompson, and Brian Gutekunst, though, have honored Lombardi's wishes and the number remains unofficially retired by the franchise.
The Packers inducted Paul Hornung into the team's Hall of Fame in 1975, and he was given his rightful place in the NFL Hall of Fame 11 years later in 1986.
For More Great Wisconsin Sports Content
Follow me on Twitter at @theotherAdams14 and follow us @WiscoHeroics1for more great content. To read more of our articles and keep up to date on the latest in Wisconsin sports, click here!