Omar Narvaez is having a great season for the Milwaukee Brewers. A first time All-Star this season, he is hitting .285/.370/.447 with 11 home runs and 43 RBI. Many fans did not predict this kind of production from Narvaez going into the season. After all, he hit just .176/.294/.269 with two home runs and 10 RBI last season. However, 2020 was an off year for many hitters, and Narvaez has proved to be as reliable a hitter as there is in MLB. Once the ire of fans, he is now a fan favorite. That being said, a day is coming, and soon, where the Brewers and their fans will have to say "good bye" to their All-Star catcher.
How Omar Narvaez Ended Up in Milwaukee
In 2019, the Milwaukee Brewers had All-Star catcher Yasmani Grandal as their primary catcher. After hitting .246/.380/.468 with 28 home runs and 77 RBI, he signed a four-year $73 million deal with the Chicago White Sox.
In need of a primary catcher, the Brewers sent prospect Adam Hill to the Seattle Mariners for Omar Narvaez. At the time of the trade, there were high hopes for Narvaez. He had hit .278/.353/.460 with 22 home runs and 55 RBI in 2019 with Seattle. Additionally, he came to Milwaukee with three more years of club control.
Why the Brewers May Lose Him to Free Agency
Omar Narvaez came to Milwaukee in the midst of his arbitration seasons. After making $2.725 million in 2020, he took a pay cut due to his poor production. Narvaez's salary in 2021 is $2.5 million, and will likely be much more next season due to his improved production.
Next season is his last year of arbitration. After 2022, Narvaez will be an unrestricted free agent. Given his offensive production and improved framing behind the plate, there is little doubt that he will be a hot commodity on the market.
Of course, the Brewers could elect to trade Narvaez in order to get something back for him. However, the Brewers are built to be perennial contenders. Selling an All-Star catcher at the trade deadline is not a typical move for a contending team. When Prince Fielder was due to hit free agency after 2011, the Brewers chose not to move him at the deadline. That season, of course, Milwaukee went all the way to the NLCS. Fielder signed with the Tigers after the season ended.
Up and Coming Catching Prospects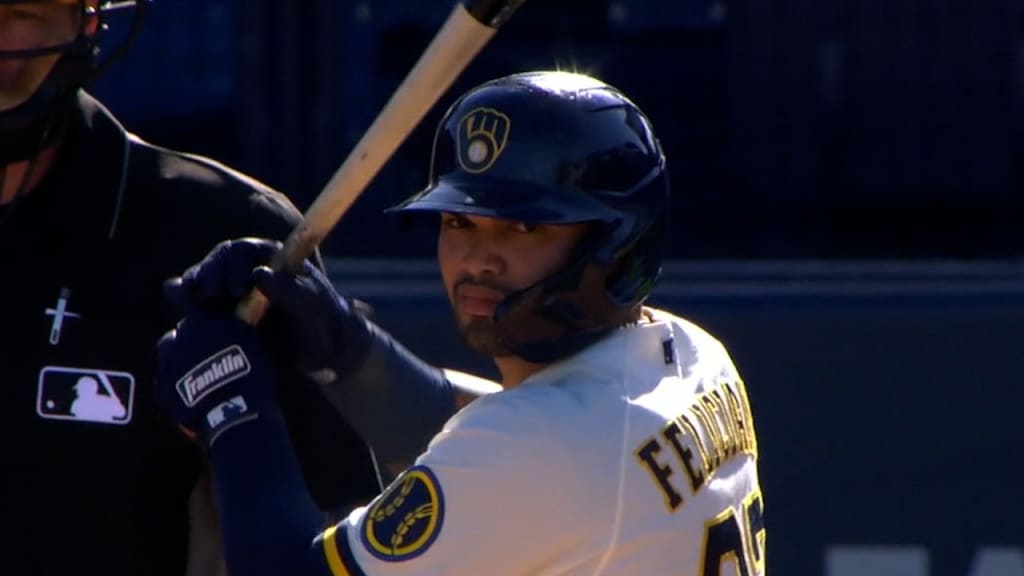 The Brewers have two highly touted catching prospects down in the minors. Mario Feliciano has been injured for much of the season. However, in 2019 he was the MVP of the Carolina League. That season, he hit .273/.324/.477 19 home runs and 81 RBI. Feliciano was up for a brief stint with the Brewers early this season and scored his first Major League run.
The sixth ranked prospect in the Brewers' minor league system is Jeferson Quero. The 18-year old is playing his first season of professional ball with the ACL Brewers. In 22 games, he has hit .309/.427/.500 with two home runs and 10 RBI. Additionally, he has struck out just 10 times while drawing 11 walks.
By the time Narvaez hits free agency, Feliciano will hopefully be ready to take over as the primary catcher. Quero is projected to be Major League ready by 2024, and could become a wonderful complimentary piece behind Feliciano.
The fact of the matter is this: Omar Narvaez is here now and is contributing. He will be with Milwaukee next year, and the Brewers will likely be contenders again. Fans need to enjoy it while it lasts.
For More Great Wisconsin Sports Content
Follow me on Twitter at @theotherAdams14 and follow us @WiscoHeroics1 for more great content. Check out our merch page here and use promo code Wisco at check out for $1 off! To read more of our articles and keep up to date on the latest in Wisconsin sports, click here!