When the Packers hired Matt LaFleur in 2019, they had high hopes that he would be able to revitalize the offense and keep the Packers on top in the NFC North. I'm not sure they thought he would be this good. In his three seasons with Green Bay, he is a staggering 39-10. That is a shade under winning 80% of games. Let's put this in context to understand Matt LaFleur's historic winning percentage.
Top All Time Winning Percentages
LaFleur's current winning percentage sits at .796. In order to get on the board for NFL history winning percentage you have to coach at least 4 seasons which LaFleur will hit after this year. This makes sense as some coaches would have a perfect 1.000 winning percentage because they coached one game as a interim and won. The leader in winning percentage in NFL history is Guy Chamberlain (.784) who coached from 1922-1927. He is followed closely by the late great John Madden (.759) and Packers legend Vince Lombardi (.738). The highest winning percentage of a current coach is Sean McVay at .679. As it sits right now, LaFleur is 100 points higher than the best current coach. To put this in context, if Lafleur simply wins half of the games this year, a 9-8 record, he would still be #4 all time in percentage.
Keys to LaFleur's Success
There is no question that Matt LaFleur has a great offensive mind. The offense in 2018 looked stuck in the mud. The offense the past 3 years looks exciting and innovative. However, there are 2 aspects of LaFleur's coaching that I think get overlooked that are key to his success. The first is while he is a genius play caller, he takes the opinion of the players as well. He asks what they are seeing on the field and wants their input. During the week, the team leaders have some autonomy over the schedule. Players can talk to him and while he will not cater to their every need, he does move schedules around to accommodate player needs. This is a great quality in any workplace but especially for an NFL team and can attract help attract players.
The second is LaFleur's self-accountability. Listen to any Packers press conference after a loss. The message is the same from LaFleur. It starts with him. Before talking about anything that went on during the game, he acknowledges that he has to get better. This attitude means that the Packers have not gone on major losing streaks. Losses are one offs that instill a burning drive to get better. LaFleur has lost 9 games where there was a game the next week (I am not counting the Week 18 loss to the Lions last year). In the 9 games after those losses, the Packers are 9-0. This is a credit to LaFleur and his coaching after a loss. When LaFleur looks inward to see what he could improve, it rubs off on the players as well and they improve as well.
It's All Rodgers?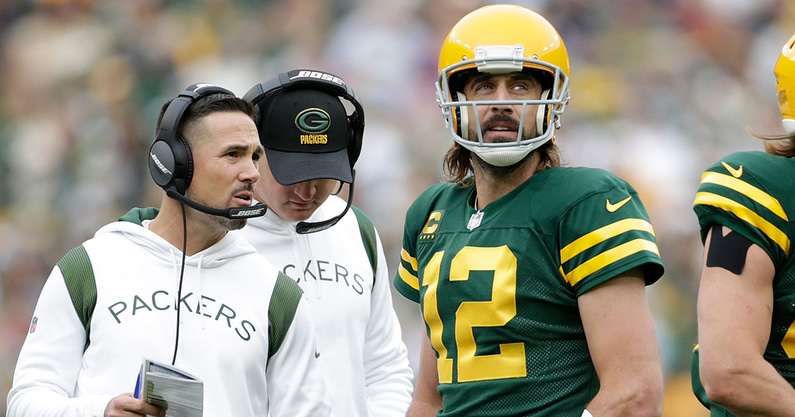 One of the biggest criticisms people have of LaFleur is that he is doing all of his winning with Aaron Rodgers. Yes having one of the great QBs helps but that isn't enough to vault someone to top 5 all time in winning percentage. Take Bill Belichick. He had possibly the greatest QB of all time and a division that put up as much resistance as warm Jell-O. He still only sits at a .670 winning percentage good for #13 all time. LaFleur hasn't won because of Rodgers. He has won because he has created game plans around Rodgers that amplify what he does best and maximize the talent throughout the roster. As stated above, he also consults with Rodgers and integrates his opinion into the game plan. This has caused Rodgers to reach another level and that is a credit to LaFleur's coaching.
The Packers absolutely nailed the hire of head coach. This is a head coach that can coach for a long time and has the tools to have long term success. It will be interesting to see what happens in the post-Rodgers era but if LaFleur can keep this up, he will have a historic winning percentage.