The Milwaukee Brewers have been off to a rather slow start for the 2022 season. In 10 games, the crew is ranked fourth in the NL Central with a 5-5 record. It's been less than ideal for the defending NL Central champions, and I'm sure fans can agree. Why don't we take a look at three things we've seen from the Brewers in the first 10 games.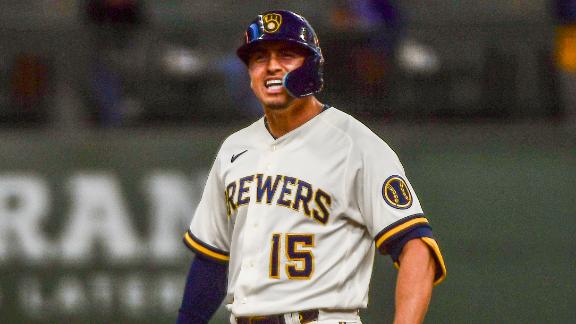 1. The Brewers are making contact with the ball, but the home run number is low.
Going into the weekend to finish out the series against the St. Louis Cardinals, the Brewers had only tallied four home-runs; This number was ranked at the second-lowest in the major leagues. Prior to Victor Caratini's solo shot on Saturday night, three of the four homeruns tracked were in the crew's game in Chicago on April 10. Those home runs were thanks to Willy Adames, Rowdy Tellez and Mike Brosseau. Omar Narvaez would hit a shot in Thursday's home opener at American Family Field.
On Easter Sunday, the Brewers would come out on top with a 6-5 win over the Cardinals. This win, however, produced no home runs. Cardinals starter Dakota Hudson would walk his first three batters face, who would then all score, jumping to a 3-0 lead. They later would break a 3-3 tie in the fourth when Adames drew a walk, bringing Keston Hiura home. Three innings later against Cards reliever Drew VerHagen, the Brewers had Yelich on third, McCutchen on second with no one out. The bases would ultimately become loaded, but the crew wouldn't score until Tyrone Taylor's center field shot, bringing the lead 6-3 for Milwaukee.
There have been times where the Brewers were close to home runs, but came up short; "Wall balls" as manager Craig Counsell told the Journal Sentinel.
"Obviously, in the offensive game today, you need homers, there's no question about it…So you need extra-base hits for run production…That's just what we've been lacking right now…You'd hope you'd get consistent, daily, one or two a game, but they're going to come in bunches a little bit, too." 
2. Pitching has seen its better days.
If you want success, you need production from both sides. The Brewers bullpen has been held to the task of securing wins for the crew, and while successful at some points, the pitching has been very inconsistent. Granted it's only been 10 games so far, but, it's not the bullpen pitching fans are used to seeing.
The reigning NL Cy Young started off his season with a bit of inconsistency. Corbin Burnes worked five innings, allowing three runs. The right-hander struck out four, but couldn't seem to gain command of his control, walking three batters. It looked as though Burnes couldn't seem to get comfortable with his cutter through the first two innings. After a flyout from Patrick Wisdom, Burnes was tuned in, retiring the next seven batters he faced.
In Thursday's home opener, Brandon Woodruff pitched a dandy against the Cards in their 5-1 victory. He put out five scoreless innings, only allowing three hits and walked one. Both Trevor Gott and Jandel Gustave helped Woodruff out by putting together two great innings, allowing a combined two total hits; One of those being a home run by Gold Glove winner Tommy Edman.
Additionally, Freddy Peralta has not had a good start to his season. After giving up six runs in three innings to the Chicago Cubs, his ERA plummeted to a shocking 11.57. The control in his command just wasn't there, and the zone was very inconsistent for the starter. In Friday's game, the Cardinals were able to take advantage of Peralta's struggles, jumping to a 4-0 lead in the first inning. In the second, St. Louis would add on two more runs, bringing their lead to 6-0.
These are just some of the problems the Brewers face with their pitching. Hopefully with getting the first three series out of the way, they can learn from their losses and figure out how to capitalize on them, bringing better success in the future.
3. The injured list is small…For now.
If you can recall to last season, the Brewers was riddled with injuries. In April, they had 14 players on their injured list, one of them being Christian Yelich with a back strain. Luckily, players are healthy and on the right track. Nonetheless, Justin Topa and Luis Urias remain on the list.
Topa isn't slated to return until the middle of the season, with a rehab assignment scheduled for May. Urias remains a huge question mark as of the 7th of April. Suffering a quad injury in his first Cactus League appearance, the hopes of Urias having a great third year with the crew has dwindled.
The Brewers were hoping Urias would be able to start a rehab assignment with Double-A or Triple-A, but as of this past weekend, president David Stearns said that Urias was unlikely to begin that rehab assignment. Seeing how successful Urias was last season, having him back in the lineup is going to be key for the Brewers. For now, they just wait.
Conclusion
Yes, we're only 10 games into the season. No, it's not the time to panic. There still is plenty of baseball left, and the Brewers have proved time and time again that they're capable of being one of the best teams in baseball.
Follow me on Twitter at @sarahspooon and follow us at @WiSportsHeroics. For all things Wisconsin sports, click here!