Let me take you back to November 20th, 2021. Senior night at Camp Randall the Wisconsin Badgers against the Nebraska Cornhuskers. The Huskers had the ball early in the second half when Senior Safety, Collin Wilder intercepted a deep pass that put the Badger into great scoring position. About a quarter later, Collin Wilder came up again for the Badgers as again on a deep pass he was able to intercept the ball. Those two INTS helped the Badgers secure a win on senior night 35-28. Now fast forward to June of 2022, and I had the pleasure to speak to Collin Wilder https://twitter.com/WilderCollin and get his thoughts on his journey and what's next for this Badger squad.
Full highlights of game below
Who is Collin Wilder?
Wilder, two sport athlete from Katy High School in Katy, Texas. Collin Wilder was the Texas Defensive Player of the Year and a Max Prep All American in 2015. He then went to Houston before transferring and coming to the University of Wisconsin and playing safety from 2019-2021. In 2021 he earned All-B1G Honorable Mention, while earning a Masters in Educational Leadership.
Why Wisconsin?
When asked why Wisconsin Collin had this to say, "Wisconsin just has a consistent culture and tradition that brings a lot of grit and blue-collared mentality. That type of culture along with playing against the best competition, there was no better fit for me personally." Collin was also asked who his favorite former teammate was. While I think he is just not trying to hurt the feelings of guys like Leo Chenal or Jack Sanborn he did have this to say. "Hard to name a favorite former teammate. I was close with all of those guys in that locker room. Each individual is special to me in different ways."

What's Next For Wisconsin?
"I think this team can be as good as they want to be. They have the tools, the players, and just need the next leaders to continue to come into those roles. I'm looking forward to watching guys in the secondary like John Torchio, Hunter Wohler, and Alex Smith. I've watched their journeys and now their opportunity is here to be the next big playmakers in that secondary."- Collin Wilder. That's tremendous amount of praise for a program that has been one of the best over the past 30 years. Don't be surprised that this fall the Badgers are again competing for a Big Ten Championship.
What is the Future of DC Jim Leonhard?
The former Badger and NFL defensive back, and now Defensive Coordinator for one of the best defenses in the country. Jim Leonhard's name has been circulating around as a head coaching candidate for the past few years.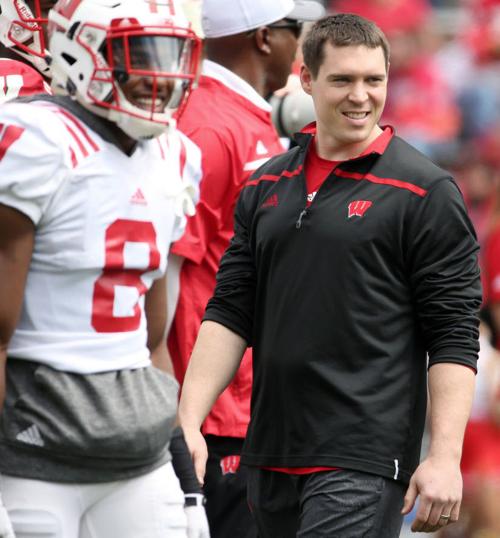 While his rise as one of the fastest trending names on the coaching circuit grows, it seems like he might just stay in Wisconsin for now. Here is what Collin Wilder had to say on Coach Jim Leonhard. "I think Coach Leonhard loves Wisconsin and wants to take the program to new heights before his other goals of coaching. He can do whatever he wants, because all of the options are there. But right now I think his goal is help this program do what they haven't done before." That's some extremely high praise of his former coach and mentor. It will be no surprise if the Badgers yet again finish with one of the best defenses in the country in 2022.
Future for Collin Wilder?
"What's next for me is still up in the air. I'm staying in shape for a possible opportunity professionally, but also open to the next steps of life with either coaching or being around the game in other ways." This coming on the heal of Collin agreeing to help out with up coming HS football camps. If you want to reach out to Collin about his upcoming camps or the schedule one https://twitter.com/WilderCollin
Advice From Collin Wilder:
 As a former player and current coach myself, I asked Collin to give just a few tips to make younger players better today. "There's a lot of things, but I would say the biggest thing for kids wanting to play the at the next level I would encourage them to not focus on the stars, the offers, the highlight tapes. Focus on being the best teammate and leader of your high school team. Be a captain, win state championships and be the best ball player you can be. You put your time and energy into that the offers and the next level will come."
Badgers 2022 Football Schedule https://uwbadgers.com/sports/football/schedule/2022
For More Great Wisconsin Sports Content
Follow me on Twitter @Letitflysports and follow us @WiscoHeroics1for more great content. To read more of our articles and keep up to date on the latest in Wisconsin sports, click here! Check out our shop for new merchandise! Use promo code "WISCO" at checkout for $1 off!