At the beginning of the 2020 NFL season, no one really knew what to expect from Packers' wide receiver Marquez Valdes-Scantling. With the emergence of Allen Lazard, it looked as though Valdes-Scantling's opportunities were going to diminish. However,  he became an large part of Green Bay's passing attack. Additionally, the more he was on the field, the more trust Aaron Rodgers put in him. Going into the 2021 season, Valdes-Scantling and Lazard will surely be fighting for the #2 position on the depth chart. Here are the reasons why Marquez Valdes-Scantling will win this battle at the end of training camp:
Valdes-Scantling Use As a Deep-Field Threat
Davante Adams occupies most opposing defensive coordinator's attention. Because of this, Aaron Rodgers has the itch to throw downfield to keep defenses alert and on their toes. In the time Marquez Valdes-Scantling has been with the Packers, we have seen him primarily used as that downfield playmaker. It cannot be overlooked, however, that Valdes-Scantling has had confidence issues in his career. Despite that, he played a dynamic part in the NFC Championship with his deep ball capabilities and throughout the year started to show flashes of brilliance down the field.
The Perfect Pair With Davante Adams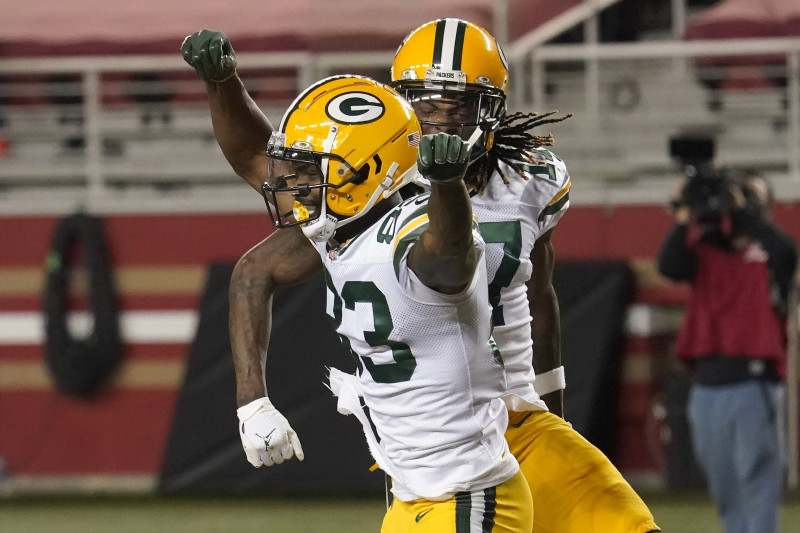 A player of Davante Adams' caliber can only do so much for any offense. Stated previously, most defenses will occupy much of their attention to Adams. The best way to combat this is to have another playmaker on the field. This, in my opinion, is where Marquez Valdes-Scantling truly separates himself from Allen Lazard. Lazard has found his role as a terrific run blocker and slot receiver. However, the selection of Amari Rodgers may have an impact on Lazard. Meanwhile, everyone knows that Aaron Rodgers likes to take his shots downfield and draw defenses offsides. This plays to Valdes-Scanting's advantage, as mentioned above, due to his downfield capabilities. When looking at these scenarios, it is easy to that Valdes-Scantling is the Robin to Davante Adams' Batman.
Valdes-Scantling And His Final Contract Year
Looking into next season, the Green Bay Packers do not have a single wide receiver under contract besides Amari Rodgers. When looking at the current depth chart, one can make the argument that there are two, potentially three, wide receivers on the roster that can be considered safe bets to gain an extension. One of these players is Marquez Valdes-Scantling. Whether is it a small multi-year extension or long-term, having the opportunity to continue playing past a rookie contract is an extreme confidence builder. This is something that Valdes-Scantling is definitely going to need to work for, but he has the traits, skills, and attributes to continue his time in Green Bay. With this being said, Valdes-Scantling has a ton to play for this season, and I can see him using this as motivation to keep getting better and improve his play from last season.
Follow me on Twitter @ChrisBuboltz and follow us @WiSportsHeroics for more great content! Check out our merch page here. Use Promo Code WISCO at checkout to get $1 off your order. To read more of our articles and keep up to date on the latest in Wisconsin sports, click here.