The Milwaukee Bucks took care of business in a 94-90 defensive grudge match against the Chicago Bulls at home on Friday night.
In a time where 100+ points for both sides is the norm, here are three crazy statistics that came out of this game.
184 points between the two teams
To call this game a low-scoring affair would be an understatement. 
The Bucks (111.6 pts) and Bulls (110.7 pts) both scored over 15 points less than their usual game average, as neither team could get a rhythm going.
Funnily enough, by taking the highest scoring quarter of the game (26 points by the Bucks) and multiplying it by four, the 102 point total is still well below both team's averages.
13-for-69 from beyond the arc
You read that correctly. In their first matchup of the season, the Bucks and Bulls shot a combined 18.8% from three, converting on only 13 out of 69 attempts.
Center Bobby Portis (41.8% from three on the year) had an uncharacteristic shooting game, going 1-for-7 from distance.
Bulls guard Coby White (39.7% from three on the year) took the cake, though. He shot an abysmal 0-for-9 on three-pointers. 
Unsung heroes on both sides did what they could to salvage the night. Guards Grayson Allen and Wesley Matthews shot 1-for-2 from beyond the arc.
Bulls guard Matt Thomas shot 3-for-5 from distance. 
16 games in a row with 20+ points for the 2x MVP
While the majority of players on both sides had a tough time putting up points in this game, Giannis Antetokounmpo scored 30 for the Bucks while shooting 11-for-23 from the field. 
The Greek Freak has been putting on a show all year, extending his 20-point streak to 16 games.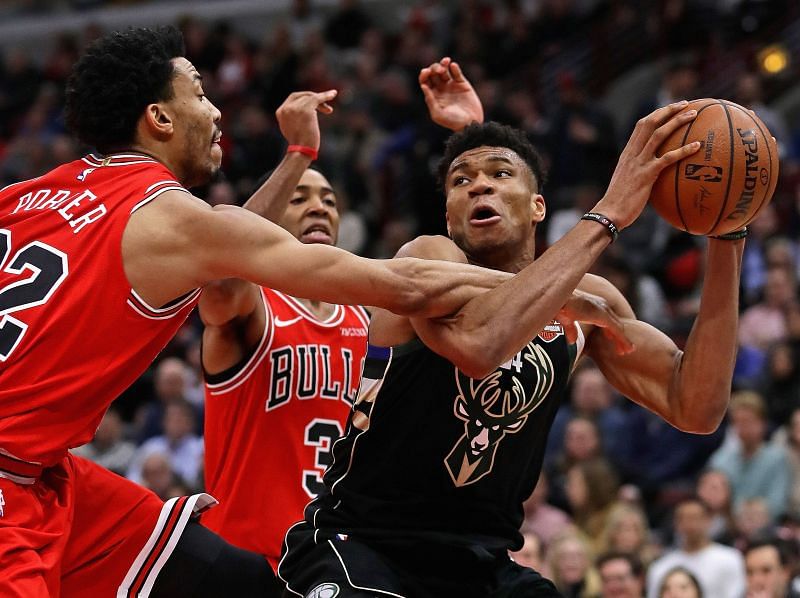 He has also managed to score at least 30 points in 10 games this month. The man is electric. We are all watching a future Hall-of-Famer drop 25-30 a game, even at times when nobody else on the court can consistently score.
Looking ahead in the rivalry
The Bucks will face off against the Bulls on two more occasions this season. They'll travel to the United Center to take on their I-94 rivals on March 4 before coming home for the season finale on March 22.
For More Great Wisconsin Sports Content
Follow me on Twitter @csparks410 and follow us @WiSportsHeroics for more great content! To read more of our articles and keep up to date on the latest in Wisconsin sports, click here. Also, check out our merch store for some amazing WSH merchandise!