The Wisconsin Badgers take on the Michigan Wolverines this weekend at Camp Randall Stadium. Following an embarrassing loss against Notre Dame last weekend at Soldier Field in Chicago, the Badgers are motivated.
The Badgers have dropped out of the AP Top 25 after an abysmal first four weeks of the season. Losses against Penn State and Notre Dame have really shown how incomplete this Wisconsin team is in relation to talented, ranked teams. The good news is that the Badgers have an opportunity to redeem themselves against #14 Michigan at home. Here are four key Badgers whose performance will impact the outcome of this game.
Graham Mertz, Quarterback
Graham Mertz has the opportunity to either salvage his legacy at Wisconsin or continue to dig his grave. Mertz had not thrown a touchdown since November 21st, 2020 before last weekend, and still hasn't beaten a ranked opponent in his career at UW. He came to Wisconsin with incredibly high expectations and has yet to live up to them, aside from his first career start.
Graham Mertz since his 1st game:
5 TDs
10 INTs
4-5 record.

YIKES pic.twitter.com/Ize311LOby

— Barstool Sports (@barstoolsports) September 25, 2021
Mertz went 18/41 with 240 yards, a passing TD, and four interceptions against Notre Dame. He had more touchdowns thrown to the opposing team than to his own teammates. While there is a lot of time left in this season and his career, Badger fans are growing tired of Mertz's subpar performances.
Going into this game against Michigan, Mertz's performance will be arguably the biggest factor in determining the outcome of the game. If he fails to generate successful drives, the offense collapses and Michigan will run away with the game early. Mertz has stated multiple times that he is not worried and that he is getting better every day. Well, Graham, Saturday is the day to show it.
Chez Mellusi, Running Back
Mellusi transferred to Wisconsin on June 1st with hopes of becoming the next great Wisconsin running back. So far, he has 366 total yards through three games and two touchdowns to go with it. While he's not Jonathan Taylor or Melvin Gordon, he has been a productive addition to the team.
One of the biggest reasons Mellusi hasn't put up big numbers like Taylor and Gordon is the inconsistency of the Badgers' offensive line. In previous seasons, Wisconsin has had insanely good offensive lines that provide huge gaps for the running backs. This year, the O-Line has been underwhelming in terms of both run and pass blocking. Mellusi is one of many players who are at a big disadvantage due to the offensive line's weak performances, but he still has performed quite well.
Mellusi will have at least 25 carries if Wisconsin can remain competitive throughout the entire game. If they don't, then Mellusi will likely split carries with Jalen Berger and Isaac Guerendo as the Badgers try to run out the clock.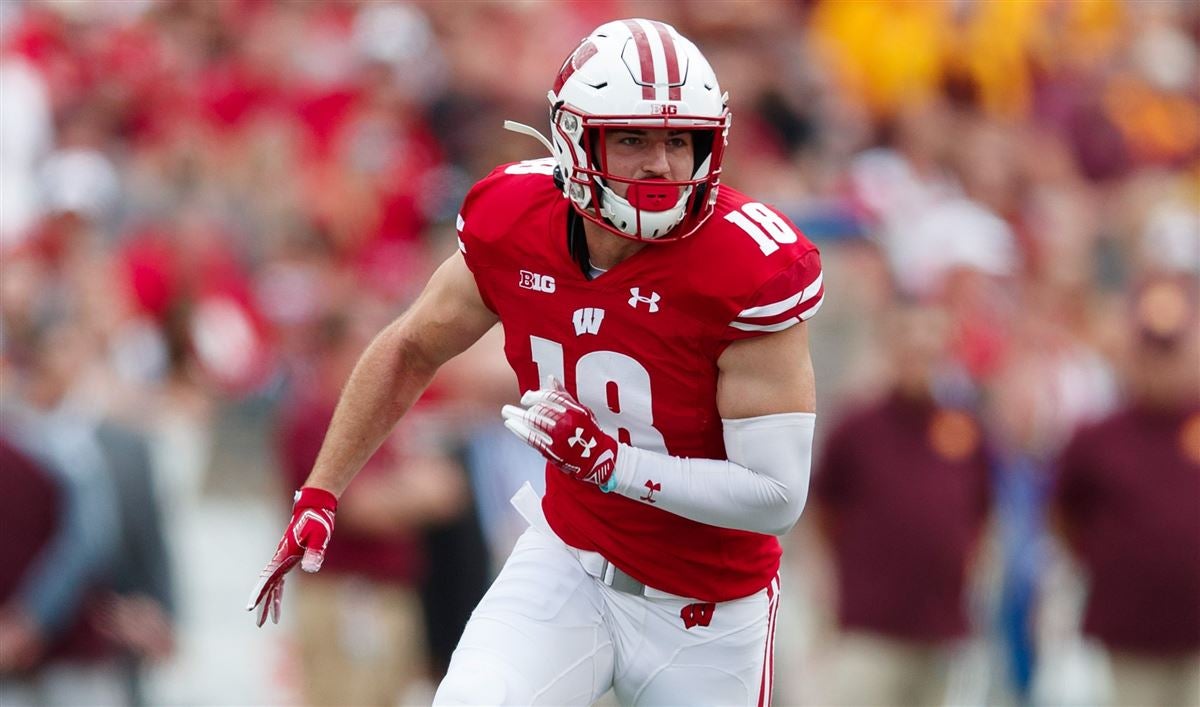 Collin Wilder, Safety
Wilder had the most to say out of all of the Badgers following the loss against Notre Dame. After a complete fourth-quarter collapse, Wilder said "Don't you dare start pointing fingers. This is a team loss. The adversity we go through is as a team."
As a player in his final year at Wisconsin, he knows what it takes to win. As a leader in this locker room, Wilder must get his teammates to buy into a team-first mindset for the rest of the season. Anything short of that won't make a difference in an attempt to change the direction of this Badgers team.
Collin Wilder has played very consistently in the two previous matchups he's been a part of between the Badgers and Wolverines. However, consistent isn't going to cut it for a team that needs a big spark of momentum in a disappointing season. If Wilder and his fellow defensive backs are able to make big plays this weekend, Wisconsin has a real chance at upsetting Michigan. While it is a team effort, leaders like Wilder are the players who need to get their teammates to that mindset and level before it's too late.
Caesar Williams, Cornerback
Caesar Williams elected to return to Wisconsin for a final year of eligibility after the 2020 season. Badger fans were excited to see "Caesar Island" return alongside Faion Hicks to help lead a young defensive back room. So far, things have not really gone as expected. With just seven tackles, zero pass deflections, and zero interceptions, Williams hasn't really played like his normal self this season. If he's looking at getting drafted in the spring, Williams needs to step up the rest of the season and make some big plays.
Williams needs to stay locked in this weekend and stop allowing his matchups to get space in the open field. His inability to stay on his opponent allows opposing wide receivers to break off for big plays that shift the momentum away from the Badgers. If he steps up this weekend, this Badgers defense becomes a lot scarier against a talented Michigan offense.
The Wisconsin Badgers take on Michigan on Saturday, October 2nd at 11 am on FOX.
[pickup_prop id="12644″]
For More Great Content:
Follow me on Twitter at @BJarumbo and follow @WiSportsHeroics as well for more great Wisconsin sports content! To keep up to date on the latest in Wisconsin Sports, click here!