The Wisconsin Badgers came up short against Minnesota on Saturday. While the Badgers are still bowl-eligible, the team was hoping to end the Big Ten season on a high note. Wisconsin had a chance to tie the game but fell apart at the end. Four penalties, including three false starts, killed any chance of the Badgers scoring a touchdown. After the game, one player had some words for the offense. Wisconsin OL Tyler Beach called out his teammates after the loss.
Tyler Beach: For the offense to take the next step, guys have to take responsibility.

— Benjamin Worgull (@TheBadgerNation) November 27, 2022
Wisconsin OL Tyler Beach Calls Out Teammates After Loss
Beach was not happy with how the game ended. When asked what needs to change, Beach stated that for the offense to take the next step, players need to take responsibility. Beach apparently doesn't think that players are taking responsibility for their mistakes. The amount of penalties on the final drive, many of them mental ones, does show a lack of focus on the task at hand. It is worth noting that Beach did commit one of those false starts but that did not stop him from calling out his teammates.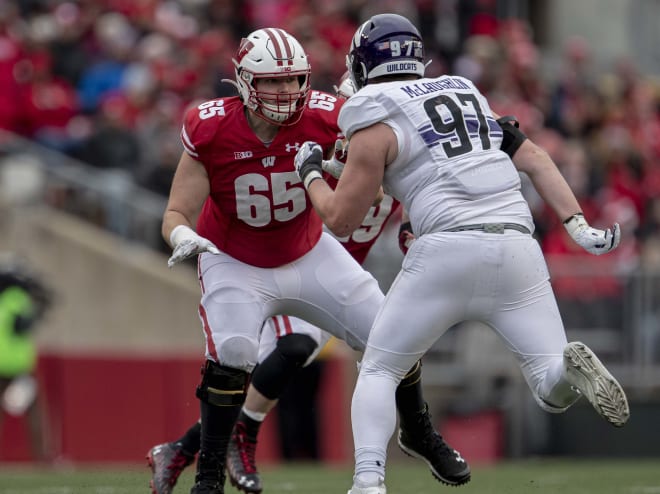 A Disappointing End To The Regular Season
Whether you like Beach calling out the team or not, you have to admit that he is right that something needs to change. Wisconsin did not show the precision this season that they have in years past. The Badgers are often one of the teams that play well-executed football with minimal mistakes. This was not the case this season. It seems that Jim Leonhard is the most likely next coach of the Badgers and one of his first tasks is going to be getting the execution back to a high level.
The season is not over yet. There is still a bowl game which is an opportunity to end the season with a win. There are some good things to build on for next year but the Badgers have a lot of work to do to compete in the Big Ten Next year.
Follow me on Twitter at @sorcerermatt, and follow us @WiSportsHeroics. To read more of our articles and keep up to date on the latest in ALL of Wisconsin sports, click here!