The Wisconsin Badgers are continuing to enter new territory. The newest offers that the Badgers have made are for recruits that once were far out of reach. Now the highly ambitious staff has Wisconsin aiming to take on new territory each day. The goal is to give the program the best chance at getting top talent in every class.
Wisconsin Offers 2024 Recruits Booker Pickett and Caleb Odom
The Badgers staff have impressed as they sweep through the southern states. Two recruits in particular that received offers have turned the heads of many college coaches. Booker Pickett Jr and Caleb Odom are two stud recruits that nearly every college coach is trying to offer.
Booker Pickett Jr is a tall edge rusher from Florida. The four-star recruit ranks as the fifth edge in the 2024 class and the 13th player in-state. Pickett Jr holds offers from nearly every Big Ten and SEC school, while he still has another year to accrue offers. Pickett Jr is lethal off the edge and bodies blockers on his way to the ball carrier. Another year will also allow him to grow physically, and as a player, which could allow Pickett Jr to sneak into five-star territory. Pickett Jr is strong, fast, and lays crushing hits on the quarterback in his film.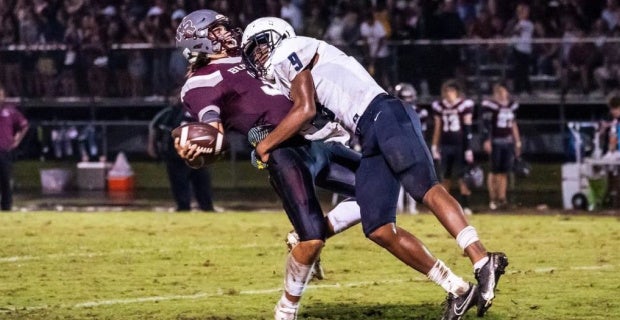 Caleb Odom is a six foot five tight end from Georgia. Odom was originally a receiver, but switched to tight end and has since blossomed as a player. At 205 pounds, there is certainly still room to add to his frame. However, his speed and size causes a major mismatch for linebackers and small defensive backs. Odom shines on the highlight tape with his amazing field vision and first-cut ability.
While these are simply scholarship offers, Wisconsin is starting to do their due diligence. Offering the best recruits and making a run for them is certainly a step in the right direction for the Badgers. Wisconsin would be ecstatic if they landed Pickett Jr, Odom, or both, as they would represent major commitments for the team. Odom and Pickett Jr still have plenty of time left to decide and receive more offers.
For more:
Follow us @WiSportsHeroics for more great content. To read more of our articles and keep up to date on the latest in Wisconsin sports, click here! Check out 97.3 The Game on iHeart Radio!