There is no doubt the Wisconsin Football quarterback room is loaded. Knowing the names Tanner Mordecai, Brayden Locke, and Nick Evers is easy. One name that doesn't get a lot of attention is Myles Burkett. Burkett has spent the most time in a Badger uniform out of all the quarterbacks on the roster. It could have been easy for him to transfer after Mordecai, Locke, and Evers arrived. Instead, he's embracing the loaded quarterback room with his competitive nature. Myles Burkett is everything you want in a person and a Wisconsin Badger.

Myles Burkett's Ride With Wisconsin Football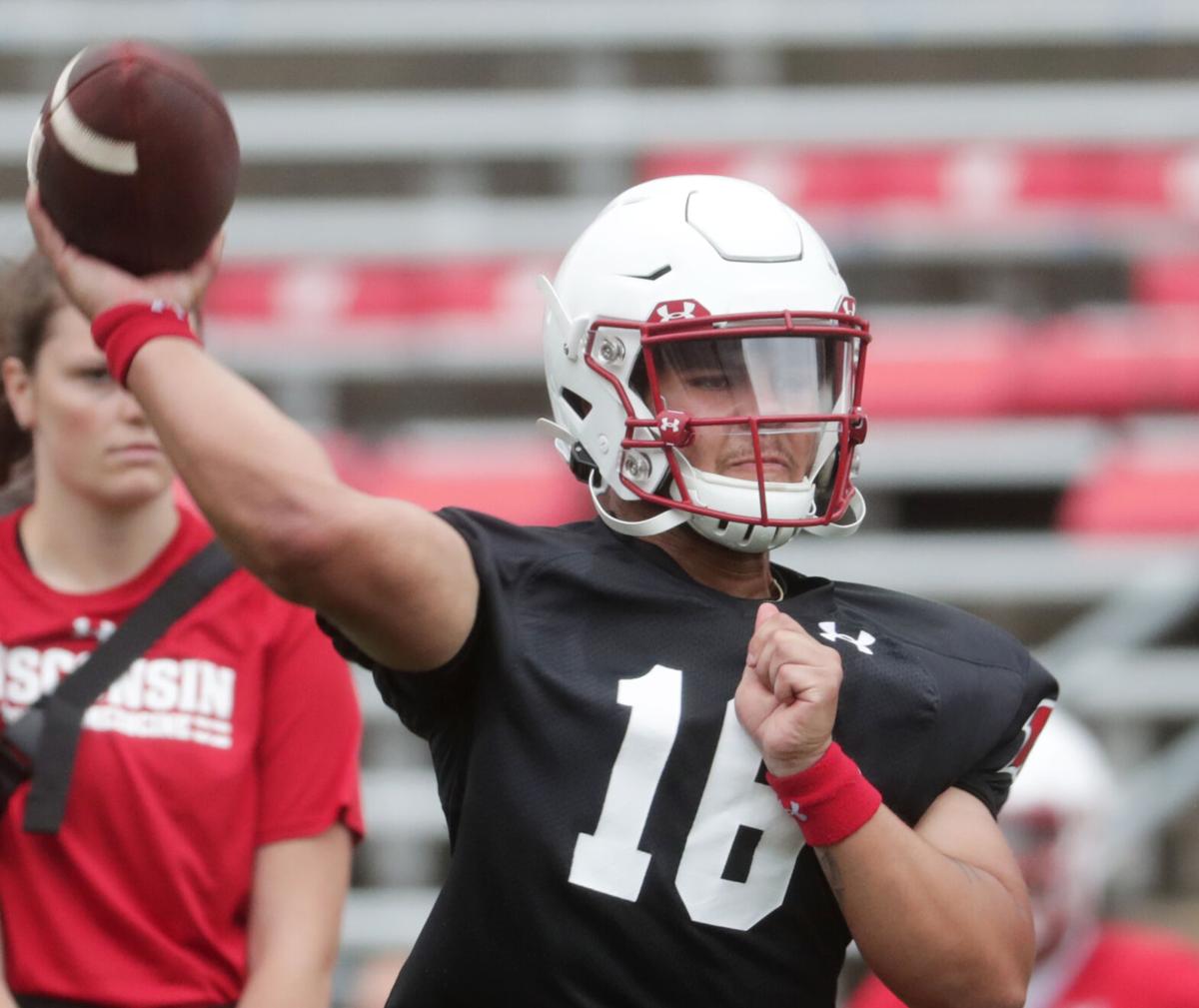 After a successful career at Franklin High School that ended in a 14-0 record and a state championship his senior season, Myles Burkett enrolled early at Wisconsin under former head coach Paul Chryst. The three-star quarterback always wanted to play for the Badgers. When his opportunity came, he wasn't going to pass it up. He was a good quarterback and was smart with the ball. He ended up being a two-time all-state selection and a player that was easy to root for.
As a freshman last season, Myles Burkett did see game action. He was 4-5 for 80 yards. He looked sharp, and he looked poised for a player who was new to the college game. After Graham Mertz announced he was transferring, a lot of Badger fans (myself included) wanted to see Burkett get the start against Oklahoma State in the Guaranteed Rate Bowl. I thought it was important for Luke Fickell to see what he currently had on the roster. Ultimately, Chase Wolf started and played the entire game.
Embracing The Loaded QB Room
Throughout the spring, we have not heard much about Burkett. The attention has been on Mordecai and Locke. Rightfully so, as these two have had the best spring between the quarterbacks.
It would have been easy for Myles Burkett to hit the transfer portal. I think he's a good quarterback who can start at the division-one level. He's talented and smart with the ball. You don't see that a lot out of young quarterbacks.
Myles Burkett.

Wired differently.

The redshirt freshman on all the transfer quarterbacks the #Badgers brought in, including two freshmen.

"I was never gonna leave here." pic.twitter.com/sOGuwqiOqn

— Evan Flood (@Evan_Flood) April 12, 2023
What has kept Burkett going has been his competitive nature. Myles Burkett was one of the multiple quarterbacks that spoke to the media on Wednesday. He mentioned he would never leave, even with the head coaching change. Today that is rare in the college game, regardless of the sport. We have seen it in the transfer portal, and thousands of athletes are using it.
Burkett is clearly a team-first player. He's a player you want in your program and a player that will raise and elevate his game every day because of the competition. I love seeing that in a player and player who is sticking it out even when it seems like the odds are stacked against him.
You can tell Myles Burkett is also a confident player and confident in his game, as he should be. He looked good in limited action last season, and there's a reason he's a quarterback at this level. He can play, and he will make sure he lets his game show it.
For More Wisconsin Sports Content
Follow me on Twitter @DylanBuboltz and follow us @WiSportsHeroics for more great content. To read more of our articles and keep up to date on the latest in Wisconsin sports, click here! Also, check out our merch store for some amazing WSH merchandise!