The Wisconisn Badgers spring season has concluded. We won't see the team on the field until fall practices begin and the 2021 season begins. Now that the offseason is here, we will look at the depth charts for each position. Today, we will look at quarterbacks.
Starter- Graham Mertz (SO)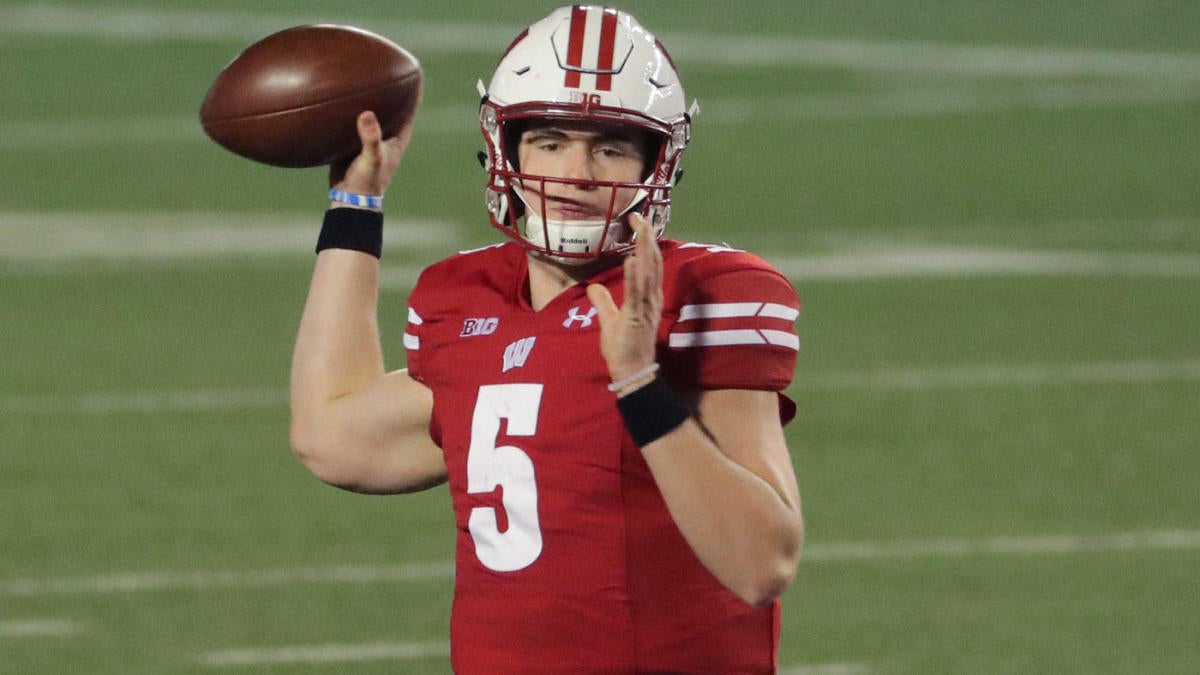 This is a given on the depth chart. There will be no quarterback controversy in Madison this season. Unlike last year, the Badgers have their general and will have him for a long time. Last season, there was the battle between Jack Coan and Graham Mertz. The fans wanted Mertz, but Coan had a great 2019 season. He was the clear incumbent.
Everything changed when Coan broke his foot in early October. Mertz was named the starter and didn't lose the job. Coan has since transferred to Notre Dame and could be the starter when the Badgers and Fighting Irish play this season.
In 2020, Mertz had one of the bets debuts ever. He went 20-21 for 248 yards and 5 touchdowns against Illinois. As the season went along, pauses to COVID and injuries put that hype on pause. Mertz finished the season 118-193 for 1,238 yards, 9 touchdowns, and 5 interceptions.
Back Up- Chase Wolf (JR)
With Mertz as the clear starter, Chase Wolf should be the #2 on the depth chart. He did appear in some games last season. In particular, he came into the game against Minnesota after Mertz suffered a concussion.
In a limited role in 2020, Chase Wolf went 6-8 for 29 yards, 1 touchdown, and 2 interceptions. Wolf has play-making ability and can run around with his legs. His role will be limited unless Mertz gets injured or he appears in mop up duty.
Back Up- Danny Vanden Boom (SR)
Vanden Boom was a stellar quarterback at Kimberly High School. In his Badger career, we haven't seen a ton of Vanden Boom. He has played in 3 career games and threw a 3 yard touchdown vs New Mexico in the 2018 season. He'll most likely be third on the depth chart.
The chances we see Vanden Boom on the field is slim, but he brings a ton of leadership in the quarterback room. As a senior, I would love to see him get some action in his final season at Wisconsin.
Others- Daniel Wright (FR) and Deacon Hill (FR)
Wright and Hill will be other quarterbacks on this roster this season. There is a good chance we could see Hill take a red-shirt season. I could see Hill as the next starter after Mertz leaves Wisconisn. Hill is a part of the very good 2021 recruiting class for Wisconsin.
[pickup_prop id="6216″]
Follow me on Twitter @DylanBuboltz! Check out our merch page as well. Use promo code WISCO at checkout for $1 off! To read more of our articles and keep up to date on the latest in Wisconsin sports, click here!