The Wisconsin Badgers came into the Big House Saturday with an eviction notice for the Michigan Wolverines. The Badgers went into the Wolverines' home stadium after multiple weeks away from football and embarrassed them. This is the second year now that the Badgers have beaten their Big Ten rival.
This was still a difficult week for the Badgers. After a historic game in the first week, Mertz was diagnosed with COVID-19 and was sidelined from football for three weeks. After many other players were diagnosed with COVID-19, Wisconsin football shut down their facilities for three weeks. This was no bye week, however, since they were unable to practice. Instead, this likely hurt the team by adding rust to the players. However, it didn't show as Wisconsin started fast with a 28-0 lead at halftime (also like last year's game) and never looked back.
Overall, it was a very complete game by Wisconsin. The offense was balanced, through the passing and running game, and the defense was stellar.
Takeaways
This week, there were a lot of highs and not many lows throughout the game. The Badgers dominated on all sides of the ball, here are some notable takeaways.
Defense
Wisconsin's defense was unflappable against Michigan. The Badgers picked off Michigan quarterback Joe Milton twice within the first half of the first quarter. The Badgers also held Michigan to only 10 first downs and 3 for 11 on third down. Wisconsin also held the ball for twice as long as the Wolverines. It was a very clean performance by the defense, creating turnovers and shutting down the opposing offense.
Graham Mertz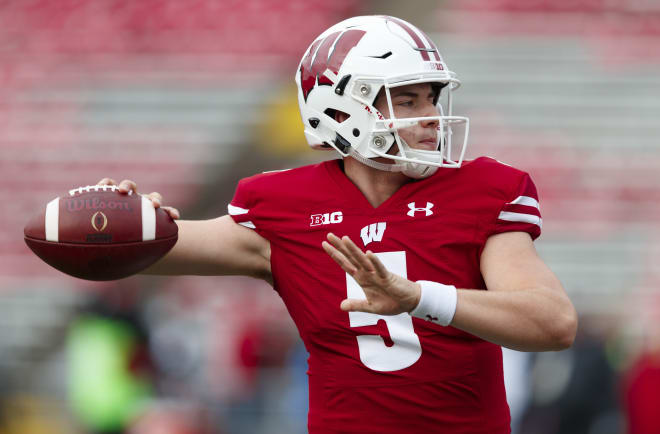 No player was likely hurt by Wisconsin's time off more than Mertz. After the historic first start and skyrocketing hopes, Mertz was forced to be sidelined. This is never good for a young quarterback, yet alone one in Mertz's situation. However, while his game this week wasn't nearly as record breaking as the previous, Mertz still played well. After starting visibly rusty, Mertz was able to turn it on a little bit after a few drives. After completing a short goal line pass for a touchdown Mertz was starting to shake the rust off. Later in the game, when the Badgers were up 28-0, Mertz threw a beautiful strike over the middle to Ferguson, who is shaping up to be his favorite target. Mertz finished 12-22 with two touchdowns.
Running Backs and Offensive Line
No surprise here, but the offense revolved around the running backs this week. And while Danny Davis and Mason Stokke contributed each with a touchdown, Jalen Berger and Nakia Watson led the charge. Berger had 87 yards on 15 carries while Watson had 66 yards on 12 carries. While Berger led in yards, Watson led in touchdowns, 2 to Berger's 1. Both running backs had some great runs though. This was mostly thanks to the stellar performance by the offensive line. The offensive line created gaping holes for the running backs to thrive. Still, overall, the running backs and offensive line had their way with the Michigan defense.
After a few weeks off, if the Badgers would have come into this game rusty no one would have blamed them. Instead, Wisconsin came in clicking on all cylinders. The offensive line manhandled the defense, the running backs went wild, Michigan's offense was shut down, and Graham Mertz showed that he was able to shake the rust off and made some great throws. Overall, this was a complete domination by the Badgers.
Follow me on Twitter @mitchschuess24 and follow us @WiscoHeroics1 for more great content! To read more of our articles and keep up to date on the latest in Wisconsin sports, click here.