Coming off a tough loss to the Buckeyes, Wisconsin came out hot in their 61-55 win against Maryland on Wednesday evening. The 14th ranked Badgers limited the Terrapins to just 20 points in the first half and led 38-20 at halftime. Although Maryland got within three points of the lead, a mid half 20-5 run propelled Wisconsin to victory.
Wisconsin was led by forward Micah Potter with 23 points and 12 rebounds. D'Mitrik Trice was the only other Badger in double digits, finishing with 13 points. Wisconsin is now 7-3 in conference play and 13-4 overall on the season.
Penn State looks to come back home after giving Ohio State a tough fight in Columbus on Wednesday. The Nittany Lions fell 83-79 after leading 79-77 with 2:03 left in the game. Sophomore forward Seth Lundy led Penn State with 26 points, going 4-8 from three-point range.
Tip-off for the game on Saturday is set for 2:00 PM CT at Bryce Jordan Center on the Big Ten Network.
Conference Play Review
After their latest victory against Maryland, the Badgers are now halfway through their conference schedule. With a 7-3 record, Wisconsin currently sits in third place behind Michigan and Iowa. The Wolverines lead the Big Ten with an 8-1 conference record.
The Badgers ultimately control their own destiny with where they'll finish in conference play. Wisconsin has to play Illinois and Iowa twice, Michigan at home, and a surprising Purdue team on the road. If Wisconsin can manage to go 3-3 or better in that stretch, along with winning all four other matchups, there's a real possibility of repeating as Big Ten champions.
Although there is a possibility of repeating, the Badgers will need some help along the way.
The Wolverines are currently on a break due to Covid-19 concerns on Michigan's campus. Because of this, the Wolverines are unable to play until February 5th. Michigan would then play 11 games between February 5th and March 7th.
With an exhausting schedule ahead, the Big Ten title may very well come down to the end of the season. Wisconsin is set to face off against the Hawkeyes on March 7th in Iowa City.
Get ready basketball fans. This second half is going to be a fun and wild finish.
Keys to the Game: Wisconsin
Offense:
When Wisconsin took their 18 point lead into halftime against Maryland, they looked unstoppable on both ends of the floor.
Wisconsin was able to exploit Maryland's smaller lineup and work the offense off the block. The Badgers thrive when they can successfully work the ball inside to either Potter or Reuvers and then find the open look.
Ball movement was a clear point of emphasis as well. When Wisconsin was successful at moving the ball around, Maryland had trouble adjusting and sparked a three-point barrage. The Badgers made six triples on 13 attempts and seemed to find their groove on offense.
When the second half started, however, everything completely changed.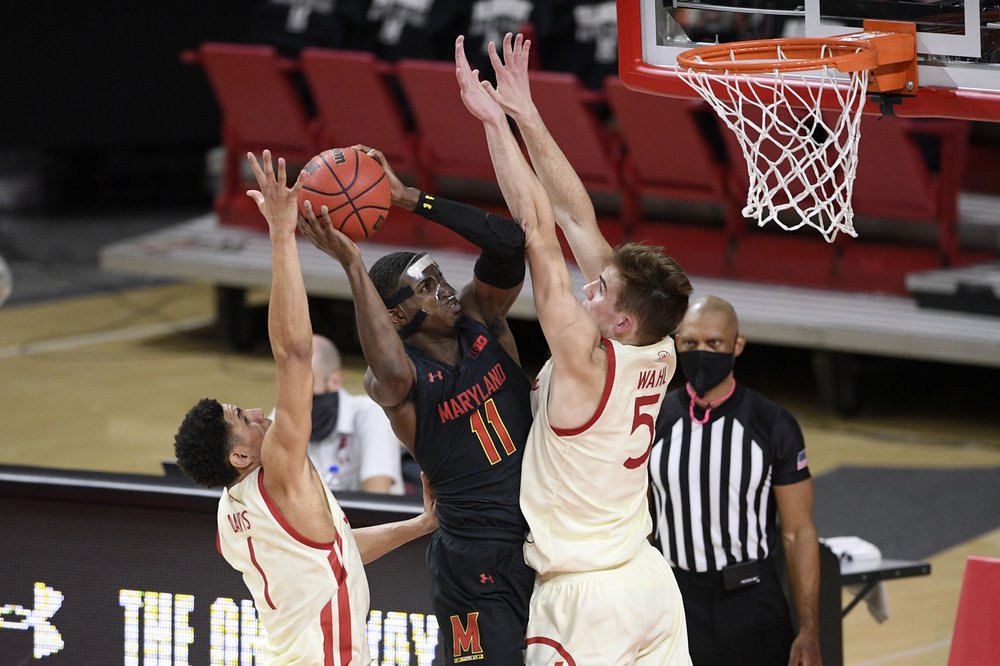 Maryland would go on to cut their 18 point deficit down to just three. The offense went away from working the ball inside out and settled for far too many poor looks.
Far too many times this season Wisconsin tries to shoot themselves out of funks on offense. When they play at their own pace and find the best possible look, Wisconsin thrives on the offensive end. If they can manage to stay patient, Wisconsin will continue their winning ways and three-point shooting success.
Obviously, you'd like to finish that game better, but Maryland beginning the 2nd half on a 20-5 run — Greg Gard never called a timeout. Just let his team play through the struggles and regain control. #Badgers answered with a 14-2 spurt of their own.

— Evan Flood (@Evan_Flood) January 28, 2021
Defense:
In Wisconsin's previous matchup against Maryland, the Badgers gave up 36 points in the paint. On Wednesday, the Badgers held the Terrapins offense to just 20 in the paint. Maryland would go on to shoot 38 jump shots and would only make 12 of those attempts.
"I thought we were really good in the first half defensively," Wisconsin head coach Greg Gard said. "Other than a couple back cuts, we made life pretty hard for him."
In their losses this season, opponents have shot just under 48.9% from the field and just under 40% three-point range. In Wisconsin's wins, teams have shot 37.6% from the field and 30.5% from three-point range.
If Wisconsin can limit teams on the defensive end as they have in their wins this season, they can compete with anyone not only in the Big Ten conference but anyone in the country as well.
Keys to the Game: Penn State
Offense:
Although the Nittany Lions may be towards the bottom of the conference standings, they tend to be in a lot of games. The reason behind this is due to a few different key stats.
First, the Nittany Lions are one of the better three-point shooting teams in the country. Penn State averages 25 attempts from three-point range a game and make just over 9 of those attempts, ranking in the top 55 in the country. With two players shooting over 40% and five over 37%, this offense is filled with players that are dangerous from all over the court.
Second, they play at a quick and high powered offense. The Nittany Lions rank in the top 85 in points and field goals made, as well as in the top 20 in field goal attempts. Their up-tempo pace forces teams to slow them down and force them to execute, rather than limiting their possessions.
[pickup_prop id="4574″]
Lastly, Penn State is very good at attacking the offensive boards. With over 13 offensive rebounds a game, the Nittany Lions are 22nd in the country in offensive rebounding and the top in the Big Ten. Limiting Penn State's chances at extra attempts is critical for Wisconsin.
Defense:
Although Penn State may be very strong offensively, their defense has been a weakness this season.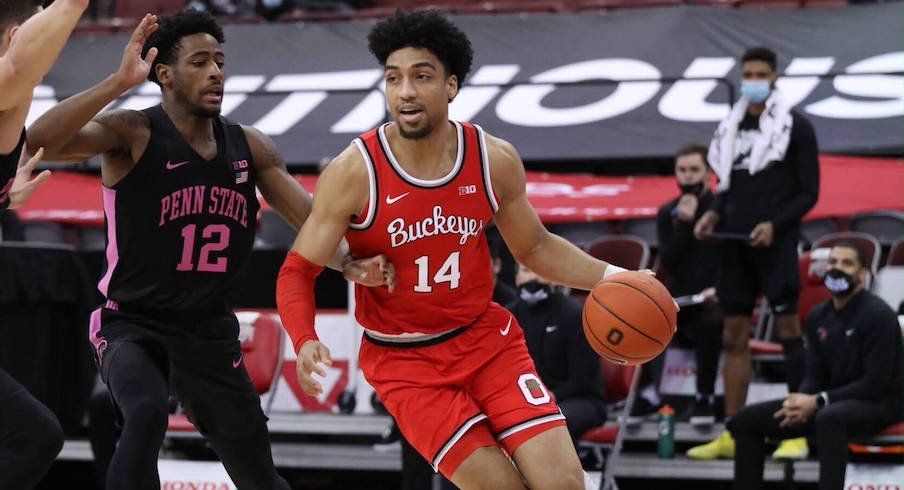 Penn State currently lets up over 76 points a game and has let opponents score over 70 points in seven of their twelve games. Although Wisconsin isn't known to pour on points, the Nittany Lions cannot afford to let the Badgers go off, especially from the three-point range.
One of the ways that they can do this is by playing up tight on Wisconsin's guards and create pressure. Although Wisconsin doesn't turn the ball over, creating pressure on their guards has caused issues with their offensive flow. With the Nittany Lions averaging 8.5 steals a game, they need to be actively defense and create that pressure on the Badgers.
Of all their issues they have on defense this season, foul trouble has hurt Penn State the most. Averaging over 20 fouls a game, the Nittany Lions cannot afford to give Wisconsin chances at the free throw. The Badgers only average 17.6 attempts a game but shoot just under 76% from the line. Give Wisconsin attempts at the free-throw line and it will be difficult to come out on top.
Prediction:
[pickup_prop id="4574″]
With the way that Penn State can score, it's hard to imagine they won't be in this game against Wisconsin. In losses to Indiana, Ohio State, and Michigan, the Nittany Lions lost by a combined 10 points. Other than their two losses to Illinois, Penn State has either lost or won by just a few points. They play with a chip on their shoulder and frustrate teams each and every night. Having not beaten Wisconsin since January of 2011, it could be the motivation needed to break the drought against the Badgers.
With the way Wisconsin has executed on the road this season (3-1 in conference play), I don't see them slipping up in State College. If Wisconsin can look to get Potter or Reuvers involved in the post, they should have no issues executing on offense. Getting to the free-throw line is crucial for the Badgers. With how efficient they are from the line, it could really present an issue for the Nittany Lions. Throw in Wisconsin's experience and end of game experience, they will find a way to come out top.
Final Score: Wisconsin 72, Penn State 66
As Always
Follow me on Twitter @bennyboy615 and follow us @WiscoHeroics1 for more great content! To read more of our articles and keep up to date on the latest in Wisconsin sports, click here!