Although the offense continues to stall, the defense helped carry Wisconsin in their victory Wednesday evening against Nebraska. The #21 ranked Badgers held the Cornhuskers to just 48 points the entire game and 21 in the second half alone. Their 61-48 victory puts Wisconsin at 15-6 on the season and 9-5 in conference play.
The Badgers were led by freshman guard Johnathan Davis with 10 points, grabbing three rebounds, and two steals on the night. Aleem Ford, Brad Davison, and D'Mitrik Trice also finished with nine points each.
Wisconsin is set to face off against #3 Michigan for the second time this season. The Badgers fell 77-54 back on January 12th at the Crisler Center, marking their largest loss on the season.
"Canceling competitions is never something we want to do, but with so many unknowns about this variant of COVID-19, we must do everything we can to minimize the spread among student-athletes, coaches, staff, and to the student-athletes at other schools." – Warde Manuel

— Michigan Athletics 〽️ (@UMichAthletics) January 24, 2021
The Wolverines have not played since January 22nd where they defeated the Purdue Boilermakers 70-53 in Mackey Arena. Michigan was shut down the next day due to COVID-19 concerns throughout the school. Following their two week shut down, Michigan announced it would remain quarantined for another additional week.
Tip-off is set for Sunday at 12:00 PM central time at the Kohl Center on CBS.
Breakdown From Game One
Offense:
One of the reasons Wisconsin has struggled as of late is their let down on the offensive end. Going into their game against Nebraska, the Badgers were shooting just 30.4% from three-point range in their last eight games. Wisconsin finished 9-32 from long-range, shooting under 30% from three once again. The Badgers also went 20-62 from the field overall, shooting 32.3% on the night.
In the first matchup with Michigan, the three-point shooting was the start of their season decline. The Badgers finished 9-28 and a 32.2% mark on the night. The nine three-point baskets Wisconsin made up almost half of the total field goals they scored in the game. Michigan shut Wisconsin down inside and out.
Part of Wisconsin's issues is the inability as of late to find other ways to score. Although they have players that can make three-point baskets, they need to find ways to get looks inside and spread teams out defensively. With the poor offensive play from Reuvers and Potter's inconsistency, it's put the Badgers in a very difficult position. If Wisconsin is going to find a way to win on Sunday, Wisconsin needs to do more to find other ways to score. That also doesn't mean just Reuvers and Potter need to play better. Davison, Trice, Ford, and others can do more by either attacking the hoop or finding ways to get their bigs touches in the post.
If there was ever a time to find their way offensively, this upcoming stretch would be it. With Michigan, Illinois, Purdue, and Iowa twice still left to go, it's now or never for Wisconsin to unlock their offense.
Defense:
Wisconsin's offense may be struggling but their defense as a whole has really carried them throughout their last nine games. The Badgers have gone 5-4 in that stretch and have held opponents to 63.5 points per game. However, the Badgers have given up 74 points or more in the four losses. It also doesn't help that Wisconsin has picked up the five wins against teams in the bottom half of the conference.
Points inside the paint have been a major issue for Wisconsin's defense. Teams have been very good at penetrating at the top of the key and getting into the lane. Unless the guards are able to get through the screen, Wisconson has been unable to slow teams from getting inside.
In Wisconsin's loss, this is exactly what Michigan drew up. Guards Mike Smith or Eli Brooks would get inside where they would either finish at the rim, dish down low to Hunter Dickinson, or swing it outside to Isaiah Livers. Once Wisconsin tried to control the top, back door cuts from Livers and Wagner stretched the Badgers out. Everything that Wisconsin tried, Michigan had an answer.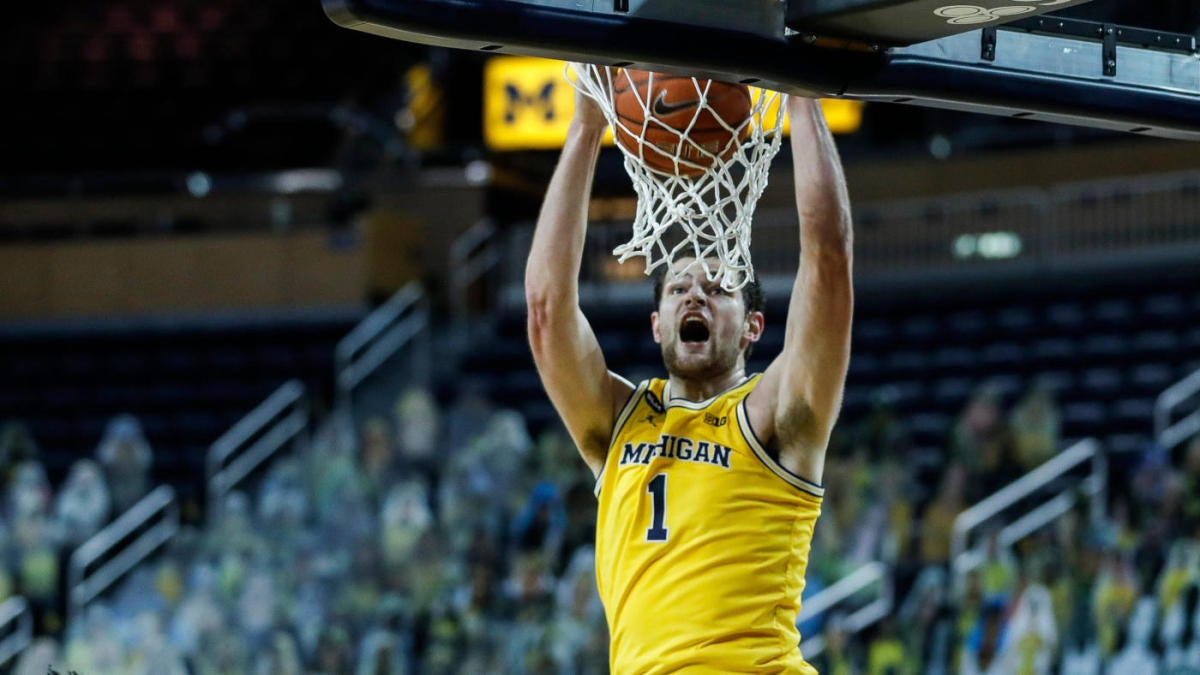 In this last game against Nebraska, Nate Reuvers got the start over Micah Potter who started in the eight games before then. With the Wolverines coming to Madison Sunday, I would not be surprised if he did again. Dickinson is one of the best big men in college basketball. Reuvers specializes in pick and roll exchanges and is a much better match up defensively. Will see what Wisconsin can learn from their loss and if they can bounce back on Sunday.
Prediction:
While failing to score over 70 points in eight of their last nine games, it's hard for me to think things will instantly change. Michigan is a very deep team. They are very efficient on offense and challenge you defensively. It was clear in their first matchup that they were the better team. However, that doesn't mean Wisconsin can't play with them. In a good majority of the second half, the Badgers responded and were able to find some success. But a large deficit is hard to make up in the second.
PSU, MSU + NEB all dealt w/extended COVID pauses. All lost first game back. They combined to shoot 22.4% (17-76) from three, 32.7% (64-196) overall, 47.6% (20-42) from FT line and average 55.0 points in first game back. How will MICH fare vs. #Badgers?

— Jeff Potrykus (@jaypo1961) February 11, 2021
It's going to come down to two things for me. The first is three-point shooting for Wisconsin. Yes, they've struggled as of late and it's showing. But Wisconsin has always shot better from long range at the Kohl Center than on the road this season. If there was ever a place to unlock it, it's at the Kohl Center. The second key is how well Michigan comes out after a three-week break. Statistically, teams who are on a break for longer than two weeks see a drop in play. I'm not saying that Michigan can't play well because of it but their conditioning I'm sure has taken a hit.
Keeping all of that in mind, I still think until we see improvement, Wisconsin will drop this game. With the way they've been playing as of late, it's hard to pick them to come out on top. Michigan is well coached, has great depth, and play smart basketball. They also are one of the better defensive teams in the Big Ten. I hope the Badgers can prove me wrong for all the right reasons. Until then, I'm going with the more consistent team on Sunday.
Final Score: Michigan 72, Wisconsin 66
[pickup_prop id="4928″]
As Always
Follow me on Twitter @bennyboy615 and follow us @WiscoHeroics1 for more great content! To read more of our articles and keep up to date on the latest in Wisconsin sports, click here!