The Wisconsin Badgers are known for their defense, offensive line, and running backs.  That is what this school has built its success on over the last three decades.  The Badgers have appeared in bowl games 26 of the last 28 seasons, including a current streak of 21 consecutive bowl appearances.  That being said, Wisconsin has had its fair share of surprisingly good wide receivers come through their program.  Here are our top five.
Wisconsin Badgers Top Five Wide Receivers In School History
Number Five: Brandon Williams (2002-2005)
Brandon Williams established himself as one of the best wide receivers in UW history during his time in Madison.  Williams ranks third all-time in reception yardage for the Badgers, totaling 2,924 yards in his career.  In 2005 he recorded 1,095 yards as a senior.  That year ranks as the third-best single-season output in school history and remains one of just four 1,000-yard seasons by only three Badgers in the history of the school.  Williams caught at least 40 passes or total 500 reception yards every year in a Badgers uniform. About the only knock you can levy at his career is his 10 receiving touchdowns, as he was overshadowed by his running mate Jonathan Orr's 19 touchdowns over the same span.
Number Four: Al Toon (1982-1984)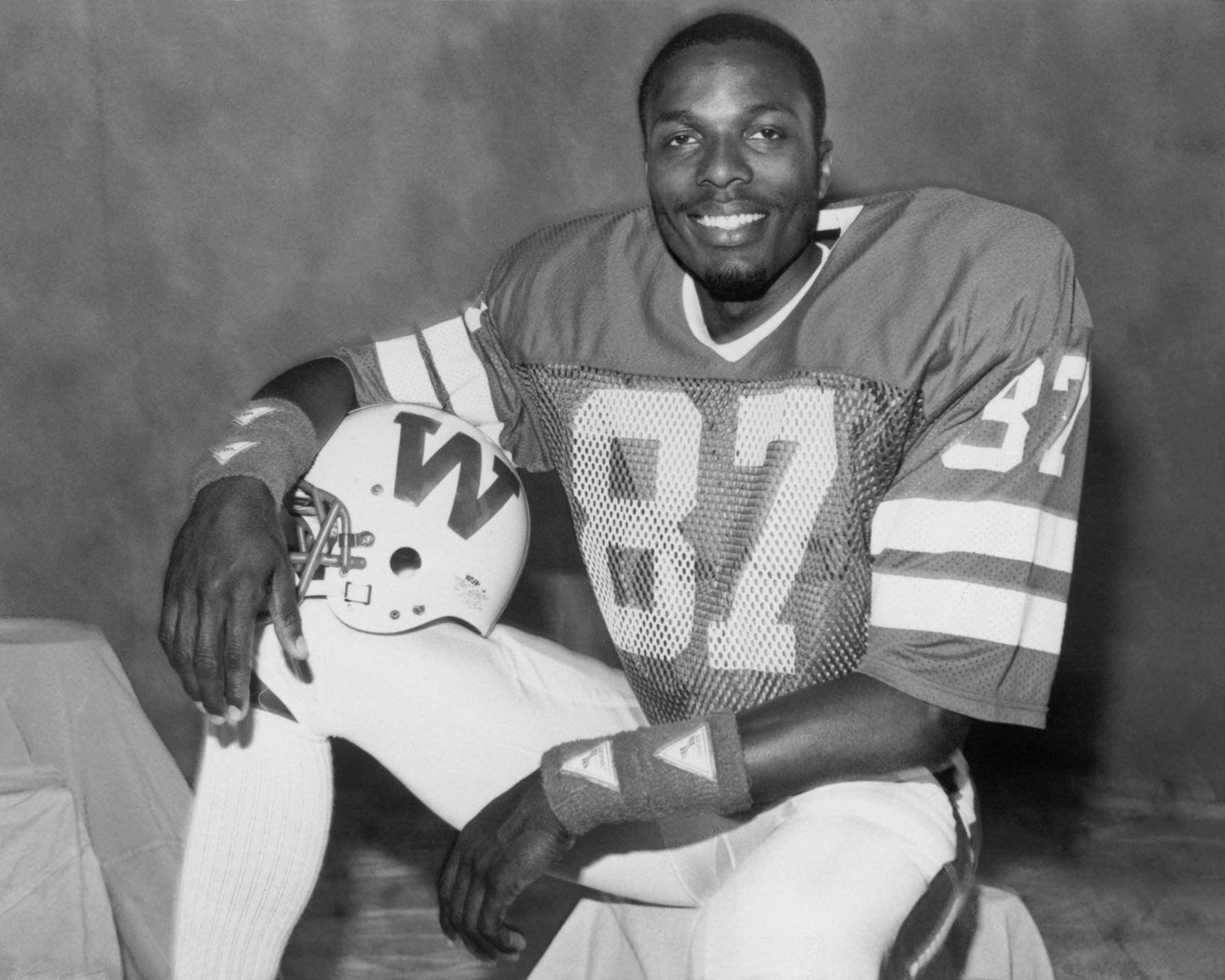 The father of later Badger Nick Toon, Al Toon cemented his legacy in the early '80s as one of the best receivers in Badgers history.  Still, more than 30 years after he left campus, he remains sixth in the record books with 2,103 career receiving yards. He was the school's all-time leader when he left the university, setting a new high by more than 200 yards.  Toon's career numbers are even more impressive considering the changes to today's game.  He remains seventh all-time at UW with 131 receptions and fourth all-time with 19 career touchdowns. Again, those were school records when he left UW.  Toon's career-best 881 yards in 1983 – then a school single-season record – remains the 11th-best total in school history. He averaged 16.1 yards per catch over his career.  His nine touchdowns in 1983 are tied for the third-best single-season total – one behind his son's 10-TD season in 2011.  In 1983 Toon had a 252-yard game against Purdue that still ranks as the second-best single-game showing in school history. He hit that toal on just six receptions.  Toon remains one of three UW players to have a 200-yard game.
Number Three: Jared Abbrederis (2010-2013)
Jared Abbrederis went from a walk-on at Wisconsin to the school's single-season reception leader by the time he graduated.  Abbrederis recorded 78 catches in 2013.  That remains the most receptions in a single season in Wisconsin history.  Abbrederis also recorded 1,081 yards in 2013.  That ranks as the fourth-best single season output, and he remains one of just three Badgers in school history to break the 1,000-yard mark.  He also holds the 7th (933) and 13th (837) most receiving yards in a single season in school history.  He accomplished that in 2011 and 2012 respectively.  In his career he accumulated 3,140 receiving yards.  That is is second-best in school history.  His 202 career receptions are tied for first in school history with Brandon Williams. He's also tied for second in career touchdowns with 23.
Pat Richter may not lead the University of Wisconsin in statistics, but what he did for the program cannot go unnoticed.  This is because Pat Richter played in the early 1960s, an era of football much different from today.  In 1962, Richter led the entire NCAA in catches (47), reception yards (817) and receiving touchdowns (8).  Richter was a consensus All-American and finished sixth in Heisman voting.  He followed that season up with another 49 catches (fourth in NCAA) for 694 yards (seventh in NCAA) and six receiving touchdowns (sixth in NCAA) in 1962.   After leaving Wisconsin as the school's record holder in just about every category, Richter remains 11th in school history with 1,873 yards and 10th in school history with 15 career touchdowns.  Nearly six decades later Ritcher's stats are extremely impressive.  In the 1963 Rose Bowl game he recorded  11 receptions, 163 yards, and one touchdown.  It remains one of the greatest performances in the historic bowl game's storied history.
Number One: Lee Evans (1999-2003)
Lee Evans is the best wide receiver in school history.  His 3,468 career yards and 27 career touchdowns are most in Wisconsin's history.  He has more than 300 more yards and four more touchdowns than Jared Abbrederis' career totals (Tony Simmons also had 23 touchdowns).  Evans has a career reception average of 19.8 yards per catch.  That is second all-time at UW.  He also holds the top two single-season performances in school history – 1,545 yards in 2001 and 1,213 yards in 2003.  Those are two of the four 1,000-yard seasons Wisconsin receivers have ever had.  Evans recorded 13 touchdowns 2001, that is the best in school history.  His nine touchdowns in 2003 is tied for third most all-time. He holds three of the top-6 single season yard-per-catch records, averaging 20.6 yards per catch in 2001 for the second-best single-season performance in the record books.  Evans has three of the Badgers five 200-yard performances, totaling 258 yards against Michigan State in 2003, 228 against Michigan State in 2001, and 214 yards against Akron in 2003.  Lee Evans established himself as the best wide receiver in program history and no one has overtaken him yet.
For More Wisconsin Sports:
Follow me on Twitter at @mcquadewarnold, follow us @WiSportsHeroics, and listen to our Podcast, The Cheese Dads NOW with Legendary DT Gilbert Brown! You can also reach out to McQuade Arnold via email at mcquadewarnold@gmail.com. To read more of our articles and keep up to date on the latest in ALL of Wisconsin sports, click here!