The Atlanta Falcons traded Julio Jones to the Tennessee Titans. That was a blockbuster trade that worked for both sides. The Packers are being heavily criticized because they did not make a move for Julio Jones, which is understandable as the Titans gave up very little to get Julio and looked smart on their part. The Packers were not going to be able to get Julio Jones even if they wanted to. Here are the reasons why the Packers could not get him.
Reason #1- Julio is On the Wrong Side of His Thirties and Injury Concerns
Julio Jones definitely still has some good football left in him, but he is on the wrong side of thirty. He is thirty two years old and will be thirty three in February. The Packers need to get younger at receiver not older. That was a problem late in Mike McCarthy's tenure; keeping older receivers, especially ones who were injury prone. In addition Julio Jones has had numerous injuries over the passed couple of years and has not stayed healthy. As much of a great player Julio Jones is the Packers can not take on a receiver who is on the wrong side of thirty and can not stay healthy.
Reason #2- Julio Jones Contract Is Something the Packers Couldn't Afford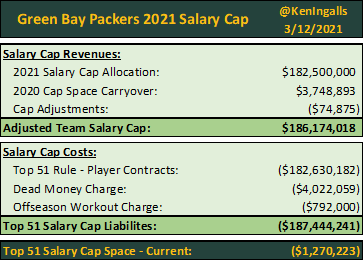 Clearly the reason why the Atlanta Falcons traded Julio Jones was to get out of his huge contract as they were pretty bad on cap space. It is so bad that the Falcons can not even sign their current 2021 draft class. That meant really taking anything anyone offered like a second round pick they received. A team like the Tennessee Titans who trades for Julio Jones has to take on his huge expensive contract. The Titans already are going to have to create some cap space just to even make the contract affordable. The Packers have huge contracts coming up like Davante Adams, Jaire Alexander, Darnell Savage, Rashan Gary, Zadarius Smith, and Elgton Jenkins. In addition the Packers already have cap issues to deal with, especially in 2022 when they will be over $30 million by estimations. Julio Jones would have done a lot for the Packers on offense if traded to them, but it would not have been the right move financially.
Reason #3- The Packers Had the Number One Scoring Offense Last Year
The Packers in 2020 had the fifth ranked overall offense and also the number one scoring offense in the NFL. Their offense was definitely explosive and were averaging over thirty points in a game. No disrespect to Davante Adams, but in the games they played without him the Packers were still averaging thirty points even scoring forty points a game. The offense also suffered injuries down the stretch and still were able to be effective. Packers do not need Julio Jones to once again have an explosive offense this year.
Reason #4- The Packers Do Not Need a Julio Jones To be Successful in This Offense
Everybody forgets how the Packers offense works. It is not all about having top flight receivers like a Julio Jones to be successful. This offense is more about scheme and route concepts to attack opposing defenses and getting players open. This what you need in todays NFL. This is a very similar system to the one that Kyle Shanahan runs with the San Francisco 49ers. Shanahan just like Matt Lafleur does with the Packers mostly uses route concepts and scheming players open rather then consistently relying on them to win one on one matchups. Could they have used someone like Julio Jones? Maybe so, but do not need him too have a successful offense.
Reason #5- The Receivers The Packers Have Are Good Enough
The players are not superstars at wide receiver outside of Davante Adams, but they are good enough. They have guys like Marques Valdes Scantling and Allen Lazard who look to take a big step in 2021 and got Devin Funchess back who opted out last year and also took a pay cut to stay with the team. They finally may have guys who can dominate in the slot since Randall Cobb in rookie wide receiver Amari Rodgers and Equanimeous St. Brown who should be fully heathy this season. The Packers do not have the big names on paper at wide receiver, but have the players that are good enough to be effective for the offense this year.
Follow for More
Follow me @CarlosS29143608 and follow us @WiSportsHeorics for more content. Check out our merch page. Use the promo code WISCO at the checkout for 1$ off! To keep up on all of your favorite sports Wisconsin click here!