The 2022 Packers could have a replica team from the past to model their game after.  The 2010 Patriots have some uncanny similarities to what the 2022 Packers could have.  Four weeks into the 2010 season, the Patriots off-loaded legendary wide receiver Randy Moss.  The Packers will start the 2022 season without legendary wide receiver Davante Adams.  (That is not to compare those two wide receivers).   However, the 2021 Packers offense relied similarly on Adams, the way the 2007-09 Patriots offense did Moss.  This is a full breakdown of how one team can mimic the other.  The idea behind this article must be credited to Chris Callaway.
Comparing Adams' last three years in Green Bay vs. Moss' In New England
During Moss' three years in New England (2007-2009, including four weeks in 2010), he accumulated:
250 receptions
3,765 yards
47 touchdowns
During Davante Adams' last three *fully healthy* seasons in Green Bay, before leaving the Packers in 2022, he accumulated:
349 receptions
4,313 yards
42 touchdowns
What did the 2010 Patriots leaders look like?
Record: 14-2
Tom Brady: 65.9% completion rate, 3900 yards, 36 TDs, 4 INTs
Leading running backs: BenJarvus Green-Ellis – 229 attempts / 1,008 YDs / 13 TDs.  Danny Woodhead – 97 attempts / 547 YDs / 5 TDs.
Leading wide receivers: Wes Welker – 86 Rec / 848 YDs / 7 TDs.  Deion Branch: 48 Rec / 706 YDs / 5 TDs.
Leading tight ends: Aaron Hernandez – 45 / 563 / 6.  Rob Gronkowski – 42 / 546 / 10
Defense: Ranked 8th in points allowed per game: 19.6
How can the 2022 Packers replicate this?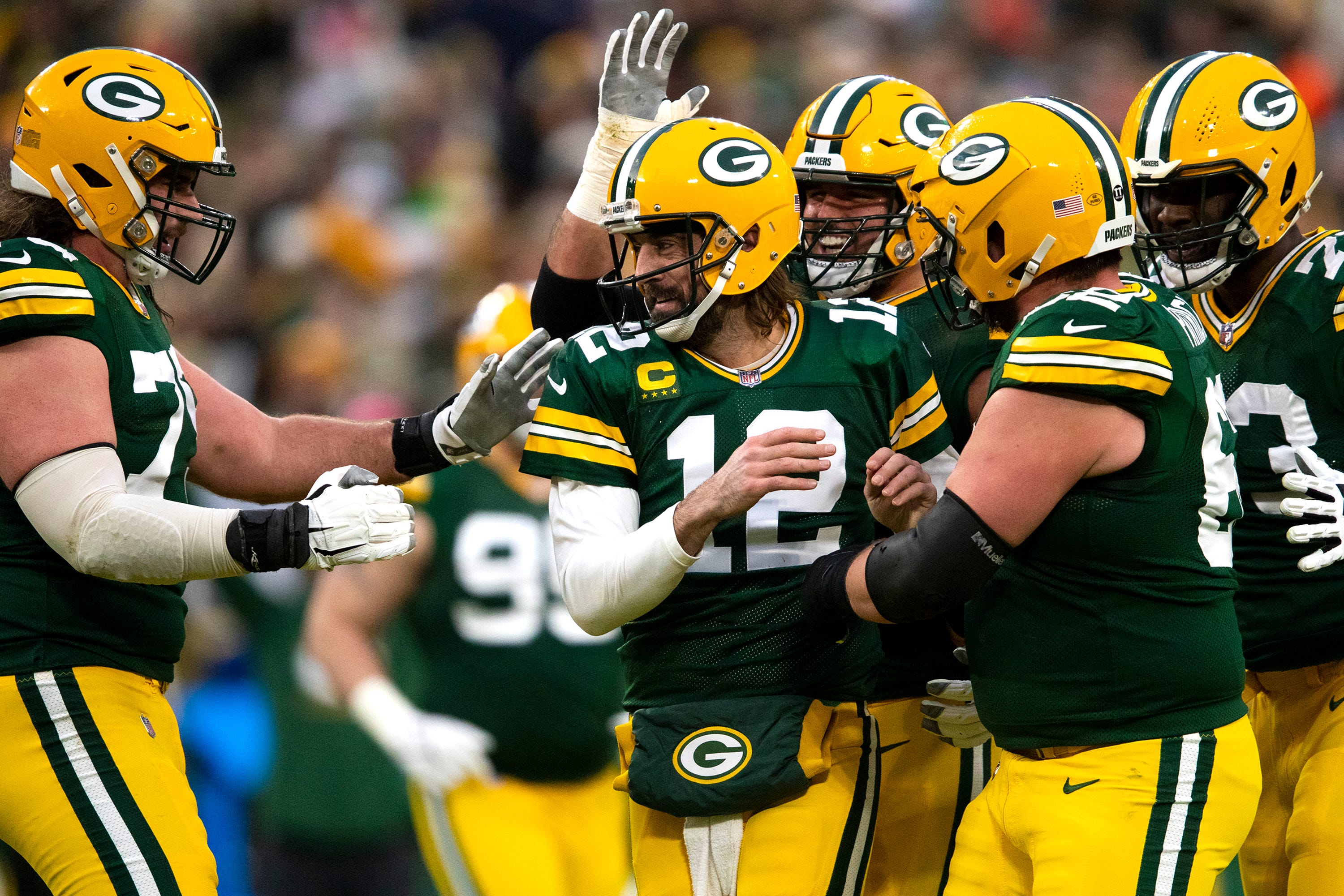 Record: To be determined (obviously)
Offense
Quarterback: Aaron Rodgers is the back-to-back reigning MVP of the league.  Replicating a 66% completion, 4,000, and 36/4 TD-INT ratio is more than doable.  That is not to say those stats need to be identical or even close.  However, the effectiveness can be duplicated with no issues.
Running back: The primary position at which the 2022 Packers can trump the 2010 Patriots is running back.  Aaron Jones and AJ Dillon have turned into one of the best 1-2 punches in the NFL.  Last year they each accounted for more than 1,000 all-purpose yards.  Not to mention how well they compliment each other.
Wide receiver: This will clearly be the biggest question going into the season for the 2022 Packers.  Can Green Bay find two wide receivers to lead the team with 800 yards(ish) and 700 yards(ish) in 2022?  Allen Lazard and Sammy Watkins (pending he doesn't get cut) seem to be the top two prospects.  Randall Cobb (if he stays healthy) could be an outside shot at this feat.  Possibly Christian Watson or Romeo Doubs have a shot at this accomplishment if they have a record rookie year.   If anyone can make the wide receivers around him better, it's Aaron Rodgers.
Tight End: Robert Tonyan, if he stays healthy, should certainly be able to replicate one of the two tight ends the 2010 Patriots had.  Approximately 40 receptions, 500 yards, and 6-10 touchdowns is more than feasible.  It will be up to Tyler Davis, Josiah Deguara, or Marcedes Lewis to come up with the other side of that production.  While not impossible, it seems like Green Bay needs to find someone outside of Tonyan to step up.
Defense
Defense: In 2021, the Packers' defense ranked 14th in the NFL in points allowed per game with 21.8.  While that may not seem like a huge difference from the 19.6 the Patriots allowed in 2010, the game has changed drastically since 2010.  We will if see the re-signing of Jaire Alexander, Rasul Douglas, De'Vondre Campbell pays off.  Along with the drafting of Quay Walker and Devonte Wyatt, the Packers have made their defense a priority.  Expecting the 2022 Packers' defense to improve from 2021 is completely reasonable.
In conclusion on the 2022 Packers:
The 2022 Packers certainly have some work to do without Davante Adams to replicate the 2010 Patriots' success.  While it may not be a 1:1 swap, the Packers can replicate what the Patriots did in 2010.  High usage of running backs and tight ends while having multiple leading wide receivers UNDER 1,000 yards is more than capable for this team.  We will see this team be tested in every way imaginable, but the past shows that they can still be successful after losing a "Randy Moss" type of impact on their team.
For More Wisconsin Sports News…
Follow me on Twitter at @mcquadewarnold and follow us @WiSportsHeroics for more great content.  To read more of our articles and keep up to date on the latest in Wisconsin sports, click here!