I'm sure the first names that come to your mind when thinking of who's the greatest Milwaukee Brewer of all time are either Christian Yelich or Ryan Braun. Although they have had tremendous careers, Yelich only being with us for three years and Braun going into his fourteenth year with the Brew Crew, there seems to be a curtain hiding the real "GOAT"s of the Milwaukee Brewers.
Why don't we start off with someone that everyone can agree is truly one of the best of all times? His number hangs in Miller Park, and you hear his voice on the radio for every Brewers ballgame.
Bob Uecker
"Get up! Get outta here! Gone!"

-Bob Uecker
Born and raised in Milwaukee, Wisconsin, Uecker signed a professional contract with the Milwaukee Braves in 1956 where he would make his major league debut in 1962 as a catcher. He was considered a below-average hitter, posting a career batting average of .200 but was a defensively strong player behind the plate, and made very few errors.
His baseball career ended in 1967, but after he retired he became the voice of Brewers baseball on the radio.
Uecker was inducted into the Radio Hall of Fame in 2001 and won the Ford C. Frick Award in 2003 from the Baseball Hall Of Fame.
I don't think you could mention the Milwaukee Brewers and not talk about Bob Uecker. He's the reason Brewers are entertaining to listen to on the radio. There would be no Brewers radio without Mr. Baseball himself.
Robin Yount
In his 20-years with the Milwaukee Brewers, Yount gave it his all. Being one of the most versatile players in baseball, he won the American League MVP twice (two different positions) and established himself as the greatest Milwaukee Brewer of all-time.
A third overall pick in 1973, Robin Yount made his debut with Milwaukee at age 18 and was their starting shortstop. Before he turned twenty, he already was breaking records, passing Mel Ott in his longstanding record for most games played as a teenager, topping it off at 243.
By 1980, Yount was a powerhouse, a force to be reckoned with. He was leading the AL with 49 doubles, 10 triples, and 23 home-runs. He was on a roll, having 11 out of 12 seasons where he posted double digits in his home-run records from 1980-1991.
In 1982, Yount won a Gold Glove for shortstop and helped lead the Brewers to their first pennant. He was also apart of the 1982 World Series team, but he batted a .414 average with a home-run, 6 runs scored, and 6 RBIs in the seven game series versus the St. Louis Cardinals.
Not only was he apart of the World Series team in '82, but Yount received the MVP award for the American League by a unanimous vote.
You thought he was done? Nope, Yount won MVP again in 1989 as an outfielder.
Robin Yount hit his 3,000th career hit against the Indians in 1992, becoming the third youngest player to achieve that record. To this day, he still holds the Brewers' records for games, at-bats, hits, doubles, triples, home runs, RBIs, walks, runs, and total bases.
Yount was inducted into the Baseball Hall of Fame in 1999. #19 was retired at Miller Park in May of '94 where it hangs proudly for all fans to see.
Rollie Fingers
If your first picture of Rollie was him and his mustache, you aren't alone. Rollie Fingers established himself as an amazing closing pitcher when he started his baseball career with the Oakland A's in 1964. Spending nine seasons there, he topped the league in games played twice and finished top ten in the league in number of saves over seven times.
Fingers won three World Series titles with the A's from 1972-1974, earning himself an MVP title in the 1974 series. He even won/saved eight of the 12 World Series victories in their three-time World Series wins.
In 1976, Fingers went to San Diego where he led the league again in saves during the first two seasons, tying the National League record with 37 saves.
He would then go on to led the league again but this time in the American League once he was traded to the Milwaukee Brewers.
With his time in Milwaukee (four seasons), he had a career best-season with the Brewers when they went to the 1982 World Series. Not only that, but the year prior (1981), Fingers won the AL MVP award and Cy Young Award, respectively. He finished his career with 114 wins, 341 saves, 1,299 strikeouts, 2.90 ERA, and 1,701 innings pitched in under 1,000 games.
Rollie Fingers was inducted into the Baseball Hall of Fame in 1992 and had his #34 retired at Miller Park in that same year.
Paul Molitor
When you're looking at statistics and trying to really tell who the greatest Brewer of all time is, the title definitely goes to Paul Molitor.
The versatility, the power, and the talent right away just shows how dedicated Molitor was to the sport of baseball. Spending fifteen incredible seasons with the Milwaukee Brewers, it's no question that Paul Molitor is arguably the greatest in franchise history.
You thought Yount was crushing records? Molitor crushed Yount's stolen base record, doubling it to 412, while Yount had 271.
Molitor placed himself among the top five best hitters in the Brewers in BA, SLG (.444), and OBP (.367). He was a powerhouse when it came to batting. He also was able to play third base, outfield, designated hitter, all while even battling some injuries throughout his career.
Paul Molitor, is among the many of the 1982 World Series team; He also set a World Series record with five hits in game one. He additionally led the league with 136 runs scored, collecting 201 hits and had a BA of .302.
Molitor signed with the Toronto Blue Jays in 1992 and at age 37, he became the oldest player in Major League history to post a 100-RBI season. The Blue Jays won the 1993 World Series and Molitor was voted MVP with a .500 BA, two home-runs and 10 runs. He was in his 40's when he finished out his baseball career in Minnesota with the Twins.
He finished as a seven-time All Star, the fifth player to have at least 3,000 hits and 500 stolen bases and the third player with 3,000 hits, 600 doubles, and 500 stolen bases.
Paul Molitor was inducted into the Baseball Hall of Fame in 2004.
Hank Aaron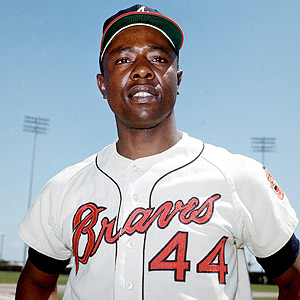 An extraordinary athlete, Hank Aaron is the star of his time. Making his runs through the minors and the Negro Leagues before he came to Milwaukee, he quickly became a well-known name in baseball history.
Capturing the NL MVP Award in 1957, it was Aaron's year. He helped lead the Braves to their first World Series title since 1914. He also batted 44 home-runs and a .302 AVG.
Aaron also crushed Babe Ruth's record of 714 home-runs and went on to be baseball's home-run king with 755 home runs. Barry Bonds broke that record in 2007.
Hank Aaron had a career batting average of .305, hit 40-or-more home runs in eight seasons, drove in 100-or-more runs in 16 seasons, received three Gold Gloves and made 25 All-Star appearances. He was inducted into the Baseball Hall of Fame in 1982.
In 1999, he celebrated the 25th anniversary of him breaking Babe Ruth's home run record. He was honored with his very own Hank Aaron Award. This award is given to the best offensive performer in both leagues.
Milwaukee Brewers' very own Christian Yelich has won it back-to-back (2018 and 2019), making him the first Brewer to do so.
Bud Selig
You can't talk about the Milwaukee Brewers without mentioning Bud Selig. In fact, there wouldn't be the Milwaukee Brewers without Bud Selig.
Selig became the largest stockholder in the Milwaukee Braves. In 1965, the Braves said they were moving to Atlanta after a 13-year run in Milwaukee.
Bud Selig was determined to bring baseball back to Milwaukee, no matter what it took.
Hosting some White Sox games at County Stadium, and some other exhibition games with various MLB teams, Selig bought the AL's Seattle Pilots in 1970. April of 1970, the Milwaukee Brewers would begin their AL schedule.
With Selig being owner, the Brewers were unstoppable. The team won the AL pennant in 1982; making them the only team in franchise history to make it to the World Series.
Then, Selig became MLB commissioner in 1998, where, over the next 16 years would change the game of baseball entirely. By the time he left office in 2015, the game's annual revenue grew to $9 billion. He launched the Commissioner's Initiative on Sustainable Ballpark Operations, which helped promote responsible environmental stewardship. This has become the standard practice in sports leagues throughout the US and the world.
Bud Selig retired Jackie Robinson's number in 1997 all across baseball. And in addition, helped build the toughest anti-drug measures in all of sports.
Prince Fielder
Let's start getting into the modern-day Brewers legends.
A 7th overall pick in the 2002 draft, Prince Fielder was definitely an amazing pick for Milwaukee. And his stats showed that as well.
Spending six seasons with the Brew Crew, Prince Fielder got his major league call up in June of 2005. June 15th of that same year, Fielder collected his first major league hit; His first major league home-run would occur on June 25th, 2005.
Although Fielder had a great major league debut, he traveled back down to the minors. He did receive another call up in August of that year and was here to stay. He became the 6th youngest player in the league as a pinch-hitter. And also was a mentioned name in talks of the National League Rookie of the Year.
2007 marked Fielder's first appearance in the All-Star games, where he received a first base position over Ryan Howard and Albert Pujols, both of which were previous MVP winners. He broke the Brewers franchise record of home-runs in a single-season when he hit 50 home-runs.
In that same year, he won the Milwaukee Brewers Team MVP award, Silver Slugger winner, Hank Aaron Award, and the Player's Choice NL Outstanding Player.
Prince Fielder won the Major League Home Run Derby, becoming the first Brewer to achieve that title. Fielder was also apart of the 2011 NL Central Title winning team, falling third in the MVP race; Ryan Braun won that year. He had the second-highest career SLG at .540 and OPS at .929 of any Milwaukee Brewer right behind Ryan Braun. Fielder was also second in home-run records (230).
Ending his career as a Brewer in 2011, Prince Fielder went to play for the Detroit Tigers from 2012-2013 and finished his baseball career in Texas in 2017.
Fielder had revealed he was facing neck problems in 2016. He would not be able to continue playing professional baseball.
Ben Sheets
A first round pick in 1999, Ben Sheets would quickly become a name that would live on in Brewers history.
He made his debut with the Ogden Raptors; he would strike out eight batters and allow just one hit through five innings. In just the seven minor league starts Sheets made, he had a strikeout ratio of 10.09 batters per nine innings.
It's not everyday a baseball player can say they're an Olympic gold medalist; Ben Sheets can, though. In 2000, Sheets was apart of the United States national team in the Summer Olympics. In that, he pitched 22 innings, struck out 11 batters, gave up 11 hits and walked one.
Sheets got a starting rotation position in the major leagues in 2001. He won 11 games of his 25 starts. That same year, he was named to the All-Star team, the first of four appearances. In his first three seasons in the major leagues, he won 11 games each.
Sheets' year was definitely 2004 where he finished with a 2.70 ERA and struck out a record 264 batters. He ended up finishing eighth in the Cy Young Award voting. Sheets was becoming a well-known 'ace' in the league.
The Brewers signed Ben Sheets to a four-year, $38.5 million contract extension. It was the largest contract signed by a Brewer until Ryan Braun's extension in 2011. Those four years would have Sheets going on and off the disabled list, but pitching incredibly when healthy. He only averaged 23 starts a season, but his ERA was never over 3.82.
Brewers fans were sad when it was announced that Sheets wouldn't be pitching in the postseason. He would need surgery in the offseason for a torn flexor tendon in his pitching elbow.
Moreover, once Sheets would enter free agency, it looked as though he wasn't coming back to Milwaukee.
Ryan Braun
Many would say that Ryan Braun is the face of the Milwaukee Brewers. He has spent his entire baseball career here in Milwaukee, and is among the greatest of all time.
A rookie of the year in 2007, Ryan Braun was quickly making a name of himself. He made his first all-star appearance in 2008; Making it the first of five in his career. 2008 would also be the year the Brewers went to the postseason for the first time since 1982.
Going into 2011, Ryan Braun was ranked among the top 50 greatest baseball players at the time. He quickly was becoming the face of the Milwaukee Brewers. 2011 also marked the year the Milwaukee Brewers would take the NL Central title, the first time in almost 30 years.
Along with the pennant title, Ryan Braun was awarded the NL MVP award, made another all-star appearance and received yet another Silver Slugger. Braun was given a big payday when he signs a five-year, $105 million dollar contract extension that would secure his spot in Milwaukee until 2020.
Now, when people think of Ryan Braun, they're quick to go to his PED suspension. Many don't realize that he had used a healing cream, and tested positive for elevated levels of testosterone. He was able to get past the 2011 PED violation, but it came back to haunt him in 2013. Braun missed the remainder of the 2013 season after being proven guilty for using PED's.
Nonetheless, Braun has definitely proved himself and showed baseball fans that he didn't need any performance enhancers to be a great baseball player. He would reach 1,000 career runs on April 6th of 2019 and finish the season leading the Brewers in all-time home runs (344).
Going into this season, whenever it may start, fans can expect a healthy Braun on the field. Only time will tell what the future holds for Braun and his final years in Milwaukee.
Christian Yelich
In only two years, Christian Yelich has proven himself to be the next face of the Milwaukee Brewers. Acquiring Christian Yelich was probably the best thing the Brewers have received in a long while.
An MVP, a two-time All-Star, three-time Silver Slugger, just to name some of his hardware, Christian Yelich has become a household name not only in Milwaukee but in baseball as a whole.
Acquiring him in 2018, fans were a little apprehensive when it came to trading four of the Brewers' prospects in return for one. But, I bet they're all kicking themselves for doubting Yelich and his talent. Just to put things into perspective, Christian Yelich would hit a personal record of 44 home-runs and stole 30 bases. Yelich placed first in the NL in oWAR (7.3), BA (.329), OBP (.429), SLG (.671 – also led entire league), OPS (1.100- also led entire league), just to name a couple of things.
A foul ball off the knee cut Yelich's 2019 season short, upsetting Brewers fans. Yelich knew once he injured his knee, his chances were slim to none when it came to winning MVP in the National League.
Going into the 2020 season and this potentially being Ryan Braun's next year, this could be Christian Yelich's year. He is the new face of the Milwaukee Brewers, there's no doubt about that. He's projected to have another amazing year in terms of stats, and could very well be the 2020 NL MVP. To give fans a little more faith, Yelich has had a career 1.046 OPS with 80 home-runs and 52 stolen bases. That's all in just the last two years being with the Brew Crew.
As of March 6, 2020, Christian Yelich has signed a seven-year, $220 million contract extension, securing him in Milwaukee until 2028. It basically secured Yelich in Milwaukee for the rest of his baseball career. It looks like #22 will most likely be retired in Miller Park (American Family Field after 2021).
I'm sure we'll see Yelich's name in Cooperstown in our lifetimes.
Final Thoughts…
If it were up to me to pick a "Greatest Brewer of all Time", although I might receive some flack for this, I do believe Paul Molitor is the greatest Milwaukee Brewer of all time. His stats show it, his work effort shows it, and yes, Robin Yount is an outstanding athlete/person as well, but Molitor passed up Yount in some stats!
So, what are your thoughts? Do you agree with the list of Brewers included? If there are any that were missed and should get the deserved recognition, let us know!
What Now?
Make sure you follow me on Twitter @sarahspooon and follow @OTHWisconsin for more Wisconsin sports content! Also, be sure to check out the Overtime Heroics Forum page to join in on the discussion. To read more of our articles and keep up to date on the latest in Wisconsin sports, click here!