The NFL Draft is next month and it has the potential to pay off greatly for the Packers. They have ten total picks in this draft, ranking second most this year. The Packers need to nail this draft as this is a very crucial one. They need to maximize the small window they have left with Aaron Rodgers at quarterback. They also have a brutally tough schedule on top of that, so they need to capitalize on high talent with every pic.
To coincide with their ten picks, here are ten players Packers should consider drafting this season. Alijah-Vera Tucker
Alijah-Vera Tucker from USC is arguably the best offensive linemen in this draft. The Packers lost Corey Linsley in free agency and David Bahktiari will not be back early this season as he recovers from a torn ACL. Tucker is a player to plug and start immediately, which is huge for the Packers. He showed serious versatility from playing at guard and tackle in the last two years at USC. That makes him a more impressive prospect for the Packers to draft as he can solidify the offensive line right away. If he is available then the Packers should certainly draft him.
Kadrius Toney
Kadrius Toney from Florida has the potential to be the most impressive receiver in this draft class. While he did not have 100 yards receiving in 2020, he still had eleven touchdowns. His film speaks more than his numbers, showing he is a dynamic player with the ball in his hands. In addition to this, his route running is incredible, making him almost impossible to scheme against in man coverage.
The Packers like the receivers they have on their roster already, but it would not hurt to add another weapon. Toney fits the scheme Matt Lafleur runs and can make a serious impact. Kadrius Toney should be available in the first round for the Packers and they should take him if available.
Asante Samuel Jr. 
The Packers still have a big need at corner, even after reuniting with Kevin King. The answer might be drafting the son of NFL great Asante Samuel, Asante Samuel Jr. from Florida State.
Before he opted out of the 2020 college football season, he put up impressive numbers. He had 30 tackles, 22 of them being solo tackles, along with three interceptions. Samuel Jr. has tremendous ball skills and also has feistiness to his game. He could be the guy the Packers need as cornerback number two on the depth chart alongside Jaire Alexander. He also could be a long-term solution for Packers at cornerback.
Landon Dickerson
The best center in this draft, if not for injuries, is without a doubt Landon Dickerson from Alabama. He was a dominant in one year at Alabama, only playing nine games at the center position. He tore his ACL in the SEC championship game, which was a huge blow for him.
The Packers need to replace Corey Linsley at center, which is not going to be easy. That answer could be Dickerson, as his injury may cause him to fall in the draft (a day two or three pick would be better value for him instead of a day one, especially with his injury history). He also has lots of versatility, playing numerous position on the offensive line. Dickerson would be a huge steal for the Packers.
Amon-Ra St. Brown
Amon-Ra St. Brown from USC is an interesting prospect from the receivers class this year. He had a solid year in a COVID-19-ridden season. In five games had seven touchdowns, most of them in one game against Washington State. He can certainly be a perfect slot receiver with the Packers.
St. Brown has played both slot and outside receiver positions, but his main position will be at the slot position at the next level. He is a big-bodied receiver that can make clutch catches down the stretch of a game. He won't necessarily outrun anyone, but can win "tip drill" scenarios.
St. Brown would be a great fit for the Packers as they love having big receivers on the roster, like his brother, Equanimeous St. Brown, who is currently on the Packers' roster. He would be considered a reach in the first round, but is definitely worth the selection on day two or three.
Christian Barmore
From the University of Alabama, Christain Barmore stands out amongst the other interior defensive lineman in this draft. The Packers need to get Kenny Clark more help inside on the defensive front. Kingsley Keke is already one player they have at this position, but they still need another. Barmore could be the other missing piece.
In his two years at Alabama, Barmore showed flashes of power and quickness. He is full of raw talent and needs the right coach which the Packers have in Jerry Montgomery. Also, having guys like Kenny Clark to mentor him would be great for Barmore's development.
Barmore is a border-line late first round pick, but definitely a mid-round pick. The Packers need to address the defensive line, and Barmore can be the guy they need. If he is around in the middle rounds of the draft, the Packers should take him.
Trevon Moehrig
Trevon Moehrig is no doubt one of the most versatile safeties in this draft. He excels in both pass coverage and run defense, and has the skills to make an immediate impact in the NFL.
The Packers do not have a need at safety. Despite that, in certain situations, you do not draft for needs; you draft the best player available. He would be a nice addition, as he would allow Darnell Savage and Adrian Amos to play more in the box. The Packers would be dangerous at the safety position with the addition of Moehrig. Do not be surprised if he is one of the Packers' early draft selections.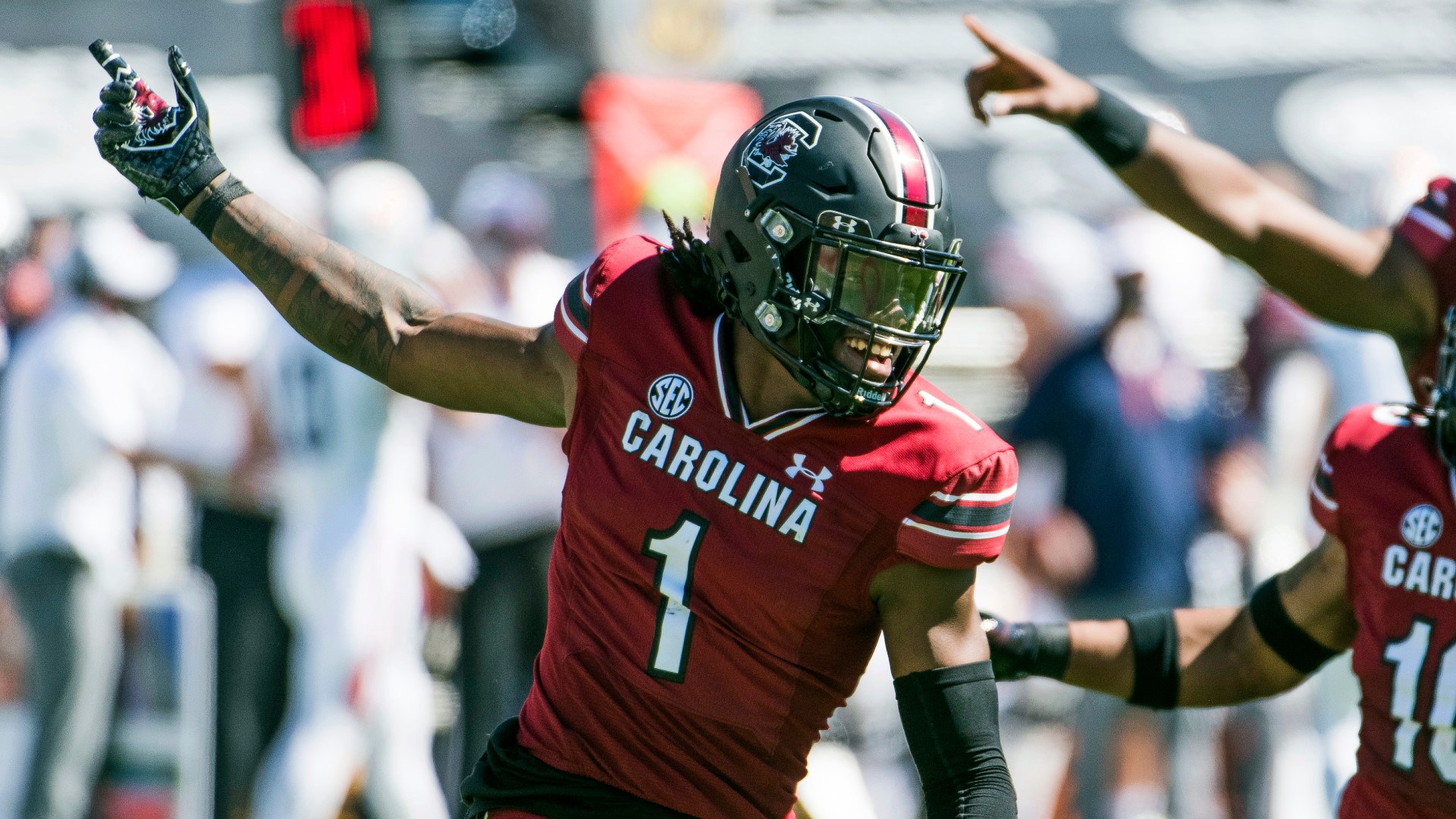 Jaycee Horn
Jaycee Horn from South Carolina has the tools to be a good cornerback in the NFL. He uses his size and length to his advantage against opposing receivers and can get real physical and disrupt receivers routes, making a perfect player in man coverage. Jaycee can be the future cornerback two on the depth chart next to Jaire Alexander. He is certainly one the top options for the Packers early in the draft.

Amari Rodgers 
One of Trevor Lawrence's favorite targets at Clemson, Amari Rodgers is receiving some serious buzz from around the league as of late. He was really good in 2020, posting over 1000 receiving yards and seven touchdowns. Rodgers can be a key slot receiver for the team, something the Packers have lacked since the days of Randall Cobb. He could be huge contributor on offense for the Packers and fits their offensive scheme.
Creed Humphrey
Oklahoma knows how to produce good offensive linemen and Creed Humphrey is a perfect example. He was a solid center in his years at Oklahoma and also turned some heads at the Senior Bowl as well. If the Packers want someone that can replace Corey Linsley, then Humphrey can certainly be the guy. He can slide in and play right away for them, helping to fill the void at center.
Follow for More
Follow me on Twitter at @CarlosS29143608 and follow us at @Wiscoheroics1 for more great content. Checkout our site and merch page. Use promo code WISCO at the checkout for 1$ off! For more articles and to keep up on all your favorite sports Wisconsin click here!