While there's a lot that can still happen this post-season, the Bucks sweep of Miami has gotten many people talking about how much better this team has gotten.  Milwaukee has had championship aspirations in the past but clearly lacked a couple pieces to be a complete team.  Now with new additions and a different coaching philosophy from Coach Bud, the Bucks look like they can compete with anyone.
With that being said, a question that's came to my mind is this; Where would Giannis and Middleton rank in Bucks' history if they won a championship?  When ranking these players we must consider their on court impact, longevity with the Bucks, and team success.  Since Milwaukee has only one title in 50+ years of basketball, they might rank higher than you'd expect!  Again, this list assumes that Giannis and Middleton are able to win championship before their Bucks tenures are over.
5. Marques Johnson
From 1978 to 1984 Marques Johnson was the main man for Milwaukee.  During which time he averaged 21 points, 7.5 rebounds and 3.7 assists on 53% shooting.  Johnson was a three time All-Star and some say he was the first "point forward" in league history. He showed better passing ability than many point guards in the league at the time.
In 2019 Marques had his jersey retired in Milwaukee and currently covers many Bucks games for Bally Sports WI.  It took a while but Marques is finally receiving the praise he deserved for so long from Bucks fans.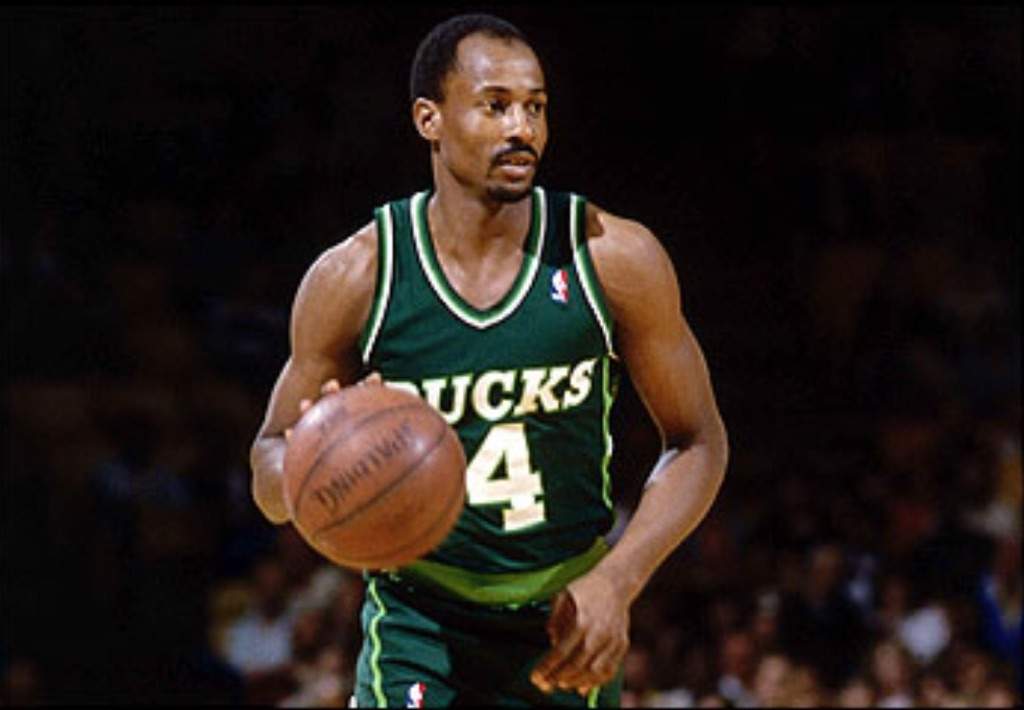 4. Sidney Moncrief
From Moncrief's rookie year in 1980 to 1989, Sidney was dominant on both sides of the ball.  Averaging 16.7 points, five rebounds and 3.9 assists while with the Bucks, Moncrief was known as an all-around player.  While being a good offensive player he was arguably the most dominant defensive player in the league for a few years.  He won DPOY in 1983 and 1984.
Michael Jordan is one of many players who praised Moncrief's talents, once telling the Los Angeles Times, "When you play against Moncrief, you're in for a night of all-around basketball. He'll hound you everywhere you go, both ends of the court. You just expect it."  Clearly if the greatest of all-time has that high of praise, Moncrief deserves a lot of respect.
3. Khris Middleton
Some of you might be shocked that Khris would be listed this high on the all-time list, but if you consider everything you might see why he would deserve it.  Khris joined the Bucks in 2013 and is currently signed through the 2023-24 season.  Which would make him the most tenured Buck on this list so far if he plays out the length of his contract with Milwaukee.
In addition, Middleton is a two time All-Star as of right now and has consistently put up solid numbers throughout his career.  So far in Milwaukee he has averaged 17.3 points, 4.9 rebounds and 3.7 assists.  Most people would say Middleton has always been the secondary option for the Bucks in his career but he is always the X-factor to their success. He has so many positive attributes; efficient shooting, solid passing, above average defense and the ability to create his own shot off the dribble.  His only knock is that he can sometimes be inconsistent when it matters most.  But if he was able to help the Bucks win a title all of that criticism would go away.
While yes he's never been the superstar, no championship ever takes place with just one great player alone.  If the Bucks can put together a title run in the near future us Bucks fans will need to give Middleton his due.
2. Kareem Abdul-Jabbar
What's there to be said about Kareem that hasn't been a thousand times before?  He transformed the game and made Milwaukee a respected franchise.  Going on to become the NBA's all-time leading scorer, Kareem had the smoothest post game ever.  His length made him nearly unstoppable, especially if he was hitting his patented "sky hook".
If this list was supposed to reflect the current day rankings Kareem would easily be first.  He simply has meant too much to the franchise's history to truly measure.  With that being said, the way he left Milwaukee will always put a sour taste in fans' mouths.  Leaving WI for the bright lights in LA after six seasons with the Bucks and dissing the city on his way out.  Time heals all wounds though, and Kareem is beloved by all true Bucks fans once again.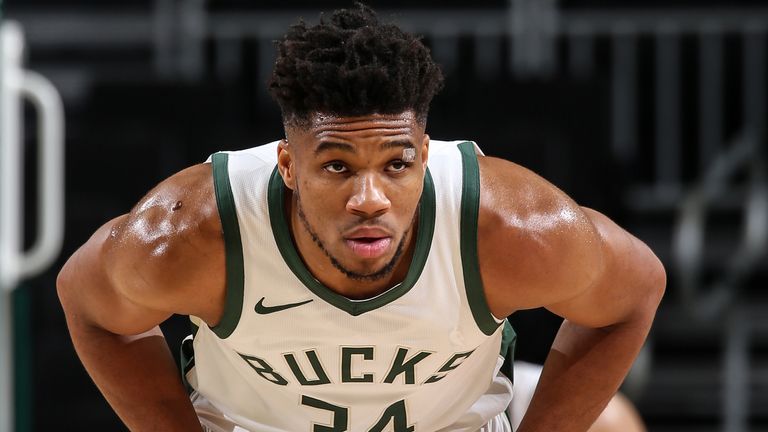 1. Giannis Antetokounmpo
When Giannis gets Milwaukee back to the promised land he should be considered the greatest Buck to ever play.  He's still only 26 years old and learning the game but has accomplished so much.  The only player to ever win Most Improved, MVP and Defensive Player of the Year in NBA history.  He may not have been the player to get the team on its feet like Kareem, but he certainly is the player who resurrected what was a flailing franchise on the cusp of leaving Wisconsin.
After decades of being mediocre, Giannis gave Bucks fans hope for the future.  That future is now and the Bucks are yearly contenders.  Fans' expectations have gone from glad to make it to the first round of the playoffs to being disappointed for not getting to the finals.  All thanks to a super star who truly is a role model in every sense of the word.  Wouldn't it be something for all the mainstream sports media outlets have to broadcast Giannis holding up the Larry O'Brien trophy after what they did this past offseason?  For months the only Bucks news anyone could find online pertained to where Giannis could end up after this season, only for him to sign the biggest extension ever to remain with the Bucks for the next five seasons.
Giannis is different, he's loyal, humble, and a hell of a basketball player.  If he can lead Milwaukee to a title there's absolutely no reason they shouldn't build a giant statue of him outside the arena.  Let's all take in how special of a player we have and be grateful to witness it.  This might be the best time ever to be a Bucks fan.
[pickup_prop id="8026″]
Honorable Mention- Oscar Robertson
For More Great Content
Follow me on Twitter at @IAmMitchLang and follow us at @WISportsHeroics!  Check out our merch page here and use code WISCO at checkout for $1 off your order!  To keep up with everything in WI sports, click here.