After a drama-filled Day One that included a bombshell report that Aaron Rodgers wants to be traded, the Packers selected Eric Stokes, cornerback, from Georgia.  As the dust continues to settle surrounding the Packers and their MVP quarterback, both fans and the front office look ahead to Day Two of the Draft.  With one key need filled, the Packers still have plenty of work to do to fill out their roster.  Green Bay enters Day Two with a second and third round pick and plenty of options for both picks.
[pickup_prop id="6693″]
Trade Up Candidates
The Green Bay Packers do not pick in the second round until the 62nd overall pick.  While there will be plenty of good players available then, there are several players with first-round talent who fell to the second round.  These players will undoubtedly be scooped up early.  If the Packers feel strongly about drafting any of these players, they will need to trade up in order to take them.
Elijah Moore- WR Ole Miss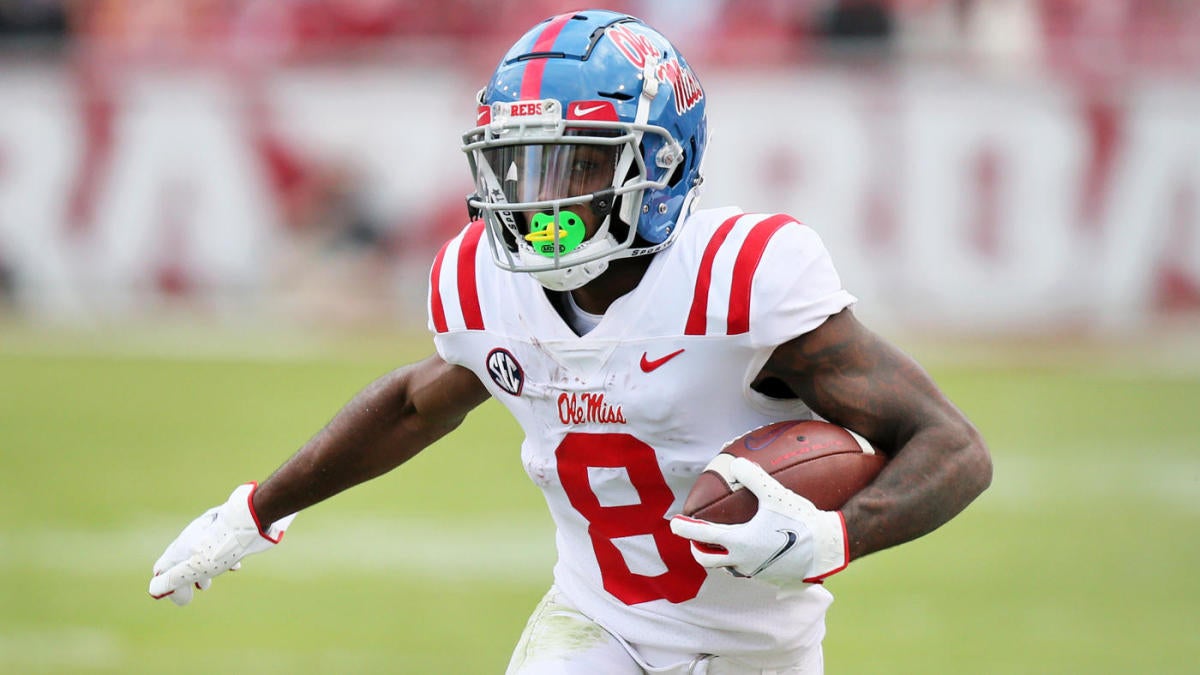 Many Packers' fans wanted the Packers to take Elijah Moore in the first round.  Of course, that did not happen, but that does not mean the Packers are not interested.  Moore is an explosive wide receiver with a ton of big-play potential.  He is a tad undersized at 5'9, 178 pounds.  However, his speed and ability to find holes in coverage make up for his lack of size.  He can double as a kick returner, which is another facet of his game that makes him attractive to the Packers.  He would join a nice group of current and past Packers' wide receivers that were drafted in the second round (Davante Adams, Randall Cobb, Jordy Nelson, and Greg Jennings).
Jeremiah Owusu Koramorah- LB Notre Dame
We had Jeremiah Owusu Koramorah projected to the Packers in the first round of one of recent mock drafts.  Widely regarded as the best linebacker in the Draft, it is surprising that he fell out of the first round.  Undoubtedly, he will be one of the first players to be drafted in the second round.  JOK is an incredibly gifted linebacker that can defend both the pass and the run very well.  The Packers' linebackers struggled in both categories last season, and JOK could be an immediate impact player.
Christian Barmore- DT Alabama
Another player that we projected as potential draft target was Christian Barmore.  The massive defensive tackle from Alabama is born for a 3-4 defense, which the Packers, of course, implement.  He can stuff the run, but also create pressure on the quarterback on passing plays.  Like JOK, he will be one of the first players taken in the second round.  If the Packers do trade up for Barmore, he will be a nice complementary piece alongside Kenny Clark and Kingsley Keke.
Wide Receivers
Given the Aaron Rodgers drama, it may be likely that the Packers will take a wide receiver in the second round.  They would have to trade up to take Elijah Moore, but if they do not, there are plenty of talented receivers that could fall to them later in the round.  Additionally, there are some that will be available to them in third round as well.
Tylan Wallace- Oklahoma State University
Last season, it was known that the Packers were high on Brandon Aiyuk.  He was, however, drafted before the Packers could take him.  In this Draft, Tylan Wallace has a similar style of game and could fit very well with the Packers.  He is a great route runner, extends plays to get positive yardage, and sticks with his blocking assignments.
Amon-Ra St. Brown- USC
The younger brother of current Packers' wide receiver EQ St. Brown has the potential to be a better NFL receiver than his older brother.  Amon-Ra St. Brown has great hands, speed, and playmaking ability.  In 2019, he looked like he would be a future first round pick.  However, he had a down year in 2020, mostly due to a lack of concentration.  He needs to stick with his routes and improve his effort in blocking off the ball.  Still, many believe he has the potential to be a future number one receiver on the next level.
Amari Rodgers- Clemson
Amari Rodgers is a very appealing prospect to teams like the Green Bay Packers.  Not only does he possess solid receiving abilities, but he also can specialize as a kick returner.  The Packers have not had a consistent kick returner in what feels like decades, and Rodgers could help improve on of the NFL's worst special teams units.  In the passing game, he is a tad undersized, but has sure hands and speed.  He could fit a Tyler Ervin-like role in the Packers' offense.
For More Great Wisconsin Sports Content
Follow me on Twitter at @theotherAdams14 and follow us @WiscoHeroics1 for more great content. Check out our merch page here and use promo code Wisco at check out for $1 off! To read more of our articles and keep up to date on the latest in Wisconsin sports, click here!