One of the biggest criticisms Aaron Rodgers has received in recent years is that he relied too heavily on Davante Adams. This came to the forefront of discussions after the Green Bay Packers lost to the San Francisco 49ers at home in the NFC Divisional Round of the NFL Playoffs.
This most recent example of Rodgers seemingly focusing too much on Adams has led some fans to say things like, "Well, now that Davante is gone, maybe Rodgers will actually spread the ball around more." This statement, though, is ironic in that without Adams, of course other players are going to see more balls thrown their way. In any case, the Packers and their fans have seen what Rodgers can do without Davante Adams. In fact, they have seen it 11 times. For the purposes of this piece, we will be focusing on the last seven games the Packers played without Adams. The reason for this is that the first four games took place during the Mike McCarthy era. The offenses are not the same. The previous seven games though, which took place from 2019-2021, can allude to how Rodgers and the offense will attack defenses in 2022.
October 6, 2019 at Dallas: Packers 34  Dallas 24
Aaron Rodgers' stats: 22/34, 234 yards, 0 touchdowns, 0 interceptions, 85.2 passer rating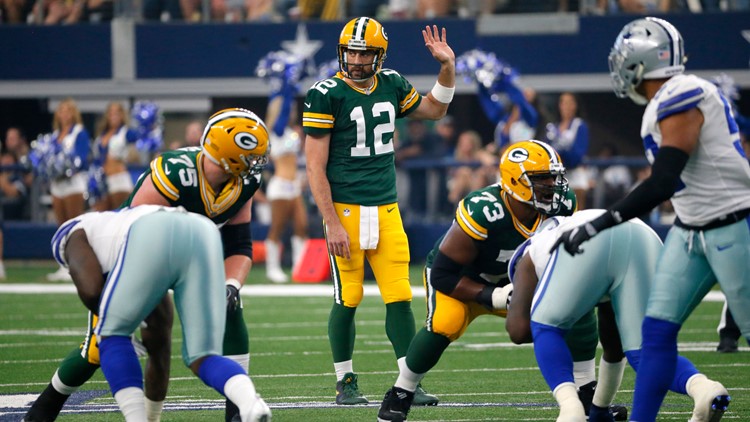 This game became famous for Aaron Jones' wave to a Dallas Cowboys' defender as he scampered into the end zone for one of his four rushing touchdowns. Rodgers was not his usual accurate self, but completed 22 passes to nine different receivers. Jones led the Packers in receptions with seven, while former tight end Jimmy Graham had three.
October 14, 2019 vs Detroit: Packers 23  Lions 22
Aaron Rodgers' stats: 24/39, 283 yards, 2 touchdowns, 1 interception, 90.0 passer rating
A game-winning field goal by Mason Crosby gave the Packers a 23-22 victory on a day that saw Geronimo Allison and Jimmy Graham struggle to bring in the passes thrown their way. Rodgers completed just five of 12 passes to them in the contest while everyone else caught 19/27 (70%) of passes.
October 20, 2019 vs Oakland: Packers 42  Raiders 24
Aaron Rodgers' stats: 25/31, 429 yards, 5 touchdowns, 0 interceptions, 158.3 passer rating, 1 rushing touchdown
One Rodgers' most dominating performances of his career came against the Oakland Raiders. Not only did he throw five touchdown passes, but he also rushed for another one. Rodgers spread the ball around to eight different receivers, four of which caught four passes a piece. MVS led Packers' receivers with 133 yards on two receptions.
October 27, 2019 at Kansas City: Packers 31  Chiefs 24
Aaron Rodgers' stats: 23/33, 305 yards, 3 touchdowns, 0 interceptions, 129.0 passer rating
Perhaps what is most interesting about this game as fans look forward to the 2022 season is that all three of Rodgers' touchdown passes were thrown to running backs. Aaron Jones led the Packers with seven receptions for 159 yards and two touchdowns. Jamaal Williams added three receptions for 14 yards and a touchdown. Six other Packers players recorded receptions, namely Allen Lazard who caught all five of the passes thrown his way for a total of 42 yards.
September 27, 2020 at New Orleans: Packers 37  Saints 30
Aaron Rodgers' stats: 21/32, 283 yards, three touchdowns, 0 interceptions, 124.9 passer rating
This game is best known as the time Allen Lazard showcased his ability to be a potential number one wide receiver. Rodgers hit Lazard six times for 146 yards and a touchdown. Seven other Packers players recorded at least one reception. Notably, the other two touchdown passes were caught by tight ends Robert Tonyan and Marcedes Lewis.
October 5, 2020 vs Atlanta: Packers 30  Falcons 16
Aaron Rodgers' stats: 27/33, 327 yards, 4 touchdowns, 0 interceptions, 147.5 passer rating
If one has been paying attention, one would have noticed that most of the touchdown passes Rodgers threw in games without Davante Adams were to his running backs and tight ends. This was true again in the Packers' dominating win against the Falcons. Robert Tonyan caught six passes for 98 yards and three touchdowns. Aaron Jones had five receptions for 40 yards and a touchdown.
October 28, 2001 at Arizona: Packers 24  Cardinals 21
Aaron Rodgers' stats: 22/37, 184 yards, 2 touchdowns, 0 interceptions, 90.4 passer rating
Aaron Rodgers spread the ball around, completing passes to seven different receivers. Aaron Jones received the most targets (11) and had seven receptions for 51 yards. Robert Tonyan had three receptions for 49 yards before leaving with a torn ACL. Randall Cobb had three receptions for 15 yards, but caught both of Rodgers' touchdown passes. Tight end Josiah Deguara had two receptions for 20 yards. In short, of Rodgers' 22 completed passes, 12 of them were to a tight end or running back.
Analysis
As we have seen by looking back at these seven games, Aaron Rodgers was highly successful without Davante Adams. The Packers went 7-0 while Rodgers himself threw for 2,049 yards, 19 touchdowns, one interception, and had a passer rating of 119.7. If those numbers were to be calculated into 17-game projections, they would look like this:
4,976 passing yards
46 touchdowns
2 interceptions
The Packers will certainly miss Davante Adams. After all, he is an All-Pro wide receiver. However, Aaron Rodgers is also an All-Pro and has won the MVP Award in each of the past two seasons. The offense is in good hands.
To Read the Latest Packers News, Click Here
For More Great Wisconsin Sports Content
Follow me on Twitter at @theotherRobin19 and follow us @WiSportsHeroics for more great content. To read more of our articles and keep up to date on the latest in Wisconsin sports, click here! Also, check out our merch store for some amazing WSH merchandise!