The Packers offense in 2020, despite criticism, had the number one scoring offense in the NFL and fifth overall offense. They proved everybody wrong, but people still doubt the Packers. It's because they do not have big names at receiver outside of Davante Adams. Even without having big names, these Packer receivers bring something to the offense. Here is what they bring to the offense this year.
Davante Adams- The Best Receiver on the Packers Offense
Without a doubt, the best receiver on the Packers is none other then Davante Adams. He's arguably the best receiver in the NFL as well. He is the go to guy for Aaron Rodgers and has had the most touchdowns in the NFL since 2016. Adams had multiple double digit touchdown seasons and would have had one in 2019 if he did not get hurt. His route running makes opposing corners stay on their heels, especially if they want to press him at the line of scrimmage. Since people wanted him cut after the 2015 season, he has stepped up and proved people wrong. Expect him to once again have dominant season in 2021.
Allan Lazard- Expect to Fully Recover From His Core Injury
Allan Lazard had a hot start to the 2020 NFL season, especially against the New Orleans Saints. Then a core injury sidelined him for a month and came back from it, but was not one hundred percent. It is hard playing on that type of injury, but Lazard shown what a tough player he is. He is a big receiver that can win the 50/50 balls and do the dirty work in the run game. Now that he is back healthy and fully recovered from his core injury expect a more productive season for Allan Lazard in 2021.
Marquez Valdes Scantling- Can be a True Deep Threat in the Offense if He Figures it Out
Marquez Valdes Scantling has been a roller coaster for the Packers. There's games where he shows flashes, then there is inconsistency including him dropping wide open touchdown passes. His ability to be a deep threat is clearly there as he led the NFL with yards per catch with 20.9 in 2020. He needs to have more confidence in himself more as that is the biggest reason for his struggles. MVS all the talent to be a dominant receiver for the Packers offense and in the NFL. In addition, this a crucial year for him as he is a free agent after the 2021 season. Expect MVS to perform in a crucial year to hopefully earn a long term contract with the Packers.
Equanimeous St. Brown- A Option in the Slot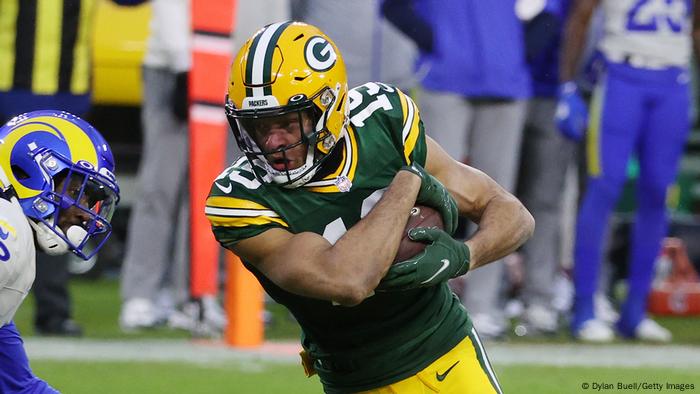 Equanimeous St. Brown has had a injury plagued career with the Packers so far. After showing flashes as a rookie missed 2019 to a ankle injury. He missed most of 2020 due to a knee injury. He can be a solid option in the slot as the Packers are missing that piece in the offense. Down the stretch of the 2020 season and in the playoffs, he showed that he can be a threat inside and dominant in the slot. MVS can do a good job in run blocking as well. His problem he has to stay healthy to show what he can really do. This season, St. Brown will be expected to give the Packers production as one of the slot receivers.
Devin Funchess- His Size Can Be a Huge Factor
One of the Packer free agent signings in 2020 was Devin Funchess. He was injured missing the whole 2019 season and did not play in 2020 as he opted out due to COVID-19. He has not played football in two years which is kind of concerning. So far in his career, he has not really lived up to his status as a second round pick, but still has a lot of potential. One positive note is that he looks in shape as he has shown on Twitter and Instagram. Also, his size will be a huge factor in this offense, especially when the Packers are near the goal line. Funchess took a pay cut to stay with the team as well showing he wants to prove himself this year. Devin Funchess can really be a solid piece in this offense for the Packers this coming season.
Amari Rodgers- The Missing Slot Receiver the Packers Need on Offense
The Packers took a wide receiver in the third round of this years draft in Amari Rodgers. This was a really good pick as he stated that he wanted to come here a month before the draft started. Rodgers can be a real weapon in this offense. Over the weekend at the Packers rookie minicamp, he showed what all he can do for the Packer offense. His route running can cause match up problems from opposing corners. Not to mention in a system that can also scheme people open. Along with Equanimeous St. Brown, he can be the slot receiver the Packers have missed since Randall Cobb. This season he will not be rushed to be on the field, but will see plenty of playing time as he can bring a dynamic element to this offense.
[pickup_prop id="7127″]
In Conclusion: Follow me @CarlosS29143608 and follow us @WiSportsHeorics for more content. Check out our merch page. Use the promo code WISCO at the checkout for 1$ off! To keep up on all of your favorite sports Wisconsin click here!